Albany
The 4 big takeaways from Cuomo's State of the State
Gov. Andrew Cuomo delivered his eighth State of the State address today before an audience of prominent New York political figures, including members of the state Legislature and his rival New York City Mayor Bill de Blasio.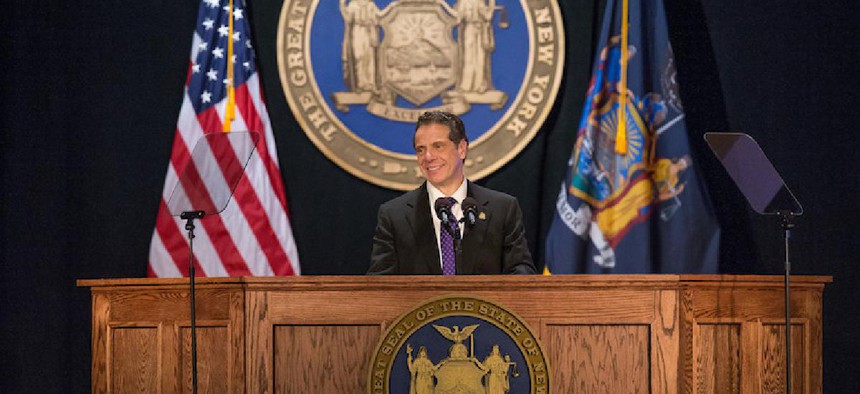 Gov. Andrew Cuomo delivered his eighth State of the State address today before an audience of prominent New York political figures, including members of the state Legislature and his rival New York City Mayor Bill de Blasio.
The 90-minute speech was given at the Empire State Plaza Convention Center in Albany, which seemed hardly warmer than the 25 degree weather outside. The governor was accompanied by a slideshow illustrating each topic he addressed. Cuomo, taking a page from the presidential playbook, also invited several guests and referred to them at different points in his speech to emphasize his administration's accomplishments.
The speech was a showcase for Cuomo's agenda as he seeks his third term as governor this year. Below are the key takeaways from Cuomo's state of the state address, from his often hyper-local initiatives to clear hints at his national aspirations: 
Taking the fight to Washington
The federal tax overhaul passed in Congress and signed by President Donald Trump in December was a focal point for Cuomo's address. The governor referred to the tax plan as an "arrow to the economic heart" of New York, largely due to the provision that will cap the state and local tax deduction for property and income taxes. This measure is especially damaging to high-tax, progressive states like New York, Cuomo said, calling the measure an "economic civil war" where increased taxes from blue states will subsidize red states.
Cuomo avoided naming Trump specifically when discussing the tax plan, but instead referred to the federal government in Washington that had passed the bill – illustrated with a picture of the Capitol dome. The governor announced a three-pronged approach to combat its effects. First, Cuomo said that New York will challenge the law in court, calling the unprecedented federal taxation of state and local taxes unconstitutional. He said New York would also become the epicenter of "repeal and replace" efforts, leading the resistance to the bill. Finally, Cuomo said that the best way to avoid the effects of this bill is to "get out of the way." He announced that the state was developing a plan to reduce reliance on property taxes by adopting a payroll tax system. He also suggested creating additional charities to make those contributions tax-deductible.
Warning that residents might leave New York because of their increased federal tax bills, Cuomo said, "If we do not fix this problem, it is a question of New York's viability long-term."
Skirting congestion pricing – for now
Transportation, especially New York City's increasingly unreliable subway system and ever-worsening traffic, has recently been a source of major public discontent. But Cuomo largely avoided those thorny issues, instead focusing on mostly-unrelated and usually smaller-bore transportation for investments such as additional security for the state's transit hubs to introducing cashless tolling to all New York thruways. He also discussed accelerating the redevelopment of Penn Station.
However, Cuomo barely touched the contentious issue of congestion pricing, or the idea of adding charges to drive in certain bridges, tunnels and areas of New York City during times of heavy traffic. Congestion pricing has been proposed as a method to fund the beleaguered MTA, which released a $836 million plan to fix the city's subway system over the summer.
Cuomo said that the MTA needs immediate short-term funding for emergency repairs and to install equipment necessary for long-term fixes.
"We also need long-term funding that is fair to all and also addresses the growing traffic and population problems," Cuomo said, adding that the Fix NY panel will shortly present a report that may include congestion pricing options before the state budget is presented at the end of the month, including "defining exclusive zones in Manhattan where additional charges could be paid."
"In the meantime, cheap political slogans are just that, cheap political slogans. It's not a real policy," he added, perhaps taking a shot at de Blasio, who has disparaged congestion pricing and proposed a plan for millionaires tax as a source of funding for the MTA.
Pushing criminal justice reform
Cuomo heavily emphasized criminal justice reform. He proposed that a person should only be held in jail if a judge finds a significant flight risk or threat to public safety, and otherwise should be released on his or her own recognizance. He also discussed speedy trial reform, which will be addressed in the budget.
The most emotional moment came when Cuomo called out a surprise guest – Akeem Browder, a primary challenger to de Blasio in 2017. With his voice occasionally breaking, Cuomo told the story of Browder's brother, Kalief, who was held in Rikers for three years on suspicion of stealing a backpack, and committed suicide because of this traumatic experience. Cuomo said that Kalief Browder "did not die in vain," because Browder's tragic death inspired his bail reform proposal and measures to improve conditions in jails Cuomo added he would direct the state corrections commission to develop legally-binding correction plans or closure orders on jails that with poor conditions, telling Browder that the state would "make it right." This announcement came the same week that the de Blasio administration announced one of the jails in the Rikers complex would be closed by the end of 2018.
Positioning as a 2020 presidential candidate
Cuomo's speech seemed intended to prove his progressive credentials, from making "advancing the women's agenda" the first topic of his address – an effort to perhaps capitalize on the #MeToo movement – to his numerous proposals to protect the environment. This could help him ward off a potential primary challenger in the 2018 election, and improve his standing among Democratic presidential primary voters in 2020.
Near the end of his address, after listing in detail plans such as dedicating a $30 million Photonics Attraction Fund in the greater Rochester area, Cuomo waxed philosophical. Referring to his sixtieth birthday in December, Cuomo said that he was reflecting on his values, and his fear that "division is spreading among our people." He said that the federal government was spurring further divisions in the country, but that "inclusion is the operating principle" of New York.
"This is not a new principle, it is not a Democratic or Republican idea, nor is it even uniquely New York," he said, expanding his speech from being New York-specific, instead seeming to address the nation with rhetoric reminiscent of Barack Obama's famous speech to the 2004 Democratic National Convention.
Cuomo noted how the words "e pluribus unum" – "out of many, one" in Latin – were stitched in the seal on the flag that sits behind Trump's desk in the Oval Office.
"To find the way forward, the president only needs to turn around" and look at those words, Cuomo said, to a standing ovation. "That is the true formula for what makes America great."
By invoking Trump's famous campaign slogan, "make America great again," Cuomo positioned himself as an alternative to the president. He may be up for reelection in 2018, but Cuomo is clearly already looking ahead to 2020.