New York City
Another 'Year of the Woman'?
New York women are jumping into congressional races in higher numbers.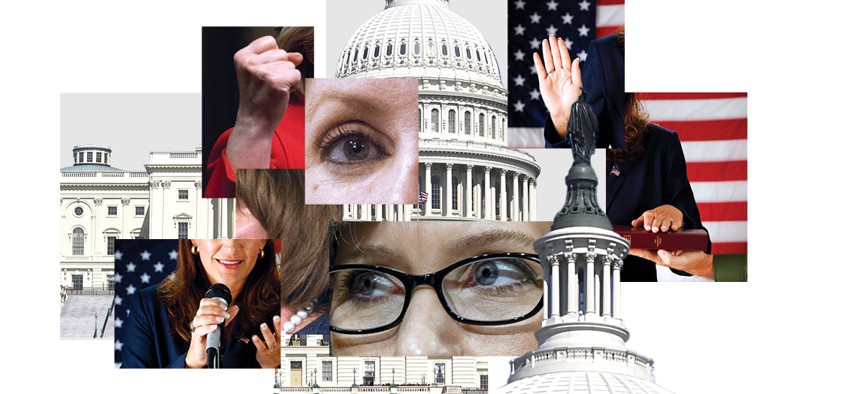 An avalanche of movements and events has put a spotlight on women's issues and gender inequality: #MeToo, Time's Up, the Women's March on Washington and powerful men resigning after sexual misconduct allegations. After Hillary Clinton lost the 2016 presidential election, many thought that would motivate more women to run for office – and that seems to be happening. In the 2018 midterm elections two records have already been set: more than 500 women have declared their intention to run for Congress or for governor, including more than 300 women running for the U.S. House of Representatives – representing around a quarter of all candidates. On the state level, does New York follow the same trend?
City & State analyzed data published by the Rutgers University Center for American Women and Politics from the past five election cycles to see how the number of female primary candidates for the state's House seats in this election cycle compares to previous years.
Currently, there are 25 women who have filed or are likely House candidates – 20 Democrats and five Republicans – out of a total of 103 candidates that have registered with the Federal Election Commission and raised more than zero dollars.
That is the highest number of female candidates in the past 10 years. It's also an increase over the 18 female candidates that ran in 2016. Fourteen women ran in the 2014 primary and 18 ran in 2012. New York had 15 female candidates run in 2010, and 11 women in the 2008 House primaries. (Six female candidates who have since dropped out this cycle were removed from the analysis. For past cycles, candidates who dropped out before the primary election were also omitted.)
The last major breakthrough for women in Congress was in 1992, which became known as the "Year of the Woman." It was partly motivated by the sexual harassment accusations against then-U.S. Supreme Court nominee Clarence Thomas, made by one of his former aides Anita Hill. That year, the number of female candidates also set records: 106 women ran and 24 won.
RELATED: 'Four women in a room,' for a change
Female congressional primary candidates in New York*
2008: 11
2010: 15
2012: 18
2014: 14
2016: 18
2018: 25
* including incumbents
Sources: Federal Election Commission, Rutgers University Center for American Women and Politics
Powered By
NEXT STORY: Keeping the faith in New York City politics