Marcus Molinaro
Five things to know about New York's Republican convention
Who's willing to take on some of New York's most powerful politicians? The Republican Party has struggled to find worthy candidates, but they'll officially settle on their slate for the four statewide elected positions this week.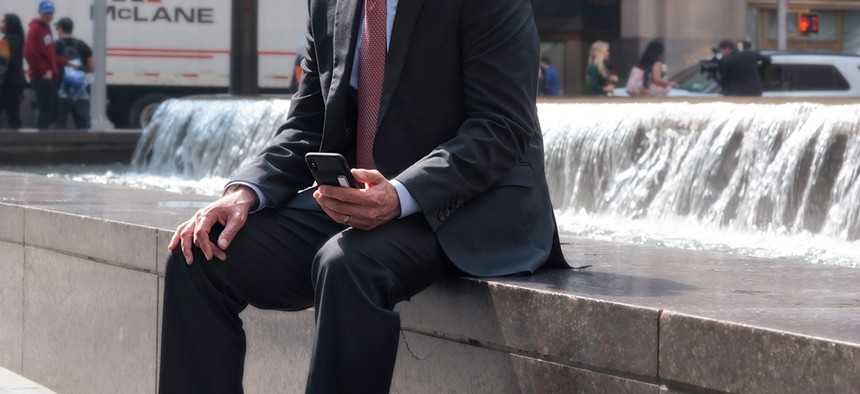 Who's willing to take on some of the state's most powerful politicians? The Republican Party has struggled to find worthy candidates, but they'll officially settle on their slate for the four statewide elected positions this week. Conservatives from all around the state will meet at the Ziegfeld Ballroom in Midtown Manhattan for the statewide nominating convention. On Wednesday, they'll nominate candidates for governor and lieutenant governor, and on Thursday morning they'll make their picks for attorney general and comptroller. Here is what you need to know ahead of the convention.
 
A scramble for attorney general
With New York City Public Advocate Letitia James gobbling up support from the Democratic establishment for her run for attorney general, any Republican may have a tough time gaining momentum. But the now-open seat is more winnable that it was three weeks ago, when it looked like the incumbent Eric Schneiderman would cruise to victory. Now Schneiderman has resigned, the state Legislature has appointed the non-political Barbara Underwood to complete Schneiderman's term, and several Republicans are eyeing a run. The most well-known Republican among them, John Cahill, who challenged Schneiderman in 2014, announced on Monday he would stay out of the race. NY1 reported on Monday that the state party would support Keith Wofford, a bankruptcy lawyer in Manhattan who was raised in Buffalo. Joseph Holland, a former aide for Gov. George Pataki, has told reporters he has the backing of a number of county chairs and may try and get on the primary ballot as well. Manny Alicandro, a corporate lawyer from Manhattan, and Rockland County District Attorney Thomas Humbach are also in the running. A candidate needs the support of 25 percent of the state committee to get on the ballot, but candidates could also petition their way on the ballot by gathering signatures. But without the state party's support, the others may get behind the nominee.
 
Molinaro's coronation
Dutchess County Executive Marc Molinaro effectively locked up the Republican nomination for governor long before the convention by winning support from a majority of the county committees, as City & State wrote on Tuesday. Though others actively campaigned, like state Sen. John DeFrancisco and Assembly Minority Leader Brian Kolb, all ultimately deferred to Molinaro to avoid a primary that could divert money and attention from the party's bigger goal of beating Cuomo in November. Molinaro is putting himself forward as a moderate who's no fan of President Donald Trump. He's running on a platform of clean government and making New York more affordable.
 
Killian gets another chance
Molinaro chose Julie Killian as his running mate, even though she just fell short in the April special election for the 37th state Senate district in Westchester County. Killian is a former deputy mayor for the town of Rye, and is no stranger to campaigning, having also run for the state Senate in 2016. As a woman from the suburbs just north of New York City, she helps balance out the GOP ticket, and isn't expected to face a challenge for the party nomination. Though the pair are running together, governor and lieutenant governor are on separate ballot lines, meaning Killian will be matched up directly against Cuomo's incumbent lieutenant governor, Kathy Hochul.
 
Comptroller is not under comptrol
Until this week, it seemed that Jonathan Trichter, a former JP Morgan banker and political operative, would be the Republicans' nominee for state comptroller. Anybody would be a long-shot against the popular Democratic state Comptroller Thomas DiNapoli, but state Republican Chairman Ed Cox has had high praise for Trichter, despite the fact that he's also a registered Democrat. Now the Daily News has reported that there's growing uneasiness among the party regulars with Trichter, and that other Republicans are considering runs. Among them is Joel Giambra, the former Erie County executive who has been running for governor.
 
It's in a deep blue area
Sure, the specific zone near the Ziegfeld Ballroom on 54th Street has somewhat of a Republican bent – Fox News is on 48th Street, the National Republican Club is on 51st and Trump Tower is on 57th – but overall Manhattan is as liberal as they come. Less than 10 percent of the borough's voters went for Trump in 2016, just barely behind the Bronx for the worst outcome of any county in the state. And the Republican's last gubernatorial candidate, Rob Astorino, didn't do much better, getting 13 percent of the Manhattan vote in 2014 (again, only the Bronx was bluer). But Manhattan has certain benefits, like good food, numerous transportation options and a whole lot of money. The state GOP will need a lot of it to win any of the statewide offices, and Manhattan is the most natural location for a high-dollar fundraising dinner gala, like the one the state party is hosting Wednesday night. Billionaire businessman and governor of Tennessee Bill Haslam will keynote.