Molinaro running on compassion and inclusion – but not Trump
Marc Molinaro, the Dutchess County executive, officially earned his nomination at the state convention where the New York Republican Party unanimously approved him as its designee to take on Cuomo in November.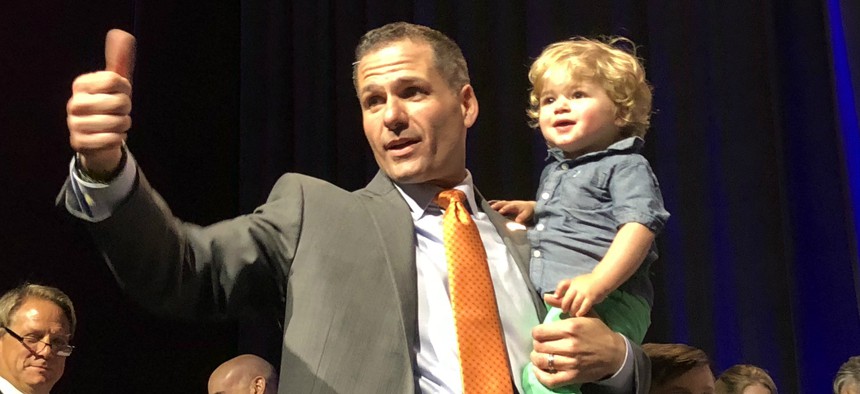 Gov. Andrew Cuomo handed Hillary Clinton, the Democratic 2016 presidential nominee, a bouquet of flowers on a stage at his party's convention on Long Island on Wednesday afternoon. At the same time in Manhattan, Cuomo's Republican gubernatorial rival was doing all he could to separate himself from his own party's 2016 presidential nominee, Donald Trump.
Marc Molinaro, the Dutchess County executive, officially earned his nomination at the state convention where the New York Republican Party unanimously approved him as its designee to take on Cuomo in November.
Drawing a stark contrast from the wealthy president known for his inflammatory rhetoric, Molinaro emphasized his humble beginnings in his acceptance speech and framed himself as a compassionate conservative who could appeal to all voters.
"The family I come from is like so many others in New York: ethnic, working class, unremarkable," he said, noting that he grew up in Yonkers and in Tivoli with a single mother who relied on food stamps.
Molinaro said he wasn't a television star, like Cynthia Nixon who is vying for the Democratic nomination. And he said he wasn't "born into a political dynasty" like Cuomo, whose father, Mario Cuomo, was once New York's governor.
Molinaro's speech was energetic and upbeat, largely avoiding criticizing the current governor except for a biting comment where he quoted Mario Cuomo's advice to those running for office.
"What Mario Cuomo was saying was that one should seek public office to do good, not feed one's ego or career needs," Molinaro said. "Bullies and megalomaniacs need not apply."
The Ziegfeld Ballroom in Midtown Manhattan couldn't have been more than half full, perhaps due to the fact that Molinaro's nomination was uncontested. He had effectively locked up the party's nomination weeks ago, and will not not face a primary in September, barring a late surprise. So Molinaro addressed voters well beyond the party regulars in the room.
"To liberals, conservatives and moderates, gay, straight, black, white, Asian, Latino, young, old, married and to all unmarried, to those able to pay their bills and to those, like my family, struggling too hard," Molinaro said, "I speak to you from the depths of my soul in saying this: I care. I know what it means to struggle. I know what it's like to need a helping hand."
The 42-year-old candidate railed against corruption in state government, saying that Albany would "no longer be a cash cow for the rich and powerful" on his watch. But it wasn't his only animal metaphor for political corruption.
"One of my first jobs was mucking horse stalls in Tivoli," Molinaro said. "I can tell you that might prepare me for Albany."
Molinaro said he would only serve two terms if he won, and he would demand a vote on legislative term limits as well. He promised a plan for a property tax cut in the coming weeks, and that would open a "real" Moreland commission to investigate public corruption. Cuomo was heavily criticized when he closed his own such commission in 2014.
The candidate has said he did not vote for Trump for president, instead writing in the name of former Rep. Chris Gibson, and avoided mentioning the president or national politics at all in his 35-minute convention speech. Trump has dismal approval ratings in his home state, with several polls showing him mired in the low 30s, and Molinaro needs to avoid any associations with unpopular politicians if he wants to defeat Cuomo. The governor was favored by more than 30 points over Molinaro in a recent Quinnipiac University poll.
Molinaro did not take the opportunity to criticize former Attorney General Eric Schneiderman, a Democrat who resigned this month after a number of women accused him of physical abuse. But he did allude to allegations of abuse or misconduct by powerful men that have come up in the #MeToo era, tying them to his campaign slogan: "Believe Again!"
"Believing in New York starts with believing the courageous women who come forwards in Albany or anywhere else to speak about abusers," he said. "That is compassionate, that is my party, and that is all of us."
Correction: An earlier version of this post gave the incorrect age for Marc Molinaro. He is 42.