New York City
Party conventions, marijuana reform and a new attorney general
Party conventions, marijuana reform and a new attorney general round out the week's top political news.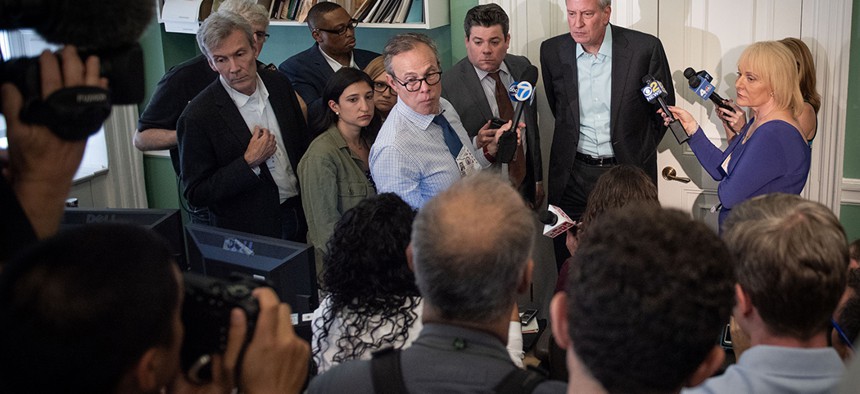 New York City Mayor Bill de Blasio's office capped off a news-filled week with the court-mandated release of more than 4,000 pages of emails with "agents of the city." It's a lot of emails to comb through, but reporters dove in right away and have already found some gems. In one email, de Blasio described the news media as "pitiful" and "sad for our city and nation." Another revealed that he only started holding town halls to get the press off his back. In yet another, de Blasio expressed his unwillingness to let the press "intimidate" him into holding more than one or two off-topic availabilities a week. There seems to be a pattern here.
 
Politi-con New York
Both the Democrat and Republican parties held their state conventions last week. The affairs are generally fairly predictable, but this year had some drama. Although Gov. Andrew Cuomo secured 95 percent of the delegate vote for the party's gubernatorial nomination, his challenger Cynthia Nixon showed up to make her case and shake things up. Hillary Clinton and Joe Biden also spoke, throwing their support behind the incumbent. Meanwhile, Republicans unanimously nominated Marcus Molinaro for governor, but the votes for state comptroller and state attorney general were more contentious. Ultimately, attorney Keith Wofford got the attorney general nod while Jonathan Trichter was nominated for comptroller.
 
Blunting police enforcement
New York City Mayor Bill de Blasio last week instructed the NYPD to stop arresting people for smoking marijuana in public. Instead, he told them to issues summonses, effectively decriminalizing the act. The move comes after the mayor had instructed the NYPD to reform its marijuana enforcement and Manhattan District Attorney Cyrus Vance Jr. announced he would no longer prosecute low-level marijuana charges. De Blasio's most recent move was met with some opposition from the Sergeants Benevolent Association, one of the city's police unions.
 
Yes she can
The state Legislature officially appointed Barbara Underwood as the new state attorney general to fill out the remainder of former Attorney General Eric Schneiderman's term after he resigned amid abuse allegations. She will serve until the end of the year, but has stated that she won't run for the post in November. The appointment makes Underwood the first woman to hold the position in the state. Her successor could very likely be a woman as well.
 
A decade of repairs
New York City Transit President Andy Byford unveiled an ambitious new plan to revamp the city's bus and subway system. The biggest undertaking is replacing the outdated subway signal system over the course of 10 years, a dramatic improvement from an earlier 40-year timeline. What still needs to be determined is the price tag, which was not discussed at the public unveiling but reportedly ranges from $19 billion to $43 billion.
 
Trump visits Long Island
President Donald Trump visited Long Island on Wednesday for a roundtable discussion about immigration reform and violence perpetrated by the MS-13 gang. He doubled down on comments he made last week that garnered him criticism, once again calling gang members "animals." Although he did not lay out any specific plans during the roundtable, Rep. Pete King later said a new immigration bill was in the works.
Powered By
NEXT STORY: Did New York's GOP statewide candidates vote for Trump?