Andrew Cuomo
Silver's re-conviction caps roller-coaster week
Eric Schneiderman resigns and the search for his replacement in this week's headlines.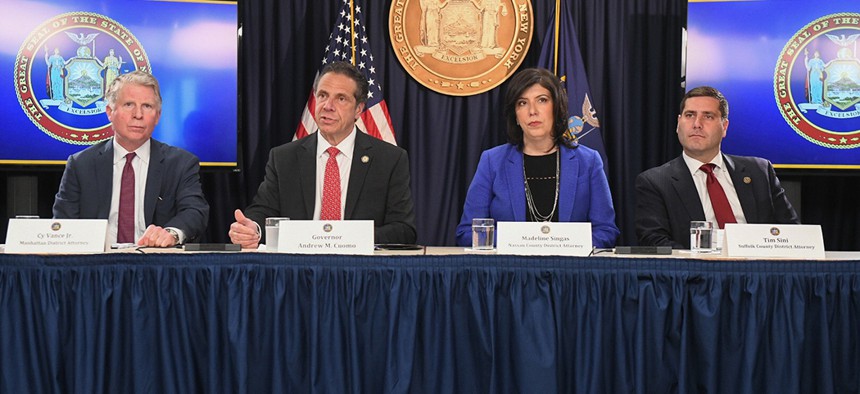 It was a busy week in New York as shocking revelations spurred a massive political upheaval in the state. But before getting into all that, a bit of lighter news. This week was also the annual LCA Show, the yearly tradition of the Albany press corps poking fun at the people they cover. Gov. Andrew Cuomo did not attend, but Democratic challenger Cynthia Nixon did and ripped into the governor during her 12-minute rebuttal. In what was probably her most memorable line, she flipped the infamous slogan from Mario Cuomo's 1977 primary run against Ed Koch for New York City mayor: "Vote for Cuomo, not the homo." (Koch at the time was facing rumors that he was gay.) Nixon instead told the audience to do the opposite. "Vote for the homo, not Cuomo." More in this week's headlines.
Silver convicted again
Former Assembly Speaker Sheldon Silver was found guilty on corruption charges Friday evening in Manhattan federal court. It was his second time being convicted on the same charges, after his conviction was overturned following a U.S. Supreme Court case that effectively changed the definition of honest services fraud.
Silver, one of the most powerful men in New York politics until his January 2015 arrest, was accused of trading legislative favors to an asbestos doctor and two real estate companies. Silver then received millions of dollars in legal referral fees.
Silver's second conviction did not come as a surprise, as a number of legal experts told City & State in 2017 that the case was still strong, despite the altered interpretation of the law.
The judge set Silver's sentencing for July 13. Silver was sentenced to 12 years in prison in 2016, but remained free on appeal until his conviction was overturned last year.
Former U.S. Attorney Preet Bharara brought the original case against Silver. He tweeted after the conviction Friday: "In retrial former assembly speaker Sheldon Silver swiftly found guilty on all counts. Great work by the SDNY team once again. All New Yorkers should be grateful."
In retrial former assembly speaker Sheldon Silver swiftly found guilty on all counts. Great work by the SDNY team once again. All New Yorkers should be grateful.

— Preet Bharara (@PreetBharara) May 11, 2018
Schneiderman shocker
On Monday night, The New Yorker published a bombshell story in which four women accused then-state Attorney General Eric Schneiderman of physical and psychological abuse while each was dating him. Publicly, Schneiderman had long been a crusader for women's rights and against domestic abuse. The story led to immediate calls for his resignation, including from Gov. Andrew Cuomo and U.S. Sen. Kirsten Gillibrand. Within hours, Schneiderman had announced his resignation, though he continued to deny wrongdoing, saying the alleged abuse was simply "role-playing." Solicitor General Barbara Underwood officially stepped in as acting attorney general on Tuesday.
Who doesn't want to be AG?
The state Legislature will decide who to appoint as attorney general until the November election. Some want to simply keep Underwood in place, but lawmakers have given no indication, despite rumors, as to who they will choose. Many are saying the next attorney general must be a woman. A lot of Democrats have been floated as potential candidates, including Rep. Kathleen Rice, state Sen. Michael Gianaris, New York City Public Advocate Letitia James, former gubernatorial candidate Zephyr Teachout and former U.S. Attorney Preet Bharara – although Bharara's candidacy may not go far since he made a name for himself targeting the state Legislature.
Vance denied
Although Manhattan District Attorney Cyrus Vance Jr. had opened an investigation into Schneiderman, Cuomo had other ideas, instead appointing Nassau County District Attorney Madeline Singas as a special prosecutor. Schneiderman's office had been looking into whether Vance mishandled an old criminal case against Harvey Weinstein, which Cuomo said would, at the very least, give the appearance of a conflict of interest. Vance disagreed, firing back that Cuomo's decision was politically motivated. Cuomo stuck to his guns, saying giving the job to Vance would be "silly."