Andrew Cuomo
Simcha Felder's state Senate stronghold
For a district at the center of a political firestorm, New York state Senate District 17 is most often sleepy and pleasant. It is here where unique demographics and political arrangements have afforded shelter to one of the most powerful and – for Democrats – frustrating figures in New York politics since 2012: state Sen. Simcha Felder.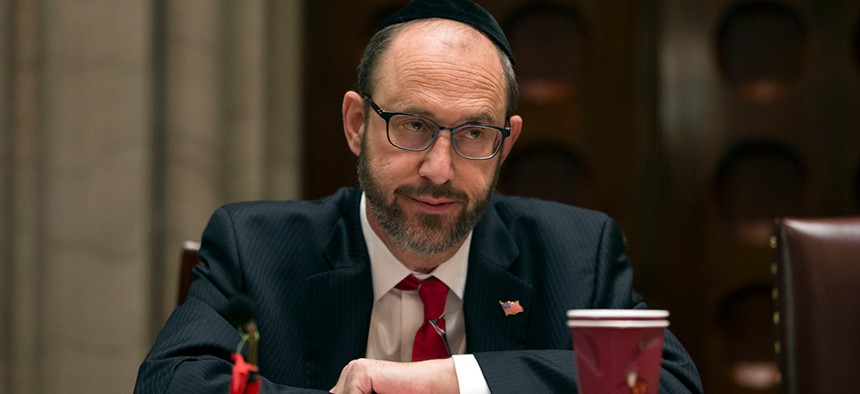 For a district at the center of a political firestorm, New York state Senate District 17 is most often sleepy and pleasant. It is here where unique demographics and political arrangements have afforded shelter to one of the most powerful and – for Democrats – frustrating figures in New York politics since 2012: state Sen. Simcha Felder.
But that may be changing. The state Senate Democrats have wrangled eight out of nine of their party's wayward legislators, but there's a single stray keeping them from wresting power from the Republicans. As it stands, the Democrats have 31 votes and the GOP has 32 – but only with the help of Felder, a Brooklyn Democrat who caucuses with the Senate Republicans. In the last election, he achieved the rare feat of winning on the Democratic, Republican and Conservative party lines.
Since the dissolution of the Independent Democratic Conference into the mainline Democrats and Democrats picking up a seat in April's special elections, party officials have increasingly put pressure on Felder to flip. Gov. Andrew Cuomo penned an open letter urging him to re-join and state Democrats say they are actively seeking a strong challenger to run against Felder in the September primary.
Felder served as a Democrat on the New York City Council for two terms, but as soon as he was elected to the state Senate, he crossed party lines to caucus with the Republicans. The move shocked political observers back in 2012 – and continues to befuddle many.
Felder declined to comment for this story.
With the energy mounting in the left wing of the Democratic Party in what supporters call a "blue wave" that they hope will sweep the September primaries, it is unclear whether Felder can stay afloat given his unusual arrangements with Republicans. But he has remained largely immune to the changing political winds in the past due to his unique political geography.
The Brooklyn district was tailored specifically for Felder, Albany insiders say, and it has suited him just fine.
He ran unopposed in the last election and bested his last opponent, Republican David Storobin, by nearly 20,000 votes in 2012. Moreover, Felder has never faced a Democratic primary challenge for his district, until now. If geography is fate, as geopolitical theorists argue and gerrymandering politicians hope, perhaps Felder is safe.
Blake Morris, who launched a primary campaign against Felder in March, is banking on disgruntled party-line Democratic voters to carry him to victory in what he previously told City & State is an experiment to test the political power of the Orthodox Jewish community, which many cite as a powerful constituency in the district.
Nevertheless, both Felder and Morris vehemently oppose the notion that the 17th Senate District is a "Jewish district." It's a multicultural community, both men say, and it shouldn't be reduced to a single group.
Generally speaking, Felder is a complicated figure who eschews any easy label, but the same could be said of his district. The boxy portion of south Brooklyn includes thriving Orthodox Jewish communities in Borough Park and Midwood; a large community of Chinese and growing number of South Asians throughout the district; young professionals and artists in portions of Flatbush, Sunset Park and Kensington; and a slice of the Russian-speaking community in Sheepshead Bay. Still, often the only demographic characteristic ascribed to Senate District 17 is its Jewish community.
Felder himself balks at being reduced to "the Jewish senator." Yet he was ordained a rabbi, as many growing up in Borough Park's ultra-Orthodox community are encouraged to be, although he worked as an accountant before entering politics. Felder has lived nearly his whole life not far from his current district office. His father was an influential rabbi and community leader who ran a still-popular synagogue. A significant number of likely voters in the district can identify with that background.
Despite Felder's resistance to labels, Jerry Skurnik, an expert on voter data at Prime New York, calls it "the most Jewish Senate district in the state," and estimates that about 43 percent of the nearly 137,000 active voters in the district are Jewish, according to voter data obtained in February. But those numbers are likely an undercount, Skurnik says. Based on data in a comprehensive 2011 UJA report, David Pollock, director of public policy at the Jewish Community Relations Council, estimated that 66 percent of all residents in Felder's Senate district are Jewish, including 42 percent who are Orthodox and 26 percent who are ultra-Orthodox. And given large and growing families in the Orthodox community, those figures may now be higher.
The significant percentage of his district belonging to ultra-Orthodoxy might explain Felder's focus on local issues and getting the most for his constituents, several experts in Jewish political behavior told City & State in 2016. Kenneth Wald, a professor at the University of Florida who studies Jewish voters, said at the time that "the ultra-Orthodox practice what we call patron-client politics. ... That is to say they basically look at their representative as someone who is going to achieve very specific group-centered goals that they have. In exchange for which they'll provide the vote. It's a kind of trade."
This transactional politics aims to preserve the cultural enclave of a community that values separation from mainstream American society but needs help tackling poverty and safety concerns. They wish to be separate, Wald explained, but they need outside support. "The ultra-Orthodox tend to be fundamentally concerned with things that will affect what they see as group survival," Wald explained. And while this socially conservative group can appreciate a candidate who makes a stand against a broader political issue like abortion, he said, "Larger issues don't really matter. It's a question of will you give us this tangible thing that we need."
There are serious needs in the community. Felder's district centers around the Borough Park, Flatbush, Midwood and Kensington neighborhoods. The 2011 UJA community study showed that 60 percent of all Borough Park households were poor or near poor, with 68 percent of household incomes falling below $50,000. The Flatbush/Midwood/Kensington area fared only slightly better.
The precise way that religious leaders in the Orthodox Jewish community inform their congregants' choice on election day is disputed, but it's worth nothing that a former Felder staff member, Yehuda Meth, once told City & State that while "bloc voting" exists, it is not monolithic. "It's a bunch of little Legos," Meth said. Still, Felder has asserted that such group voting did not impact the outcome of his last competitive election.
But exactly how Felder has held onto his seat is less important than whether he'll be able to keep his seat amid a harsh spotlight and a united political front in the Democratic Party that has been spurred on by a progressive coalition of primary challengers.
Morris has earned the endorsement of Central Brooklyn Independent Democrats and has hobnobbed with Cynthia Nixon and her progressive boosters while also receiving an informal "Twitter resolution" supported by Zephyr Teachout, Nixon's campaign treasurer. But during recent presidential elections, voters in this district chose decidedly conservative candidates: they voted for Donald Trump by an 8-point margin in 2016 and Mitt Romney by 17-point margin in 2012, according to an analysis by the Daily Kos.
When asked if there was an appetite for a progressive Democratic candidate in the electorate with conservative voters, Morris balked.
"You're using the politics of division," Morris said. "You're using labels to describe people."
"The reason I am running is that people are not getting what they need," he continued. "People need health care. Everybody needs affordable housing. So you want to find the most low-income people who need the most resources? You'll find them in Borough Park. Sen. Felder votes against social services and the types of funding and education that the people in Borough Park need the most."
For Morris, talking "about political labels and not what people need" – a sentiment is curiously close to Felder's own opposition to "political labels."
Morris seems an unlikely hero, given that he has never held elected office and never intended to run in the first place. Morris said he was on a search committee to recruit a progressive challenger, but they couldn't find one.
The two most frequent responses from potential candidates, Morris said, were: "This is a very disturbing question," and "You're just going to upset the natural balance of power."
That's how he became the candidate, he said.
Now, it appears state Democratic leaders are keeping their options open in backing a candidate to unseat Felder, and appear unready to anoint Morris their candidate just yet. The day after Morris met with party leaders for the first time in Albany, news broke that the Democratic Party was seeking a challenger. It seemed an awkwardly-timed announcement for a newcomer who had just spent a day meeting with party power brokers.
"It was my very first set (of talks with Albany leaders)," Morris said. "Hopefully not my last! One never knows with these people."