Andrew Cuomo
Who New York's power players want to be the next attorney general
Who Gov. Andrew Cuomo, Assembly Speaker Carl Heastie and others want to replace Eric Schneiderman as New York state attorney general.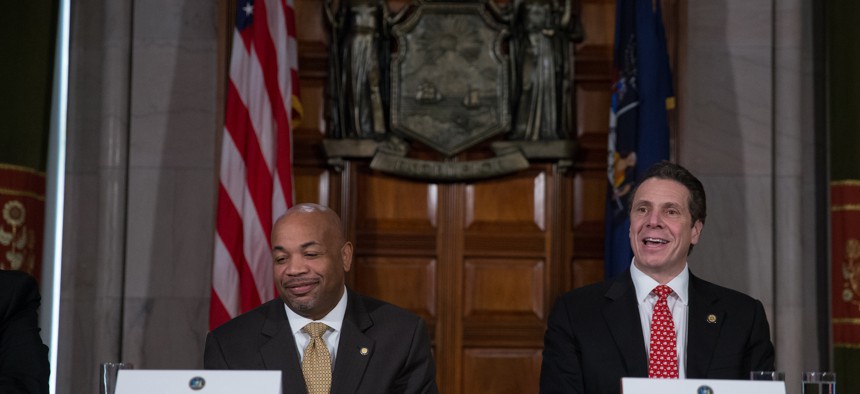 The corpse of Eric Schneiderman's political career is barely cold, but New York's political class has been abuzz for nearly a week over who will be his replacement as state attorney general.
When Schneiderman resigned amid allegations that he physically abused multiple intimate partners, state Solicitor General Barbara Underwood stepped in as acting attorney general. Impressed by her resume and her record – not to mention the fact that she was a qualified woman replacing a man accused of violence against women – a chorus of voices including Gov. Andrew Cuomo called for her to stay on until voters could choose a new attorney general in this year's regularly scheduled election. And with some of the most prominent potential candidates declining to take part in this week's public vetting led by Assembly Speaker Carl Heastie, it looks increasingly likely that Underwood will keep her role as acting attorney general.
But who's next? Some 16 candidates will still be facing the screening panel this week, including Underwood, Rep. Sean Patrick Maloney and Elizabeth Holtzman, a former congresswoman, district attorney and city comptroller who last held office in 1993.
Many others are considering running for the seat in the Democratic primary, including New York City Public Advocate Letitia James, U.S. Attorney Preet Bharara, state Sens. Michael Gianaris and Todd Kaminsky, Fordham Law professor Zephyr Teachout, Counsel to the Governor Alphonso David and Rep. Kathleen Rice.
It could be crowded field, and there's sure to be a lot of jockeying ahead of the state Democratic Party convention starting May 23. For the hopefuls who don't garner enough support from county chairs, they will have to hit the streets to collect 15,000 petitions to get on the primary ballot.
Whatever happens, Cuomo and Heastie are not New York's only political power players who are sure to be involved. Here's a look at what major players in the state may think about who should, or should not, be the next attorney general.
Gov. Andrew Cuomo
Who he wants:
For now, Cuomo would be happy to keep Underwood as acting AG. She served under him while he was state attorney general from 2007 to 2010, so her success reflects well on him. Underwood been widely praised as an impressive trial lawyer more than capable of holding the job, but she has said she wouldn't seek election, so she's not any sort of political threat to the governor. After a chorus of good government groups, editorial boards and even the state Senate Republicans called for the Legislature not to make a new appointment, Cuomo was happy to make the safe choice and avoid their ire in an election year.
Whether or nor Underwood remains acting AG until the election, expect Cuomo to flex his political as leader of the state Democratic Party to try to boost an ally. He told NY1 on Sunday that he's planning to meet with potential candidates ahead of the party convention next week. One name he mentioned: James, who he has shown such a liking to that he reportedly even floated the idea of having her as his lieutenant governor. If Cuomo championed her attorney general candidacy, the pair could potentially even run on a ticket, bringing gender and racial diversity to his reelection bid. Plus, getting James out of the New York City mayoral race in 2021 could make it an easier path for Bronx Borough President Ruben Diaz Jr., another Cuomo ally.
But James doesn't owe Cuomo anything yet, and he may prefer a safer pick backing someone from his own team, like Alphonso David, who is reportedly considering a run; Cuomo's former counsel, Mylan Denerstein; or Leecia Eve, a Cuomo appointee on the Port Authority board who used to serve as an economic development aide to the governor. Another good option: his Department of Financial Services superintendent, Maria Vullo, or another ally who previously held that job, Ben Lawsky. Both have relevant experience, and would presumably be aligned with Cuomo – but neither have held elected office, and may be a tougher sell to voters than James. Whatever happens, don't expect more than one current employee of the governor's office to run.
Who he doesn't want:
Preet Bharara. A spotlight-hogging prosecutor who loves holding elected officials accountable is not Cuomo's ideal candidate. Neither is Zephyr Teachout, Cuomo's 2014 gubernatorial rival and a frequent critic of his administration from the left. Ditto Stephanie Miner, the former Syracuse mayor who has been weighing a gubernatorial run against Cuomo. Bids by Democrat incumbents representing more moderate districts, like Reps. Sean Patrick Maloney and Kathleen Rice (who, it's worth noting, Cuomo initially backed in 2010 for the post over Schneiderman) or state Sen. Todd Kaminsky, could also make things difficult for the state Democratic Party, as it would have to decide whether to devote resources towards maintaining their blue seats.
Assembly Speaker Carl Heastie
Who he wants:
Heastie just wants to maintain as much power as possible over the process without seeming too hungry. It's why he pooh-poohed rumors that James already had the votes locked up, and it's why he's carrying on with his plan to vet interested candidates, despite the chorus of voices asking that Underwood stays in the position until the election.
As the leader of the Assembly Democratic caucus, which comprises 104 members, he has almost a majority of votes needed to choose a new attorney general. He may bow to public pressure to keep Underwood in place, but Heastie, who has said he would prefer "diversity," must also be considering the implications of getting James out of the 2021 mayoral race. This may be a small factor for Cuomo, but it's huge for Heastie, who has long championed Diaz from within the Bronx County Democratic County Committee.
Heastie could also pick from within his ranks, like when then-Assemblyman Thomas DiNapoli was chosen as state comptroller in 2007. Manhattan Assemblyman Danny O'Donnell and Westchester Assemblyman Tom Abinanti – both white men – have both submitted their names for consideration.
Who he doesn't want:
"If it's up to the Legislature to do, diversity does matter," Heastie told reporters. So picking a white, male candidate would be quite a reversal. Like Cuomo, Heastie would likely loathe the idea of Attorney General Bharara, seeing how focused Bharara was on convicting his Heastie's predecessor, the now twice-convicted Sheldon Silver.
State Senate Minority Leader Andrea Stewart-Cousins
Who she wants:
Stewart-Cousins, an advocate for gender parity in government, would not be eager to replace one white, male attorney general with another. She might support a candidate who is willing to push back against Cuomo, especially if that candidate were female – like James or Teachout.
However, it might make her life easier if her former No. 2, Gianaris, filled the position. Gianaris was deputy minority leader until Independent Democratic Conference Leader Jeff Klein reunited his breakaway caucus with the mainline Democrats. Now Klein is the deputy, and Gianaris just happens to be sitting on more than $2 million in campaign funds. If Gianaris were the attorney general, it could resolve any residual tension in the Senate minority.
Who she doesn't want:
Stewart-Cousins would likely be less than enthusiastic about a candidate who seems too close to Cuomo, such as David.
State Senate Majority Leader John Flanagan
Who he wants:
As a state Senate Republican, Flanagan's opinion – for once – does not matter much in this particular legislative battle. While Assembly Republicans will participate in the panel to choose the replacement attorney general, state Senate Republicans are declining to get involved. Flanagan has said that there is no time frame for the process, and no hurry to choose a new attorney general.
"It's not as if there's a mandate that it be done within 72 hours or a week," Flanagan told the Daily News. "This is an incredibly important position. If we're going to be deliberate, there should be nothing wrong with it."
This dedication to the deliberative process may be more self-serving than it appears. Flanagan might want Underwood to hold down the fort until the end of the year, because otherwise the Legislature could choose a Democratic replacement who might become an unbeatable incumbent by the time November rolls around. The state GOP is looking for new candidates for the attorney general race, as Schneiderman's erstwhile Republican opponent, Manny Alicandro, may not have much star appeal. If Underwood stays in place, and the eventual Democratic nominee for attorney general has been bloodied by a free-for-all primary race, that could give the eventual Republican candidate a chance to win. It's a long shot, but Flanagan – who has managed to hold onto leadership for years despite not actually having a numerical majority – is nothing if not strategic.
Who he doesn't want:
If Flanagan wants Underwood to stay in place, he may not want any of the potential candidates to be chosen. He might worry that the more progressive candidates, such as Teachout and James, would be particularly combative. If Flanagan ever wants to get a good night's rest, he would also want to keep Bharara far away from Albany.
Bill de Blasio
Who he wants:
Try as he might, de Blasio doesn't have much influence on statewide politics. That said, the New York City mayor could act as a validating voice for a more progressive candidate in the race. James fits the bill, but she's been a bit of an annoyance to de Blasio, having sued his administration a number of times, and he may not be eager to see her holding real legal power at the state level. Still, a James bid would create an opening in the public advocate's office, which de Blasio would be eager to fill with an ally.
De Blasio's progressive politics align well with Teachout, but don't expect an endorsement – it would enrage Cuomo, and de Blasio's silence around Cynthia Nixon's gubernatorial campaign shows he is occasionally capable of pragmatism.
A safer choice is O'Donnell. De Blasio has worked with the liberal Upper West Sider before on a millionaire's tax to fund the MTA and a police accountability bill – although openly backing such a candidate would hurt the mayor's credibility with minority voters.
Who he doesn't want:
De Blasio has also been dogged by Bharara, who opened a years-long investigation into the mayor's fundraising before the U.S. Attorney's office declined to bring charges. He wants Bharara to stay in the podcast chair. De Blasio would also hate to have a tried-and-true Cuomo ally in the position, like David or Eve. One bully in Albany is plenty.
Correction: An earlier version of this post incorrectly referred to Letitia James as the former public advocate. She is still the New York City public advocate.