Andrew Cuomo
Women's Caucus: Vance shouldn't lead Schneiderman investigation
The New York City Council Women's Caucus supports the appointment of Nassau District Attorney Madeline Singas as a special prosecutor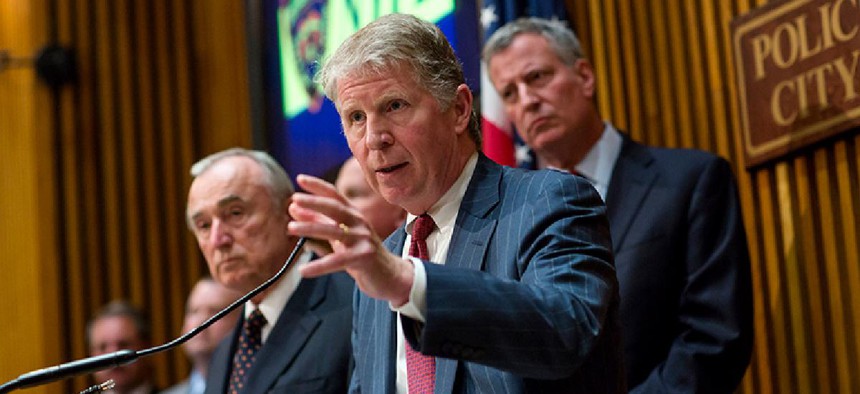 The New York City Council Women's Caucus has backed Gov. Andrew Cuomo's decision to appoint a special prosecutor to lead the investigation into the alleged physical abuse by former state Attorney General Eric Schneiderman.
Schneiderman resigned as Attorney General Monday night after The New Yorker published a story including claims that he had physically abused four women, as well as abused drugs and alcohol.
Cuomo appointed Nassau District Attorney Madeline Singas as a special prosecutor on Tuesday to investigate the abuse allegations. Normally, Manhattan District Attorney Cyrus Vance would have led the investigation into crimes alleged to have occured in Manhattan, but Cuomo pulled Vance off the case, fearing a conflict of interest because the attorney general's office has an open investigation into Vance's office for its handling of sexual assault allegations against Hollywood producer Harvey Weinstein.
Vance has come under widespread criticism for his office's decision to drop the case about Weinstein's alleged 2015 assault on model Ambra Battilana Gutierrez.
"This investigation must be one that is completely independent. The Women's Caucus supports the appointment of (Singas) as special prosecutor in this case, in order to preserve the public's confidence in this investigation," the Caucus said in a statement released Tuesday.
Cuomo himself ordered the investigation of Vance's office back in March. Vance wrote an open letter to Cuomo on expressing his displeasure at not being trusted, and blaming Cuomo for the need for a special prosecutor at all. "The only potential conflict here is of your own creation," Vance wrote in the scathing letter, suggesting that Cuomo ordered the investigation into Vance's office as a politically motivated ploy to get attention the same day the Cynthia Nixon announced her campaign for governor.
But this is one state intrusion on New York City home rule that some city politicians don't mind: Council's Women's Caucus took Cuomo's side, and City Councilwoman Carlina Rivera, the caucus's co-chair, asked Vance to drop the fight. "I call upon our elected officials and state prosecutors, including the Manhattan District Attorney and the Nassau County District Attorney, to understand and respect the seriousness of this case, and allow for a thorough and independent investigation that puts victims before political considerations," Rivera said.
Rivera and her co-chair, City Councilwoman Margaret Chin, both represent Manhattan. Two other Manhattanites, City Councilwomen Helen Rosenthal and Diana Ayala, are also in the 11-member caucus. A former member of the Women's Caucus, New York City Public Advocate Letitia James, is considered to be a leading candidate to replace Schneiderman.
The state Senate's Republican women's caucus earlier Wednesday called for Schneiderman to donate all his remaining campaign funds to anti-domestic violence programs.
Powered By
NEXT STORY: The most insightful analyses of Schneiderman's resignation