New York City
Donovan easily beats Grimm in GOP primary
Incumbent Rep. Dan Donovan held off former Rep. and convicted felon Michael Grimm in NY11's Republican primary.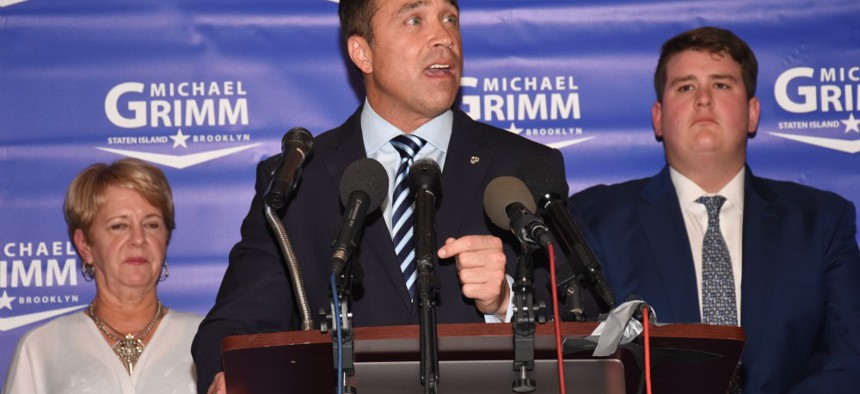 In a victory for conventional wisdom in an era of anything-seems-possible politics, Rep. Dan Donovan defeated former congressman and convicted felon Michael Grimm with nearly twice as many votes. With all precincts reporting after 11 p.m., Donovan had 12,774 votes to Grimm's 7,219 votes.
The race had pitted a Trump-endorsed Donovan against Grimm's Trump-like appeal. Grimm previously held the district seat from 2011 to 2015, when he resigned to face a prison term for felony tax evasion. Donovan, a former Staten Island district attorney, easily won both the special election to fill the seat in 2015 and re-election in 2016.
At Grimm's campaign election night event, the atmosphere never quite turned festive. News of the loss left guests turning to each other wide-eyed and hushed, as the DJ blasted Garth Brooks and the Jackson 5.
"I'm disgusted, I'm angry, and I'm furious," said Joseph Pidoriano, an energetic Grimm supporter who had been glad-handing young people coming into the sparsely attended event. Pidoriano blamed the loss on a lack of support from the local parties and officials. "They ought to be ashamed of themselves."
Grimm took the podium to concede shortly after 9:30 pm.
"There's some long faces tonight," Grimm said. As he began a conciliatory concession speech, a supporter began cursing Donovan. But no harsh words would come from Grimm. Unlike so many moments during the campaign, Grimm held his fire.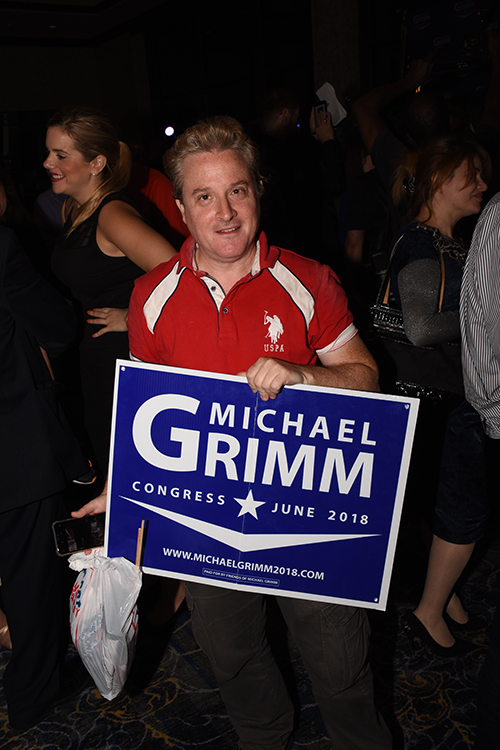 "It's very hard to embrace who is, at the time, your opponent," Grimm said. "But our opponent in this race, the primary, was never our enemy. So we're going to support the Republican nominee. We'll support Dan Donovan and make sure we defeat the Democrats in November!"
The DJ played Grimm off stage to the Rolling Stones' lyrics, "You make a grown man cry" as cameras flashed and the few dozen supporters waited to shake his hand.
"Looks like people couldn't get over the fact that he spent time in jail," said Christophe Lirola, a 28-year-old Grimm supporter and financial fund owner who attended the election night event. "Obviously, this district's important to keep. We'll support Donovan."
A poll linked to Donovan's campaign showed Donovan up by seven percentage points against Grimm less than a week ago. Those numbers – which many suspected were biased and inflated – vastly underestimated the rout that took place on Tuesday, where Donovan appears to have garnered nearly 30 percentage points more than Grimm. The reality at the ballot box is a startling reversal from the only recent independent poll, a June 3 poll by NY1/Siena College, which showed Grimm 10 points ahead, echoing a Democratic Congressional Campaign Committee poll from April 9-11 which showed a similar spread.
With the win, Donovan dispensed with observers' concerns that Grimm's popularity among Staten Islanders would carry him to victory in spite of his criminal record. But Donovan didn't do it alone. Aside from the advantage of incumbency, Donovan had substantial backing in the race.
As of early June, Donovan had outspent Grimm 3 to 1 with a blitz of media buys and was buoyed by get-out-the-vote efforts from local Republicans, along with robocalls from President Donald Trump and his son Donald Jr. The New York Times noted that it felt "as if the entire Republican establishment" was "trying to carry Mr. Donovan over the finish line."
President Trump's "full endorsement" of Donovan may have played a pivotal role in reversing the incumbent's fading fortunes in the largely Republican district. On May 30, the president tweeted his blessing, praising Donovan as tough on immigration and crime, pro-military and a supporter of his tax cuts.
There is no one better to represent the people of N.Y. and Staten Island (a place I know very well) than @RepDanDonovan, who is strong on Borders & Crime, loves our Military & our Vets, voted for Tax Cuts and is helping me to Make America Great Again. Dan has my full endorsement!

— Donald J. Trump (@realDonaldTrump) May 30, 2018
A follow-up tweet from the president also tied Grimm to Roy Moore, raising the possibility that Republican voters may have chosen Donovan to fend off a potential Democratic upset in November. "Remember Alabama," Trump wrote.
Very importantly, @RepDanDonovan will win for the Republicans in November...and his opponent will not. Remember Alabama. We can't take any chances on losing to a Nancy Pelosi controlled Democrat!

— Donald J. Trump (@realDonaldTrump) May 31, 2018
In December, Trump had endorsed Roy Moore's controversial bid for an Alabama Senate seat, but Moore's campaign ultimately failed after damning allegations of criminal misconduct surfaced in news stories that revealed reports of sexual assault against minors.
Despite the brutal comparison, Grimm never broke ranks with the president even in his concession speech, where he insisted that it was crucial for Republicans to "hold the House" and criticized the "radical left" for wanting to "destroy our president."
Grimm had enlisted the briefly tenured Trump White House spokesman Anthony Scaramucci and largely ignored Trump's endorsement of his rival, instead waging a primary battle that followed the president's political playbook. But it appears that tactic was not enough.
Donovan will face Democratic nominee Max Rose, who easily prevailed in a field of six candidates garnering 10,712 votes, or 62.65 percent of the vote total with all precincts reporting.
Donovan also won on the Conservative Party line, knocking Grimm out of the race altogether despite a last-ditch write-in campaign by the Grimm camp, putting an end to fears that Grimm could make it a three-way race against the Democratic candidate and play spoiler for the Republicans.
"Well, Donald Trump is still president," Lirola, the 28-year-old Grimm supporter, said to a sad-eyed woman. "That better?"
Powered By
NEXT STORY: Joe Crowley defeated by Alexandria Ocasio-Cortez in stunning upset