Criminal justice
How Jeff Sessions' latest decision could affect asylum-seekers in New York
How Jeff Sessions' latest decision could affect asylum-seekers in New York.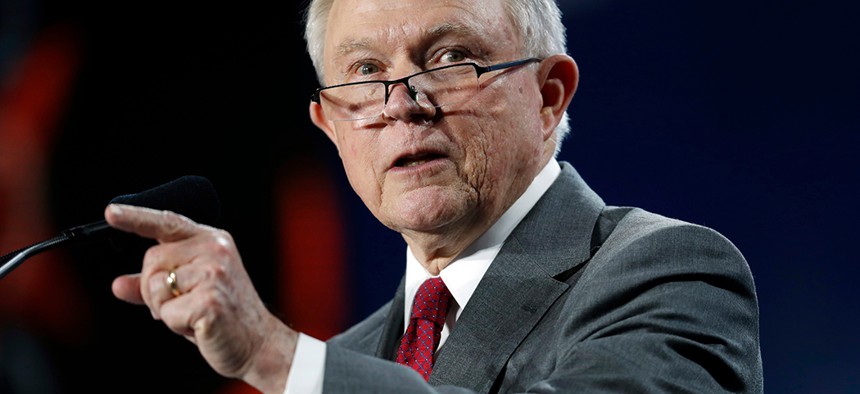 Throughout his presidential campaign and his time in office, President Donald Trump has portrayed members of the gang MS-13 as murderous thugs who are pouring into the country from Central America. "These aren't people, these are animals," Trump said in late May about gang members who enter the country illegally. MS-13 is a favorite rhetorical scapegoat for Trump, and he has dedicated more than one rally on Long Island to railing against the scourge it presents.
Despite this fiery rhetoric about the dangers of MS-13 at home, the Trump administration does not seem to believe the gang is a credible threat to those seeking asylum in the United States. On Monday, U.S. Attorney General Jeff Sessions issued a rule excluding risk of violence from a private actor, such as spousal abuse or threats from a gang, as grounds for granting immigration asylum.
New York has an estimated 114,000 immigrants from El Salvador, and many more immigrants from other countries in Central America, particularly concentrated around New York City and on Long Island. MS-13, which originated in El Salvador and among Salvadoran immigrants to the United States, has made inroads in those same places. Sessions' decision could potentially affect asylum-seekers escaping violence from private actors who are currently in New York, or those wishing to enter, as well as family members who may already be in New York.
It is impossible to know how many people who are victims of domestic or gang violence are currently seeking asylum in New York, and where these asylum-seekers are from. According to U.S. Citizenship and Immigration Services, as of March 2018, the most recent month for which data are available, there were almost 50,000 people seeking affirmative asylum – meaning that they are in the United States and not yet facing deportation proceedings – through the USCIS office in New York. A person in the midst of removal proceedings can instead apply for defensive asylum before an immigration judge. The number of people applying for asylum defensively is unknown.
Sarah Pierce, a policy analyst with the Migration Policy Institute, a think tank focused on studying immigration patterns, said that the Trump administration had announced in April that it would compile data on why people sought asylum as part of its effort to end the "catch and release" program, which allows immigrants who have entered the country illegally to be released while waiting for their cases to be processed. That data has not yet been made available.
"We do hear a lot of anecdotal reports saying that a lot of asylum seekers, especially those who are currently approaching our southern border, are applying based on fears of domestic violence, or fears of gang violence," Pierce said. "For them, this decision is devastating."
Sessions' decision would make it more difficult for people to pass the credible fear determination when apprehended at the border, which determines whether they will be expedited for removal or allowed to bring their case before a judge to ask for defensive asylum.
Camille Mackler, director of immigration legal policy for the New York Immigration Coalition said that Sessions' decision could have an immediate impact on immigrants and asylum-seekers in New York. "People will start losing asylum claims. Attorneys are going to be even more overwhelmed with the amount of work that has to go into any single case," Mackler said. However, she noted that attorneys on the state and the national level would be looking at ways to challenge this new policy. She compared it to the initial travel ban on visitors from majority-Muslim countries implemented in early 2017, which was later struck down in federal courts. "In the long term, it's just one more fight that we add to the list of fights that we're engaged in right now," she said.
Correction: This article initially identified the New York Immigration Coalition as the New York Immigration Council. We regret the error.