Max Rose is running for Congress as a can-do military veteran
Can Democrat Max Rose convince the flag-wavers of Staten Island to support him?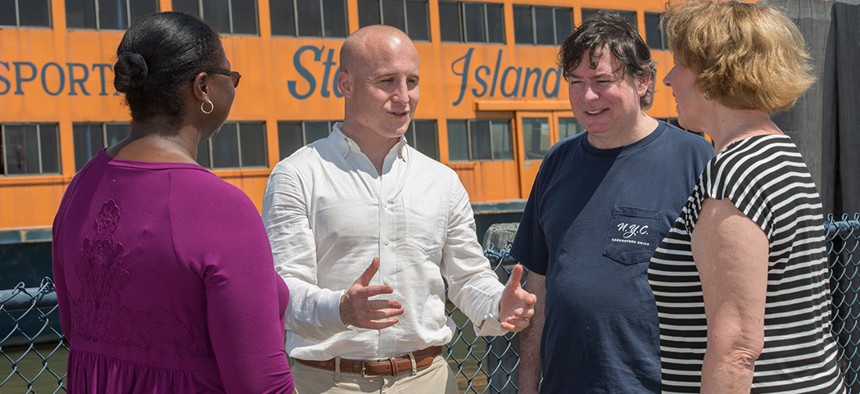 On a humid, overcast June day, Max Rose, the Democratic nominee for Congress in New York's 11th Congressional District, wanted an Italian ice.
He had just finished up a campaign event at the famous Denino's Pizzeria & Tavern in Port Richmond.
Rose settled down on the curb with a cup from the nearby Ralph's Famous Italian Ices & Ice Cream and recountedhis experience as an Army veteran and an infantry company commander in the National Guard, and how it informed his decision to run for office.
It was 13 days before the federal primary on June 26, so Rose was just one of six Democrats vying to challenge either incumbent GOP Rep. Dan Donovan or his primary opponent, former Rep. Michael Grimm. Rose had outraised all of the other Democratic candidates by a significant margin, with more than $1 million in cash on hand as of early June. He had even outraised the two Republican rivals.
In the primary, Rose dominated the Democratic field, beating his closest rival by more than 40 percentage points. Rose will now face Donovan, who fended off a challenge from the charismatic Grimm.
So can Rose win over the Republican district?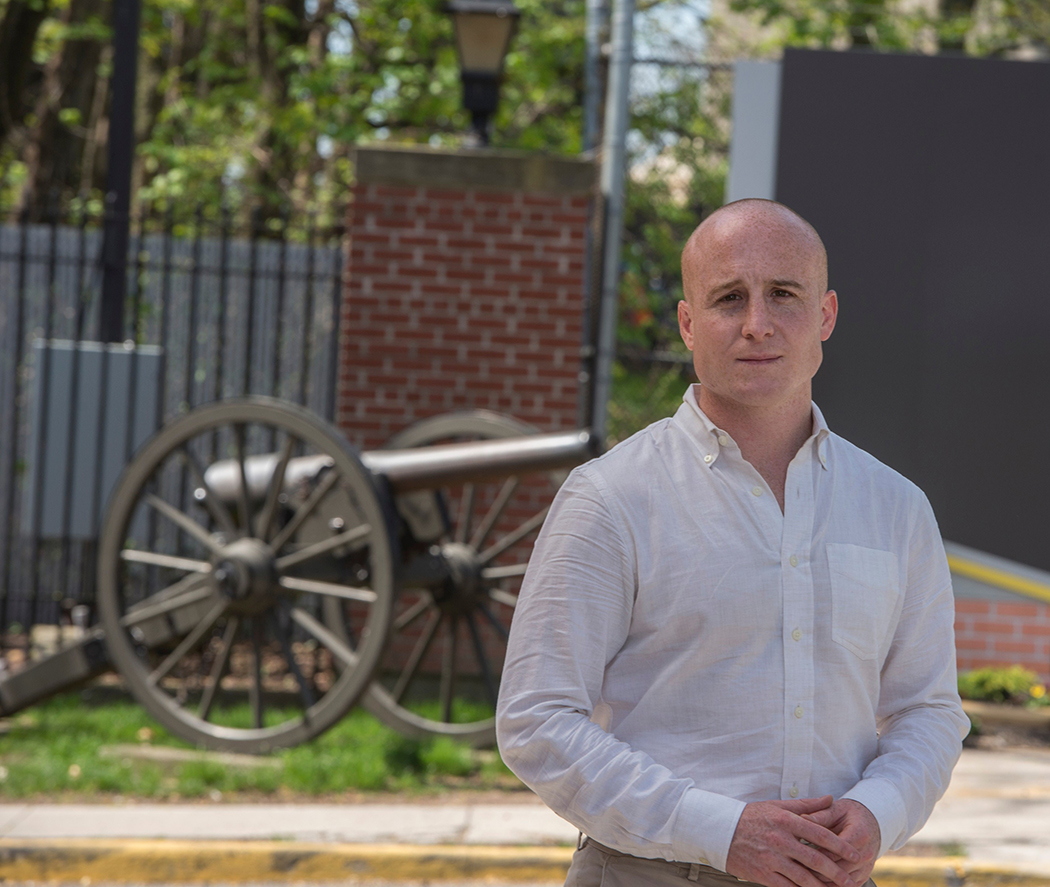 Rose has more than just money: He has momentum. Lawns across Staten Island, the ruby-red so-called forgotten borough that voted for President Donald Trump in 2016 by nearly 15 percentage points, are peppered with Max Rose signs. (The district contains the entire borough and a slice of southern Brooklyn, just over Verrazano-Narrows Bridge, where Rose grew up.) He has endorsements and fundraising support from prominent Democrats.
Rose has seemingly all of the qualities the Democratic Party is looking for: He's young, a graduate of Wesleyan University with a master's degree from the London School of Economics, a former health care professional and a veteran.
He argues that active retail campaigning and a demonstrated commitment to public service will convince voters who may have supported Trump to now support him, if not his party.
Rose shook his head when I called Staten Island "Trump country." The borough, he contended, will look past party labels to examine each candidate individually. "What Staten Island deserves is to vote for the person, not the party," Rose said. He pointed to a flag flying in an adjacent yard. "That flag is out there because they believe in this country. And they don't want to think that our best days are behind us. And they need to be convinced of that yet again."
Square-jawed, with closely cropped hair, Rose looks the part of a soldier. He has traded his Army fatigues for well-tailored suits, but his campaign is leaning heavily on his military experience – even sartorially, producing Army-green campaign T-shirts.
The conversation in Denino's between Rose, his volunteers and Tiffany Muller from End Citizens United was earnest and wonkish, analyzing how to get corporate political action committee money out of politics over pizzas and pitchers of beer. At least five of about a dozen attendees at the event were under the age of 23. Rose has renounced any money from corporate PACs, although he has received significant funds from grassroots-funded PACs like ActBlue. To illustrate the effect of corporate political spending on politics, Rose said that corporate interests lobbying in Congress, particularly from the pharmaceutical industry, have helped exacerbate the opioid crisis, which has plagued Staten Island.
At one point, a volunteer asked Rose how he could win when other candidates would accept corporate money – comparing his campaign to David vs. Goliath.
"David won," answered John McBeth, another volunteer, who is a member of Staten Island Community Board 1. Rose cheered, and the attendees laughed.
Staten Island is traditionally thought of as solidly Republican. It is mostly represented by Republicans in the New York City Council, although it is evenly divided in the state Legislature. The last Democrat to represent Staten Island in Congress was Michael McMahon, who served one term, and was defeated by Grimm in 2010. Only four Democrats have won Staten Island in presidential elections in the past 60 years: Lyndon Johnson in 1964, Bill Clinton in 1996, Al Gore in 2000 and Barack Obama in 2012.
Rose may be an underdog in November, but he has a David-like confidence that he will win. Somewhat surprisingly, Democrats have a large registration advantage in the district, with more than 200,000 Democrats to about 118,000 Republicans. The district is one of the few remaining bastions of what once were called Nixon Democrats and then Reagan Democrats. Middle-class and working-class whites, who take offense at those who don't stand for the national anthem and support the cops violently suppressing anti-war protesters – or, in the local case of Eric Garner, African-Americans accused of a petty crime. While they usually vote Republican at the presidential level, they are often union members and many are not rigid ideological conservatives.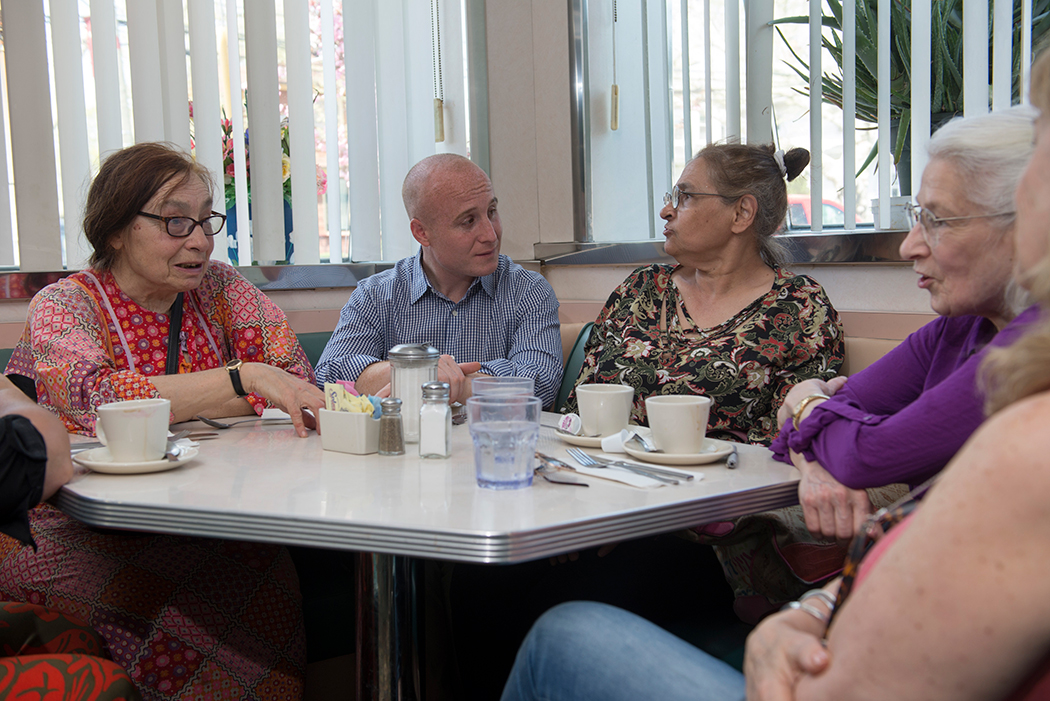 Rose's conviction in the importance of overcoming differences to solve major political problems may be naive in the current divisive climate. This can-do attitude may be a function of his time in the military.
After graduating from the London School of Economics, Rose enlisted in the Army, and served a tour in Afghanistan from 2012-13 as a Ranger-qualified infantry platoon leader.
When asked why he joined the military after getting a master's degree, Rose shrugged. "I felt like it was the right thing to do. I felt a calling to serve like so many other people feel," he said. He seemed to be uncomfortable with the idea that his enlistment after higher education was in some way odd, or set him apart from his military comrades. "I remember one person said to me, 'You're going to be the smartest one in the room. They're so lucky to have you,'" Rose said, emphasizing the word "lucky" with distaste. "And when I joined, I remember in basic training, I felt like exactly the opposite."
Rose credits his mother, who was a professor at Borough of Manhattan Community College, for instilling him with a love of public service. A Brooklyn native, his great-grandfather emigrated to the United States from Eastern Europe and opened Kellogg's Diner in Williamsburg, which still stands.
Rose may hope that his military experience will more than offset any backlash to his ivory tower pedigree, and he's not the only candidate running on some version of that theory, as many veterans are running for office across the country. "We love to thank these people for their service and that's a good thing," said Rose about military servicemen and women. "It's unfortunate that we don't also thank other public servants for their service – teachers, cops, firemen, nurses, first responders and sanitation workers – the very people who call this district home."
Rose often tells a story of when, in 2013 in Afghanistan, his vehicle was hit by an improvised explosive device and he was medically evacuated to Kandahar Air Force Base. "A two-star general comes up to my hospital bed, he looks down at me, and he says, 'Son, five years ago, you'd be dead.' And then he walks away," Rose said at a campaign event earlier this year, as reported by Politico Magazine. Rose survived because Congress authorized improvements to the vehicle he ended up driving that day.
"They put the right people in a room, they gave them resources, they put partisanship aside, and they said, 'Solve the damn problem!' That used to be the story of this country. I am only alive today because that's what Congress is actually capable of," Rose said.
On the side of the road outside Ralph's in June, he alluded to the power that story holds for him and voters. "I tell that story not because I particularly enjoy reliving it, but I tell that story because I'm alive today because we as Americans were able to solve a problem in a quick manner, put the resources behind it, save soldiers' lives – not concern ourselves with hyperpartisanship," he said. "It's time that we do that for every other problem that we face."