Dan Donovan
Nastiness continues in the latest Grimm and Donovan debate
Michael Grimm and Dan Donovan once again traded barbs in their latest debate, but will it matter?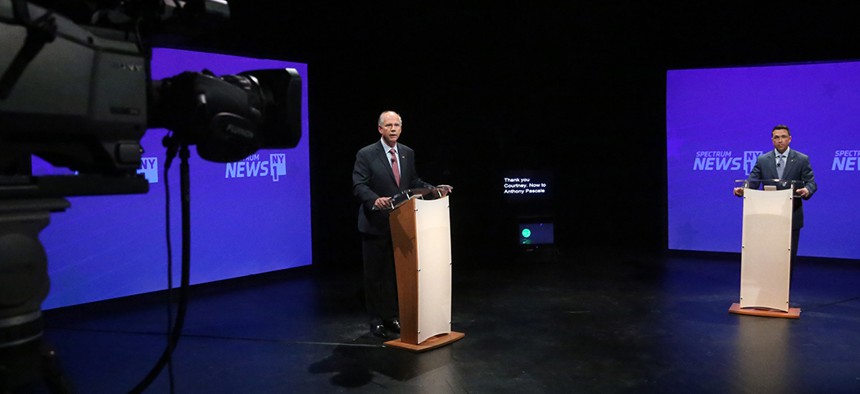 The two primary debates between Rep. Dan Donovan and former Rep. Michael Grimm this week were as different as the public personas of the two men. At their first debate on WABC-AM on Monday, the tone was aggressive, as the candidates accused each other of telling falsehoods and lobbed rhetorical bombs while standing only a few feet apart.
The second debate, hosted by Spectrum News-NY1, was far calmer and more substantive. There were few moments with raised voices and some points of agreement, such as the desire to allow children to remain on their parents' health insurance until age 26, a provision enforced by the Affordable Care Act, which both men want to repeal.
However, even if one candidate is seen as winning either or both of the debates, that performance may not influence decided primary voters to change their mind, or undecided voters to pick a candidate. While debates may a play an important role in higher turnout elections with many less-engaged voters, such as presidential campaigns, off-year primaries are a different kind of race.
"Primaries are low-turnout races, and as a general rule, only the most dedicated voters – those voters who pay most attention to the world of politics – vote. Those happen to also be the voters who probably pay the most attention to debates, or coverage of debates," said Steve Greenberg, a pollster for Siena College, which recently released a poll with NY1 finding that Grimm was 10 percentage points ahead of Donovan among likely Republican voters. "But the most likely and committed voters are generally voters who know who they're supporting," Greenberg said, meaning that it was unlikely a debate would change decided voters' mind, absent a gaffe by one of the candidates.
Bruce Gyory, an adjunct professor of political science at SUNY Albany, said that candidates need to truly shine or stumble in order for the debate to have a wide impact on voters. He mentioned the performance of John F. Kennedy in the first televised debate against Richard Nixon in 1960 as an example of a candidate having a breakthrough performance.
"Rarely do you get that kind of fast-break effect, to make a basketball analogy, where one candidate is seen as doing very well or making a big mistake," Gyory said.
At the first debate, Grimm alleged that before he entered the primary race, Donovan had lobbied President Donald Trump – who has endorsed Donovan in the race – to grant him a presidential pardon. Grimm was found guilty of tax fraud in 2015 and sentenced to prison, leaving his congressional seat open for Donovan to step in.
"You were offering pardons because you didn't want me to run against you. You offered to help," Grimm said during the debate.
"I offered nothing," Donovan replied. He said that he had spoken to the president as a favor to Guy Molinari, the former Staten Island borough president who is an ally of Grimm's and a former boss of Donovan's.
Gyory said that this could be seen as a defining moment in the debate, as it could help voters determine which candidate was more truthful.
"The question is, does that make Donovan look like the kind of guy who would trade pardons for something, or does it underscore for voters that Grimm is a guy who has been proven to not tell the truth?" Gyory said.
The second debate was more tame. However, at the portion of the debate where the candidates got to ask each other one question, the tone became nastier: Donovan asked Grimm about a fundraising scandal in 2014 that landed Grimm's ex-girlfriend, Diana Durand, in prison. Donovan called Durand "an unwed mother." He also questioned Grimm about his over $400,000 debt to law firm Squire Patton Boggs that the firm forgave.
"Did you do anything for such a generous gift by them, or did they lobby you for anything in order to forgive nearly $500,000 that you owe them?" Donovan asked Grimm. Grimm said the Federal Elections Commission was investigating the deal.
However, Donovan seemed uncomfortable making personal attacks, often stuttering while making accusations. He later said after the debate that he was not at all nervous, but trying to speak while being interrupted by Grimm. Meanwhile, Grimm seemed calm and confident, and even a little disappointed that Donovan would be so aggressive. The roles of the two had reversed: Grimm, usually the more brash, aggressive candidate, was deflecting attacks from the more mild-mannered Donovan.
However, Greenberg noted that unlike presidential debates, congressional debates – especially for primaries – have much higher viewership, and therefore more likelihood of influencing an undecided voter.
"You're more likely to have a casual voter watching or reading about a presidential debate than you are a casual voter paying attention to a congressional debate," he said.
Gyory said that primary debates could not be considered "determinative" because of their low viewership, but they could have an impact. "It is part of the continuum of coverage and can affect momentum along with editorial endorsements," he said.