Donald Trump
No one knows how many immigrant children taken from parents are in New York
Donald Trump's executive order doesn't send the children already taken back to their families.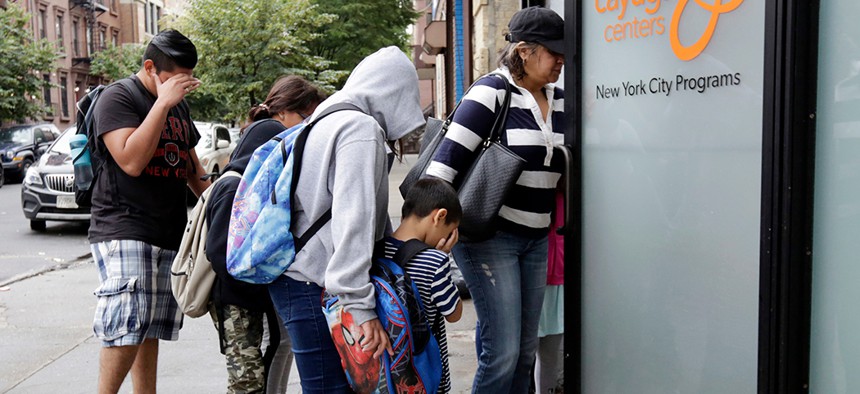 President Donald Trump's policy of separating undocumented families at the border has put New York in a difficult position: as a state with one of the largest foster-care networks in the country, many of the children are being shipped to facilities in the state. And it leaves New Yorkers wondering exactly how many children are here, a question government officials haven't made it easier to answer as they offer different numbers with each passing day.
The federal government hasn't provided official figures to New York state about how many children have been brought to it or where they are located in the state, even though 10 New York agencies contract with the federal government to care for the children.
The most recent estimate, provided by Gov. Andrew Cuomo on Thursday, is that 700 separated children remain in the state. But this number is gleaned from individual foster agencies and not the federal government. Aside from its imprecision, this estimate is also likely to change – especially as more children enter the state.
On Tuesday, Cuomo said there were at least 70 children throughout New York. But the next day, New York City Mayor Bill de Blasio said there were actually 239 in just Cayuga Centers, which is just one of several facilities being used, and 350 children had passed through the center in the past two months. And New York City hospitals have seen at least a dozen separated children, with the known-children having been brought in by foster parents.
Cuomo has blamed the federal Department of Health and Human Services for the discrepancy in numbers that have been announced this past week.
Although Trump has signed an executive order to end family separations, the order doesn't address the over 2,300 children throughout the country who have already been separated and doesn't end Trump's zero-tolerance policy. And even then, his executive order may face legal challenges. Meanwhile, four military bases are being prepared to house up to 20,000 unaccompanied minors, although the New York Times reported federal agencies gave "conflicting explanations" for who would be housed in these bases.