Melissa Mark-Viverito
Puerto Rican groups see budget fortunes shift without Mark-Viverito
Puerto Rican groups see budget fortunes shift without Melissa Mark-Viverito.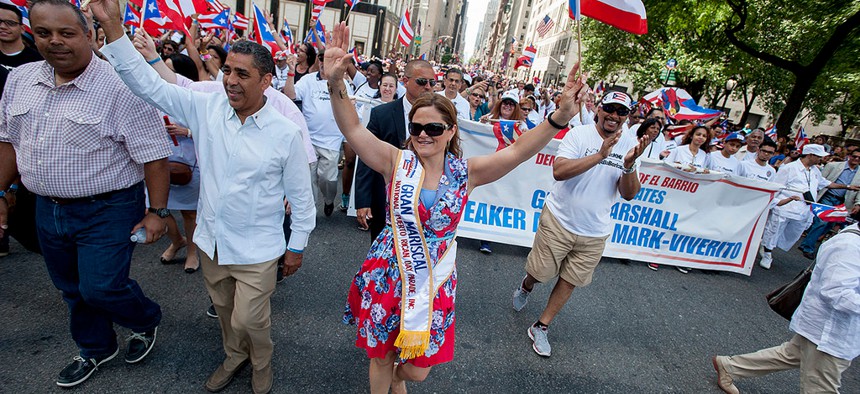 New York City slashed the funding to the City University of New York's Center for Puerto Rican Studies last year after a dispute with then-City Council Speaker Melissa Mark-Viverito. Now the City Council has a new speaker and the academic center known as "Centro" is getting more money from the city than ever – even as some other nonprofits serving New York's Puerto Rican community saw cuts.
The city allocated $970,000 to the Centro in the fiscal year 2015, 2016 and 2017 budgets. But funding was cut nearly in half, to just $500,000 in the fiscal year 2018 budget, released last June, because Centro Director Edwin Melendez wouldn't publicly support Oscar López Rivera being honored in the Puerto Rican Day Parade, according to reporting by the New York Post. Mark-Viverito, who grew up in Puerto Rico, was a staunch supporter of Rivera, who spent more than 30 years in jail for his ties to Puerto Rican independence group FALN. Rivera is also a controversial figure who some considered to be a terrorist.
But in the fiscal year 2019 budget released Wednesday, Centro's funding was higher than ever, receiving $1.1 million from the city of New York.
New York City Councilman Rafael Salamanca said getting Centro its money was his number one budget priority.
"I righted a wrong" he told City & State. "It was wrong. They should have never been defunded. Never. And I'm happy that I played a role in getting the funding back."
Salamanca said he felt it was important to advocate for Centro, since he's the only New Yorker of Puerto Rican descent on the City Council's budget negotiating team, which has a large say in which organizations get city funding. The Bronx councilman said Centro was a leading academic source on day-to-day life in Puerto Rico, and suggested that the government's response to Hurricane Maria, which hit the Caribbean island in September, would have been better if the city hadn't cut Centro's budget.
"I think that if they would have been fully-funded, the response in Puerto Rico may have been better … if they had the resources that they need, we could have gotten this data (on the death toll) much sooner," he said.
Neither Melendez nor Mark-Viverito could be reached for comment.
Mark-Viverito showed her influence by slashing Centro's funding, but the former speaker also kept a number of other organizations primarily serving Puerto Ricans well-funded. With Mark-Viverito out of the council and replaced by Corey Johnson as speaker, some of those organizations saw a drop in funding compared to last year.
The Institute for the Puerto Rican/Hispanic Elderly, which operates senior centers in areas of the city with heavily Latino populations, received $88,500 in discretionary funds this year's budget – far less than the $281,000 haul in last year's budget. In 2014, the city froze funding to the IPRHE following a probe by the city's Department of Investigation. The group could not be reached for comment.
The Pregones/Puerto Rican Traveling Theater, a Bronx-based Latino theater collective, received more than $150,000 from the city in 2017. This year, it got just $45,000.
The United Puerto Rican Organizations of Sunset Park, or UPROSE, also saw a drop, getting $30,000 in discretionary funds this year, compared to $45,000 last year.
One organization with Puerto Rican ties got much more funding this year than last: Urban Health Plan, the Bronx-based nonprofit where Salamanca used to work. Urban Health Plan was founded by a Puerto Rican doctor, Richard Izquierdo, and still serves a heavily Puerto Rican community in the South Bronx. Urban Health received just over $380,000 in discretionary funding last year. This year, it will receive nearly $600,000.
"I'm not familiar with the backstory of why each of those programs had significant cuts in funding but during a time when Puerto Ricans really needed support in every shape or form possible, these cuts certainly did not help this community - my community- when they desperately needed it the most," Salamanca said. "It's suspect."
Powered By
NEXT STORY: Why Staten Island still loves Michael Grimm