Jose Serrano
Reform Party hosting candidate-less congressional primaries
The write-in contest is intended to promote idiosyncratic election law proposals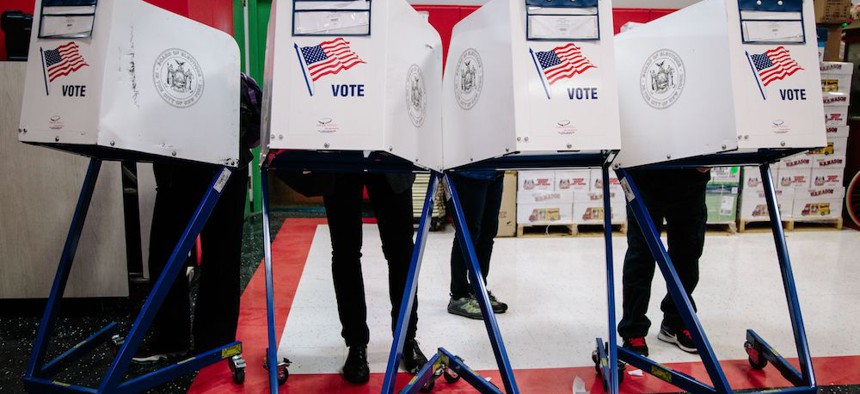 The Reform Party is pulling off a political stunt on Tuesday spanning four boroughs, 230 polling sites, and 5,000 workers. The only question is whether voters will play along.
Rep. Nydia Velázquez, who represents New York's 7th congressional district , and Rep. José Serrano, who represents NY-15, are virtually guaranteed to win re-election. They're longtime incumbents in heavily Democratic districts who aren't facing primary challenges. Under normal circumstances, the New York City Board of Elections therefore wouldn't set up polling places in these districts on primary day.
But this year, they will have to, since the tiny Reform Party is hosting a write-in primary. And the party is opening it up to all unaffiliated voters, who don't belong to a political party. That means that 77,000 independent voters and 23 Reform Party members in Velázquez's district – which includes Manhattan's Lower East Side, much of the Brooklyn waterfront and slivers of southwest Queens – have the option to vote. Ditto for the 55,000 independents and 38 Reform Party members in Serrano's South Bronx district.
The Board of Elections didn't respond to a request for comment, but the Daily News reported that the Board will be running 230 polling sites and employing 5,000 workers, at a cost of $1 million to run elections in these two districts despite their being no actual candidates on the Reform ballot and no challenges on the Democratic side.
Why would anyone do such a silly thing?
The Reform Party says it's meant to send a message that current New York election law governing partisan primaries is broken. "Part of my hope, quite frankly, is that people will see what a needless expense this is and we will call upon their state legislators to fix this right away," Reform Party spokesman Frank Morano told City & State.
The Reform Party is pushing for a number of changes to elections, like combining the state and federal contests, which are currently on two different days, and holding non-partisan primaries – a position that even U.S. Sen. Chuck Schumer has endorsed. But the Reform Party hasn't been able to move the state legislature.
The Reform Party pulled a similar stunt in 2016 in four districts. It wasn't open to independents then, just party members, so in Rep. Hakeem Jeffries' 8th congressional district, just two voters cast ballots. Actor Tony Danza tied for first place with a municipal employee.
The Reform Party doesn't care much if anybody shows up. The party itself has done no outreach to independent voters in the district. The party's website contains no information about the races, merely featuring a photo of party chairman Curtis Sliwa and a link to an outdated Daily News article about how Sliwa might run for governor (the party has since endorsed Dutchess County Executive Marc Molinaro, a Republican, in the race).
Morano predicted some 3,000 to 5,000 voters would show up to vote in each district, but that number seems quite high when fewer than 10,000 people in the 7th district voted in the last midterm primary, in 2014. And that contest was open to Democrats, which outnumber independents in the district nearly 4-to-1.
Conventional wisdom holds that most of the voters who show up at the polls in these districts on Tuesday will end up voting for the incumbents anyway, writing in Velázquez or Serrano. Neither Serrano nor Velázquez responded when asked if they would accept the Reform Party nomination. But for Morano, it's more about making a point about New York's election laws than getting a candidate on the ballot. "There's still been no action at all by the state legislature to fix this, and they ought to be ashamed of themselves," he said. "And I hope the voters keep that in mind."
Corrections: This article originally stated that the Reform Party's write-in primaries would cost $25 million. The correct figure is $1 million. Also a quote from Frank Morano in this article originally said "legislatures" where it should have said "legislators." City & State regrets the errors.