Sean Patrick Maloney
Sean Patrick Maloney spins tampons into political gold
Sean Patrick Maloney's office was denied use of public funds for female hygiene products. He knew what to do next.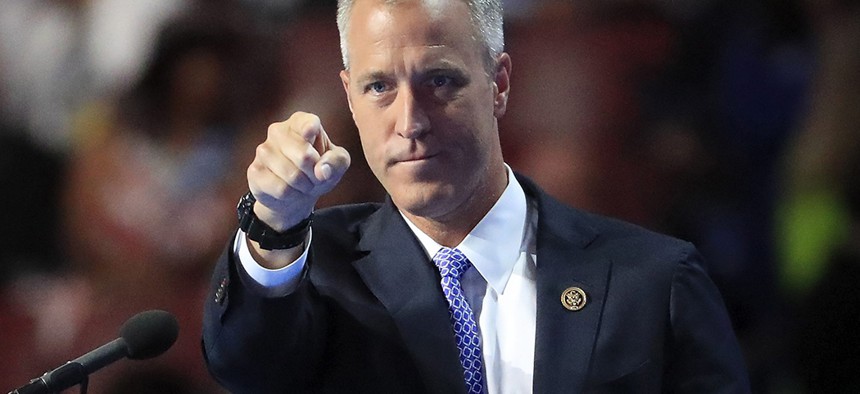 Rep. Sean Patrick Maloney, a candidate for New York state attorney general, was handed an unintentional gift on June 26 by the U.S. House of Representatives Committee on House Administration. Yesterday, Maloney announced that the committee had refused two days earlier to allow Maloney's office purchase of tampons.
Maloney called out the committee in two 1 to 2-minute videos on Twitter yesterday. In the latest video, he did a self-described dramatic reading of the email his office received that deemed tampons a personal care item, not an office supply. The administration committee retorted that they did not issue any guidance or comments to Maloney's office while he replied back that the email came from the Office of Finance, which reports to the committee.
"I think they should stop lying about it and take responsibility for this stupid policy which is outdated and sexist and just correct it, how about that?" Maloney said in the video.
My office bought tampons for female visitors and our staff. Then we got an email from @HouseAdmnGOP telling us we couldn't use funds to purchase a necessary hygiene product. That's ridiculous. More info: pic.twitter.com/8jyX3O4PeS

— Sean Patrick Maloney (@RepSeanMaloney) June 28, 2018
Whatever harm this ruling caused Maloney's female staff or visitors, it may prove to be a political gift for Maloney – as his aggressive public response indicates.
The controversy offers Maloney, the only male candidate, facing three women in the Democratic primary race for the party's attorney general nomination, an opportunity to burnish his feminist credentials. This may be especially important, since former Attorney General Eric Schneiderman, who had been seen as a champion against sexual harassment, resigned after four women accused him of physical abuse. The other Democratic candidates looking to replace Schneiderman would, if elected, become the first woman to hold statewide elected office in New York.
Appearing to be a crusader for social justice and gender equality would help Maloney in the Democratic primary, in part because he has a moderate record. He has voted with President Trump's political priorities 34.1 percent of the time, one of the highest rates for any House Democrat. The attorney general seat has become increasingly seen as a way to combat Trump. Interim Attorney General Barbara Underwood just two weeks ago sued Trump and three of his children for illegal conduct with their charity. The frontrunner, New York City Public Advocate Letitia James, is seen as a progressive and she has most of the institutional backing in the race from establishment Democrats, like Gov. Andrew Cuomo and many in the party's left wing. Another candidate, Fordham law professor Zephyr Teachout, is an outspoken liberal who has much support in the party's progressive grassroots. And although Maloney is aiming to be the first openly-gay statewide elected official, James has also racked up most of the support from LGBT political clubs and politicians.
Still, Maloney is working to prove himself as a pro-women candidate, one tampon at a time.
Powered By
NEXT STORY: Ocasio-Cortez's victory is already reshaping New York politics