New York State
The big issues being left unresolved in Albany
New York's legislative session will end without resolution for many hot topics.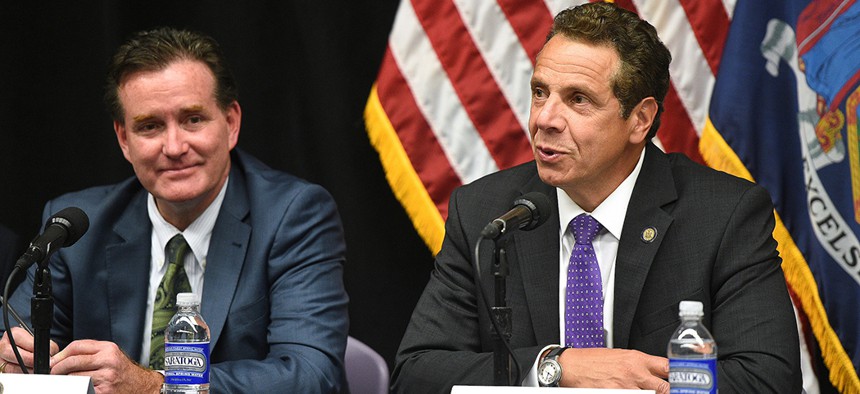 Unless the flow of legislative traffic is halted by intractable gridlock – which is not unheard of in Albany – the state Legislature is set to end its 2018 session on Wednesday.
As the comes to a close, there are several issues that are being left off the negotiating table that could reappear next year, or in a potential special session held after the November elections.
The commission considering a legislative pay raise is set to publish their findings in November, which could spur a special session to increase the legislative salary – after the members voting for their own raises are safely reelected – and tackle other issues that were not addressed at the end of June.
Here are some of the issues that are unlikely to be addressed before time runs out.
 
The very unlikelys
Criminal justice reform
In his January State of the State address, Gov. Andrew Cuomo listed criminal justice reform as one of his top priorities for 2018.
"We must reform our bail system so a person is only held if a judge finds either a significant flight risk or a real threat to public safety," Cuomo said. He also called for speedy trial reform and discovery reform, which would require the prosecution to share evidence with the defense before a trial.
However, these reforms are unlikely to be taken up by the Legislature before the end of the session, said Democratic Sen. Jamaal Bailey.
"I'd be very happy to see that next year," Bailey said, adding that he was hopeful Democrats would be controlling the Senate next year. "We raised the age last year, I think that was an important step in criminal justice reform, but reform is not just a magic bullet, it is continuous, ongoing conversations for the betterment of our state and cities in our state, and hopefully the country."
Democratic Assemblyman Michael Blake also mentioned discovery reform as a priority of his for next year. "The fact that the defense doesn't know everything the prosecution has on them – that has to change," he said.
Ethics reform
Assembly Minority Leader Brian Kolb raised the issue of ethics reform as an important issue that he thinks will not be addressed before the Legislature leaves Albany. Although bills to make the state procurement process more transparent have passed in the Senate with bipartisan support, the Assembly has not taken up these measures. "The Assembly Democrats for whatever reason are not showing the rest of the state that they're serious about reform," Kolb said, alluding to the idea that Cuomo is leaning on Assembly Speaker Carl Heastie not to take up the issue this year.
Specialized high school admissions
Bailey also said that as a graduate of Bronx High School of Science, he would like to see the entrance process for specialized high schools in New York City to be addressed next year. New York City Mayor Bill de Blasio recently proposed an overhaul of the admissions system, including scrapping the specialized high school entrance exam completely. However, this issue will not be touched before the end of this session. "We want to come up with something that's good for all students and so I think over the next few months and into the next session we'll be having discussions with all of the stakeholders," Heastie told reporters earlier in June.
Sports betting
Even though the Supreme Court recently allowed states to legalize sports betting, and doing so in New York is supported by a bipartisan cadre of senators and Assembly members led by Republican Sen. John Bonacic and Democratic Assemblyman Gary Pretlow, it is not likely to be addressed before the end of this legislative session.
"I think any chance of reaching full agreement is dead," Senate Majority Leader John Flanagan said. "Right now, I don't see a final compromise on that."
Kolb raised the possibility that sports betting could be addressed in a special session later this year. "We'll come back either before or after November depending on how all that shakes out," Kolb said, referring to the fall elections.
Congestion pricing
Congestion pricing and other issues pertaining to New York City's beleaguered subway system were left off the table, after the passage of the state budget partially addressed the problem in April. Other than a surcharge added to taxis and for-hire vehicles in Manhattan below 96th Street, advocates of congestion pricing got very little from the state Legislature this year. This controversial issue will not be touched until next year at the soonest.
The Child Victims Act
For year after year, the Legislature has reached a stalemate on a bill that would extend the statute of limitations for victims of child sex abuse to bring their case forward, largely due to opposition from Senate Republicans. The Assembly has passed the bill this year. Republican Sen. Cathy Young had proposed a bill to create a state fund to pay for the settlements of victims of child sex abuse, but the measure is opposed by Senate Democrats, who prefer holding perpetrators accountable to using taxpayers' money.
 
The possibilities
Gun control
Cuomo made an appearance at the Capitol on Wednesday, getting involved in negotiations surrounding the end of session for the first time this week. The governor had proposed a "red flag" gun control measure that passed the Assembly, but faces opposition from Senate Republicans.
Flanagan said that there had been no further movement in negotiations. "If we're going to talk about the gun bill we should be talking about the package of school safety bills that we've done that has not been given the light of day or the time of day in the Assembly," he said, referring to Republican-supported bills that would increase the number of armed guards in schools.
However, the governor has not been afraid to influence negotiations in the past, and could use his muscle to ensure the bill passes.
Teacher evaluations
The Assembly and Senate agree that teacher evaluations should be decoupled from standardized examinations, a practice that is set to start next year. However, Flanagan is attempting to tie this measure to increasing charter schools and easing state oversight of yeshiva schools, which Heastie adamantly opposes. The Legislature may reach an agreement on teacher evaluations today, but whether it includes a sweetener for either party remains to be seen.
Powered By
NEXT STORY: Which congressional candidates have raised the most campaign cash?