New York State
Who could replace Rep. Sean Patrick Maloney?
If Rep. Sean Patrick Maloney wins the attorney general primary, Democrats would have to find a replacement candidate for Congress.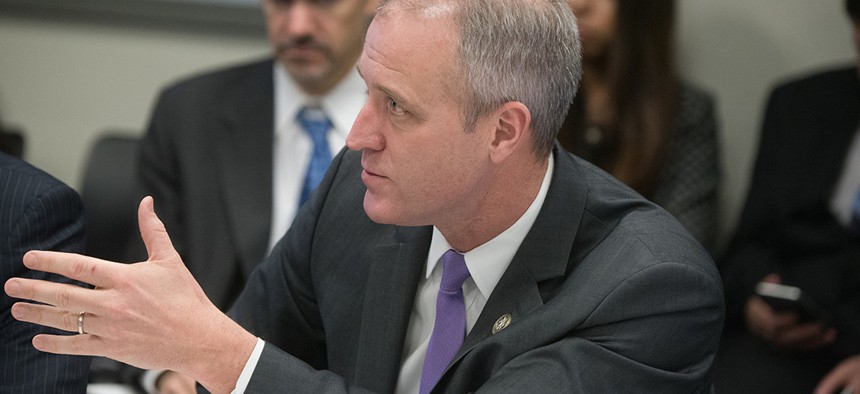 Even in a district that leans Republican, Democratic Rep. Sean Patrick Maloney's congressional seat was considered to safe. And then he started running for attorney general.
Maloney said Wednesday that he will begin collecting signatures to appear on the Democratic primary ballot for attorney general on Sept. 13. Leecia Eve and Zephyr Teachout have also announced they're petitioning to get on the ballot to challenge New York City Public Advocate Letitia James, who earned the Democratic party's nomination in a near-unanimous vote at the state party convention. James has also been gathering support from elected officials, labor unions and liberal groups since she announced her candidacy in May.
The conventional wisdom is that Maloney is a long shot against such a juggernaut, but Maloney is eager for the opportunity to fight the Trump administration head-on as attorney general, as he told The New York Times on Tuesday. Still, he faces legal questions around whether he can run at all, since he has already accepted the Democratic nomination for his congressional seat, and election law bars a candidate from running for two offices at once.
If he were to pull off the upset and win the Democratic nomination on Sept. 13, Democrats would find themselves having to defend a open congressional seat in a district that voted for Donald Trump in 2016. New York's 18th District covers much of the lower Hudson Valley, including all of Orange County and parts of Dutchess, Putnam and Westchester counties.
And the job of finding a replacement would apparently fall to Orange County Democratic Committee Chairman Brett Broge.
Broge told City & State he had not confirmed the exact legal process, but that if Maloney were to decline the nomination and come off the ballot, the four county Democratic chairmen would be able to nominate a replacement for the Democratic line. And with Orange County making up about 50 percent of the district's population, "I think at the end of the day, it's probably my decision," Broge said.
But Broge said if it did come down to him, he would work with a committee to choose the best candidate – and not necessarily somebody from Orange County. Maloney lives on the other side of the Hudson, in Putnam County.
Broge said nobody had approached him yet about the potential opportunity to be on the ballot, but he suggested a few possibilities, including Assemblyman James Skoufis or Patrick Davis, who lost a bid for Orange County executive in 2017.
Davis did not respond to a request for comment. Skoufis is currently running for state Senate District 39, an open seat held by Republican state Sen. Bill Larkin, who is retiring. Skoufis tweeted Wednesday morning that he was committed to running for the state Senate.
If Maloney does become the Democratic attorney general nominee, his party would have a limited field of elected officials from which to choose, should they want a candidate who has proven successful at winning over voters. The state Senate seats overlapping with Maloney's district are all held by Republicans. Among the Democratic Assembly members whose districts overlap with Maloney's, Aileen Gunther and Sandy Galef did not respond to a request for comment.
Though Assemblyman David Buchwald and Maloney share some constituents in common, a spokesman for Buchwald noted that he lives in White Plains, which is not in the 18th District, and he has no plans to leave his home.
Broge even suggested looking outside the district for a candidate, to the 19th Congressional District, saying that one of the seven Democrats currently vying for the nomination to challenge Republican Rep. John Faso could potentially run in Maloney's district instead.
Maloney told Gannett on Wednesday he wasn't concerned about Democrats losing his seat. "I have spoken to the Democratic leadership about this, and I can guarantee you that we will have a plan in place to keep this seat no matter what," he said.
Maloney declined to comment for this story, but his office said he would speak more about it on a press call with reporters on Thursday afternoon.
One man who may disagree? The Republican congressional candidate, Orange County Legislator James O'Donnell. He released a statement on Wednesday saying that "running for two separate elected offices at the same time is illegal in New York, and unethical on top of it," and that his campaign would evaluate "all legal remedies."
O'Donnell campaign spokesman Michael Lawler told City & State that O'Donnell had raised over $200,000 and that the National Republican Congressional Committee had shown support by adding O'Donnell to its "Young Guns" program.
Maloney has more than $3 million on hand, according to federal election filings, and the Cook Political Report considered his seat safely Democratic – but that was before he announced he would run for attorney general.
"This is a prime seat for a pick-up opportunity in New York, and it has been since the beginning," Lawlor said.
Powered By
NEXT STORY: DOI to investigate 'city's failure' on water tanks