New York State
Who is running for Congress in New York?
A comprehensive list every person who has filed to run for Congress in New York.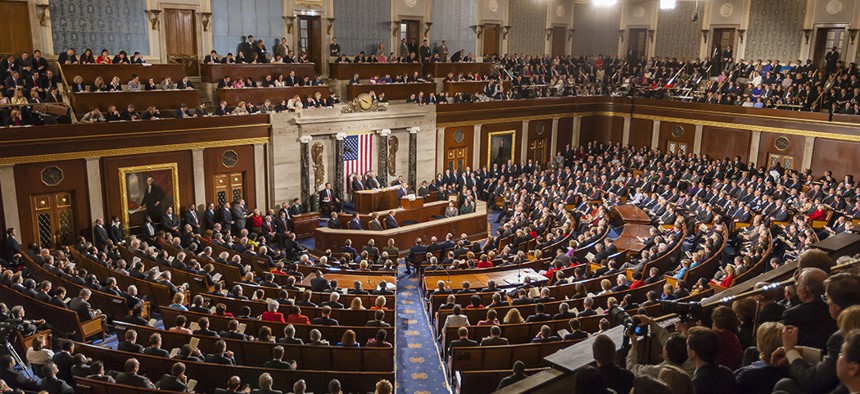 With New York's congressional primaries set for June 26, followed by the the general election on Nov. 6, City & State compiled a list of every candidate appearing on the ballot for each district, based on information from the state Board of Elections.
Districts that have multiple people filed under one party will participate in the primaries this month to determine that party's nominee for the November general election. Candidates whose names appear with more than one party are on multiple ballot lines through a process known as fusion voting. A vote counts the same regardless of the line the vote is cast on for those candidates.  
 
District 1
Counties: Suffolk
Incumbent: Lee Zeldin (R)
Democrats
Vivian Viloria-Fisher
David Pechefsky
Perry Gershon
Elaine Di Masi
Kate Browning
Republicans
Lee Zeldin
Conservative Party
Lee Zeldin
Working Families Party
Patricia Latzman
Independence Party
Lee Zeldin
Women's Equality Party
Kate Browning
Reform Party
Lee Zeldin
 
District 2
Counties: Nassau and Suffolk
Incumbent: Peter King (R)
Democrats
Liuba Grechen Shirley
Du Wayne Gregory
Republicans
Peter King
Conservative Party
Peter King
Working Families Party
Du Wayne Gregory
Independence Party
Du Wayne Gregory
Women's Equality Party
Du Wayne Gregory
Reform Party
Peter King
 
District 3
Counties: Nassau, Queens and Suffolk
Incumbent: Thomas Suozzi (D)
Democrats
Thomas Suozzi
Republicans
Dan DeBono
Conservative Party
Dana DeBono
Working Families Party
Thomas Suozzi
Independence Party
Thomas Suozzi
Women's Equality Party
Thomas Suozzi
Reform Party
Thomas Suozzi
 
District 4
Counties: Nassau
Incumbent: Kathleen Rice (D)
Democrats
Kathleen Rice
Republicans
Ameer Benno
Conservative Party
Ameer Benno
Women's Equality Party
Kathleen Rice
Reform Party
Ameer Benno
 
District 5
Counties: Nassau and Queens
Incumbent: Gregory Meeks (D)
Democrats
Carl Achille
Mizan Choudhury
Gregory Meeks
Republicans
N/A
 
District 6
Counties: Queens
Incumbent: Grace Meng (D)
Democrats
Grace Meng
Republicans
N/A
Green Party
Thomas Hillgardner
Working Families Party
Grace Meng
Women's Equality Party
Grace Meng
Reform Party
Grace Meng
 
District 7
Counties: Kings, New York and Queens
Incumbent: Nydia Velazquez (D)
Democrats
Nydia Velazquez
Republicans
N/A
Conservative Party
Joseph Lieberman
Working Families Party
Nydia Velazquez
Women's Equality Party
Nydia Velazquez
 
District 8
Counties: Kings and Queens
Incumbent: Hakeem Jeffries (D)
Democrats
Hakeem Jeffries
Republicans
N/A
Conservative Party
Ernest Johnson
Working Families Party
Hakeem Jeffries
Women's Equality Party
Hakeem Jeffries
Reform Party
Jessica White
 
District 9
Counties: Kings
Incumbent: Yvette Clarke (D)
Democrats
Yvette Clarke
Adem Bunkeddeko
Republicans
Lutchi  Gayot
Conservative Party
Lutchi Gayot
Working Families Party
Yvette Clarke
Reform Party
Joel Anabilah-Azumah
 
District 10
Counties: Kings and New York
Incumbent: Jerrold Nadler (D)
Democrats
Jerrold L. Nadler
Republicans
Naomi Levin
Conservative Party
Naomi Levin
Working Families Party
Jerrold Nadler
Women's Equality Party
Jerrold Nadler
Reform Party
Naomi Levin
 
District 11
Counties: Richmond and Kings
Incumbent: Dan Donovan (R)
Democrats
Zach Emig
Omar Vaid
Radhakrishna Mohan
Max Rose
Michael DeVito Jr.
Paul Sperling
Republicans
Michael Grimm
Dan Donovan
Conservative Party
Dan Donovan
Green Party
Henry Bardel
Working Families Party
Max Rose
Independence Party
Dan Donovan
Women's Equality Party
Max Rose
Reform Party
Dan Donovan
 
District 12
Counties: Kings, New York and Queens
Incumbent: Carolyn Maloney (D)
Democrats
Suraj Patel
Carolyn Maloney
Republicans
Eliot Rabin
Green Party
Scott Hutchins
Working Families Party
Carolyn Maloney
Women's Equality Party
Carolyn Maloney
Reform Party
Carolyn Maloney
 
District 13
Counties: Bronx and New York
Incumbent: Adriano Espaillat (D)
Democrats
Adriano Espaillat
Republicans
Jineea Butler
Working Families Party
Adriano Espaillat
Reform Party
Jineea Butler
 
District 14
Counties: Bronx and Queens
Incumbent: Joseph Crowley (D)
Democrats
Joseph Crowley
Alexandria Ocasio-Cortez
Republicans
Anthony Pappas
Conservative Party
Elizabeth Perri
Working Families Party
Joseph Crowley
Women's Equality Party
Joseph Crowley
Reform Party
James Dillon
 
District 15
Counties: Bronx
Incumbent: Jose Serrano (D)
Democrats
Jose Serrano
Republicans
Jason Gonzalez
Conservative Party
Jason Gonzalez
Working Families Party
Jose Serrano
Women's Equality Party
Jose Serrano
 
District 16
Counties: Bronx and Westchester
Incumbent: Eliot Engel (D)
Democrats
Jonathan Lewis
Joyce Briscoe
Derickson Lawrence
Eliot Engel
Republicans
N/A
Working Families Party
Eliot Engel
Women's Equality Party
Eliot Engel
 
District 17
Counties: Rockland and Westchester
Incumbent: Nita Lowey (D)
Democrats
Nita Lowey
Republicans
N/A
Working Families Party
Nita Lowey
Women's Equality Party
Nita Lowey
Reform Party
Joseph Ciardullo
 
District 18
Counties: Orange, Putnam, Dutchess and Westchester
Incumbent: Sean Patrick Maloney (D)
Democrats
Sean Patrick Maloney
Republicans
James O'Donnell
Conservative Party
James O'Donnell
Working Families Party
Sean Patrick Maloney
Independence Party
Sean Patrick Maloney
Women's Equality Party
Sean Patrick Maloney
Reform Party
James O'Donnell
 
District 19
Counties: Columbia, Delaware, Greene, Otsego, Schoharie, Sullivan, Ulster, Broome, Dutchess, Montgomery and Rensselaer
Incumbent: John Faso (R)
Democrats
Jeff Beals
Pat Ryan
Antonio Delgado
Brian Flynn
Gareth Rhodes
Erin Collier
Dave Clegg
Republicans
John Faso
Conservative Party
John Faso
Green Party
Steve Greenfield
Working Families Party
Bob Cohen
Independence Party
John Faso
Reform Party
John Faso
 
District 20
Counties: Albany, Schenectady, Montgomery,Rensselaer and Saratoga
Incumbent: Paul Tonko (D)
Democrats
Paul Tonko
Republicans
Francis Vitollo
Working Families Party
Paul D. Tonko
Women's Equality Party
Paul D. Tonko
Reform Party
Paul D. Tonko
 
District 21
Counties: Clinton, Essex, Franklin, Fulton, Hamilton, Jefferson, Lewis, St. Lawrence, Warren, Washington, Herkimer and Saratoga
Incumbent: Elise Stefanik (R)
Democrats
Katie Wilson
Tedra Cobb
Don Boyajian
Dylan Ratigan
Patrick Nelson
Emily Martz
Republicans
Elise Stefanik
Conservative Party
Elise Stefanik
Green Party
Lynn Kahn
Working Families Party
Katie Wilson
Independence Party
Elise Stefanik
Reform Party
Elise Stefanik
 
District 22
Counties: Chenango, Cortland, Madison, Oneida, Broome, Herkimer, Oswego and Tioga
Incumbent: Claudia Tenney (R)
Democrats
Anthony Brindisi
Republicans
Claudia Tenney
Conservative Party
Claudia Tenney
Working Families Party
Anthony Brindisi
Independence Party
Anthony Brindisi
Women's Equality Party
Anthony Brindisi
Reform Party
Claudia Tenney
 
District 23
Counties: Allegany, Cattaraugus, Chautauqua, Chemung, Schuyler, Seneca, Steuben, Tompkins, Yates, Ontario and Tioga
Incumbent: Thomas Reed (R)
Democrats
Ian Golden
Linda Andrei
Tracy Mitrano
Edward Sundquist
Max Della Pia
Republicans
Thomas Reed
Conservative Party
Thomas Reed
Working Families Party
Tracy Mitrano
Independence Party
Thomas Reed
Women's Equality Party
Tracy Mitrano
 
District 24
Counties: Cayuga, Onondaga, Wayne and Oswego
Incumbent: John Katko (R)
Democrats
Dana Balter
Juanita Perez Williams
Republicans
John Katko
Conservative Party
John Katko
Working Families Party
Dana Balter
Independence Party
John Katko
Women's Equality Party
Dana Balter
Reform Party
John Katko
 
District 25
Counties: Monroe
Incumbent: N/A (Rep. Louise Slaughter died earlier this year)
Democrats
Joseph Morelle
Rachel Barnhart
Robin Wilt
Adam McFadden
Republicans
Jim Maxwell
Conservative Party
Jim Maxwell
Working Families Party
Joseph Morelle
Independence Party
Joseph Morelle
Women's Equality Party
Joseph Morelle
Reform Party
Jim Maxwell
 
District 26
Counties: Erie and Niagara
Incumbent: Brian Higgins (D)
Democrats
Brian Higgins
Republicans
Renee Zeno
Working Families Party
Brian Higgins
Women's Equality Party
Brian Higgins
 
District 27
Counties: Genesee, Livingston, Orleans, Wyoming, Erie, Monroe, Niagara and Ontario
Incumbent: Chris Collins (R)
Democrats
Nathan McMurray
Republicans
Chris Collins
Conservative Party
Chris Collins
Working Families Party
Anthony McMurray
Independence Party
Chris Collins
Women's Equality Party
Nathan McMurray
Reform Party
Larry Piegza
Powered By
NEXT STORY: Reform Party hosting candidate-less congressional primaries