Albany
Why nothing is happening in Albany
Although there is still time for the legislative session to heat up, especially since voting will likely go late into the night on Tuesday, many in Albany are not expecting any surprises. The relative calm is due to the fact that Republicans control the state Senate but lack the majority needed to pass bills.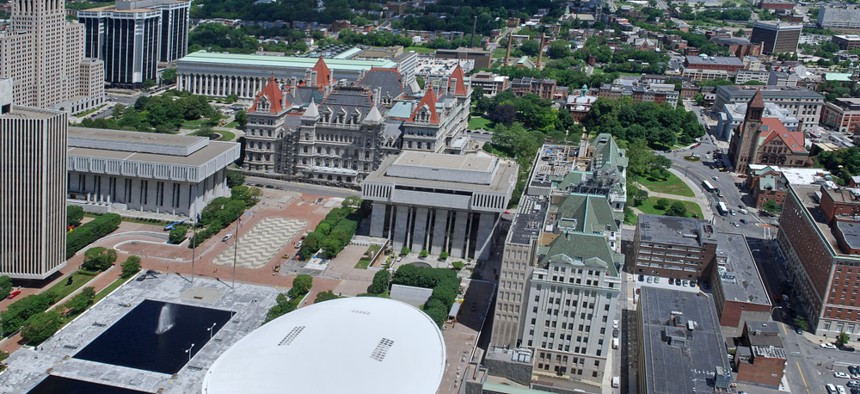 In the last week of the state legislative session, the cavernous Capitol has stood relatively quiet. The teeming crowds of lobbyists filling the corridors outside the Senate and Assembly chambers, which indicate a battle over contentious legislation, are nowhere to be found. The governor, so far, is staying away from end-of-session negotiations.
Even the number of bills passed is fewer than usual. Blair Horner, executive director for the New York Public Interest Research Group, said that roughly 300 bills had passed in both chambers, compared to around 400 bills passed at this time in 2016.
"It doesn't necessarily measure whether or not the bills that they're passing are meaningful but that's true every year," Horner said. "These are two-year sessions, so the second year of the session tends to be more productive. To compare this year to 2016, the actual activity level is down."
Although there is still time for the legislative session to heat up, especially since voting will likely go late into the night on Tuesday, many in Albany are not expecting any surprises. The relative calm is due to the fact that Republicans control the state Senate but lack the majority needed to pass bills.
With one of their members, Sen. Thomas Croci, out of commission after being recalled to active duty in the Navy, the Republican state Senate conference only has 30 members – fewer than the 32-member majority required to approve legislation. Democratic Sen. Simcha Felder caucuses with the Republicans, but that only brings their number up to 31, just one member shy of a majority needed to pass any bills.
In previous years, the Republicans have been able to muscle through bills on their strength of their majority while negotiating with the Democratic majority in the Assembly. This year, they don't have the numbers. Meanwhile, the recently reunified Democratic caucus is unwilling to offer even one vote for Republican issues.
The Democrats may win control of the state Senate in the November elections, as part of the larger blue wave that is expected to crash across the country, giving Democrats in both chambers even less reason to make a deal with the GOP. Several Republican state senators are retiring, including Croci, Deputy Minority Leader John Flanagan, and Sens. John Bonacic and Bill Larkin. Senate Democrats are expected to pursue these open seats, particularly Bonacic and Larkin's, which are both in the Hudson Valley region.
There are also vulnerable Republicans on Long Island, specifically Sen. Carl Marcellino, who held onto his seat by fewer than 2,000 votes in the 2016 election and is facing the same Democratic competitor, Jim Gaughran, this year.
Meanwhile, there are some divisions within the Republican conference. A major issue at the end of the session involves decoupling teacher evaluations from standardized examinations. Marcellino is sponsoring a bill, supported by New York State United Teachers, that would do so. However, Flanagan is sponsoring his own bill, a pseudo–"big ugly" that would decouple evaluations while increasing the number of charter schools and easing educational requirements on yeshivas – the latest in a series of legislative favors the GOP has done for Felder to retain his loyalty. It also includes some sweeteners for Democrats, like bail reform. On Monday, Senate Republicans released a "report card" slamming the Marcellino's bill, even though he is one of their most vulnerable members in the fall elections. When City & State tried to ask Marcellino about the bill, he refused to be recorded, and said "We don't do that here" before walking away.
Assembly Speaker Carl Heastie opposes Flanagan's bill, as do the Senate Democrats. Democrats have also said that they will not vote for a bill sponsored by Republican Sen. Cathy Young that would use public funds to pay settlements for victims of child sex abuse.
"If you're Democrats in the Assembly, you have to ask yourself, why make a deal now, when in six months you will have a majority that's open to your priorities and likely to work with you – much more so than the party in power now," a Democratic staffer in the state Senate said, who spoke on the condition of anonymity in order to discuss legislative strategy. "The challenge for Republicans is to either step up and let some good legislation pass, or have an end of session that dies with a whimper, and not much more gets done under their watch."
The Assembly Democrats did not respond to requests for comment, nor did the Senate Republicans.
The governor is also unlikely to get involved before the end of session, in part due to his own election calculations. Gov. Andrew Cuomo is facing three opponents at the moment – primary challenger Cynthia Nixon, Republican Marc Molinaro and independent Stephanie Miner – all of whom castigate Cuomo as a creature of Albany. He may not want to look as if he is making backroom deals, especially while the Buffalo Billions trial is occurring in New York City.
"I think the governor does not want to be associated with the state Capitol," Horner said. "Why be visually associated or engaged in the state capitals activities when the state Capitol has been has had so many scandals, some of which involves his administration?"
Assembly Minority Leader Brian Kolb, a Republican, expressed frustration with the legislative process at the end of the session in a statement to City & State. "The new Senate dynamic is tenuous on a good day, and doesn't lend itself to consensus or collaboration," Kolb said. "The governor's agenda is crafted day-to-day based on Cynthia Nixon's latest soundbite, and neither majority has offered up do-or-die priorities that can't be put on hold for future action. It may make for interesting political theater, but this rarely works in favor of the public."
Even as the state Senate and Assembly were in session on Tuesday, rather than getting into the legislative fray, Cuomo was on a press call about the Trump administration's policy of detaining immigrant children separately from their parents.
Even so, Horner warned against discounting the possibility of last-minute drama in Albany. "This may sound nutty, but it's not over 'til it's over," he said.