Immigration
City Hall: There are migrants separated from their parents in New York
The federal government is placing newly unaccompanied minors in New York City residential programs.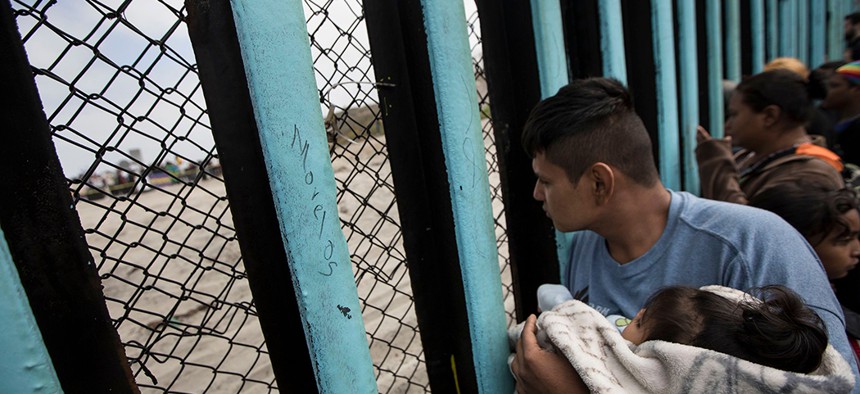 It's not just at the Mexico-U.S. border – some children who immigrated to the United States with their parents have been separated from their guardians and are now in New York, under the care of the federal government. "We are aware of multiple instances of kids who have been separated at the border who are placed in the city," said Matt Dhaiti, a spokesman for the New York City Mayor's Office of Immigrant Affairs.
Footage of young children detained in tents and sprawling, former big box stores near the Mexican border in Texas has outraged Americans on both sides of the political aisle in recent days. President Donald Trump's administration has recently increased prosecution of migrants, most of them crossing the country's southern border from Mexico and other Latin American countries. If adult migrants arrive in the United States with children, they are increasingly being separated while the adults are detained awaiting trial.
Dhaiti said that minors are being sent to New York City in part because of "space considerations," because there are open beds there. These beds are in residential programs meant for so-called unaccompanied minors, or persons under the age of 18 who migrate to the United States without a guardian. And now children rendered unaccompanied by the federal government are filling those beds. "These kids are treated as unaccompanied minors, even though they've been separated at the border from their parents, " Dhaiti said.
Gov. Andrew Cuomo said in a conference call with reporters on Tuesday that there are at least 70 such minors in the state in 10 separate facilities. Cuomo said the state would be filing a lawsuit to stop the federal government's practice of separating children from families.
Various nonprofits in New York run residential programs for unaccompanied minors. They are overseen by the federal Office of Refugee Resettlement, which is under the U.S. Department of Health and Human Services (HHS). In 2014, Politico reported that New York had 20 such residential facilities that could house as many as 1,200 children at a time. But a 2018 report from the Children's Defense Fund found problems with the program in New York, like minors' difficulties finding legal representation and a lack of mental health services.
According to a 2015 report from Fordham University and the Vera Institute of Justice, once a child is put in ORR custody, the office assesses whether a child can be released to a "sponsor," such as a family member or close family friend living within the United States. In fiscal year 2014, nearly 6,000 unaccompanied minors settled in New York, with the vast majority being released to sponsors.
The spokesman for the de Blasio administration who insisted on anonymity because de Blasio has also spoken on the subject publicly said City Hall did not have "sufficient information" on how many children separated from their parents at the border have been placed in the city. The spokesman referred City & State to federal HHS, which did not immediately respond to a request for comment.
In a statement provided by email, the spokesman said, "The city is working to understand (the) full scope of needs for the children," and noted that administration officials are in contact with HHS "to ensure everything possible is done to meet these children's needs."
De Blasio has come out strongly against the Trump administration separating parents and children, releasing an op-ed on CNN.com on Monday calling it "an effort at deterrence that is as heartless as it is cynical."
At an unrelated press conference on Tuesday, a reporter asked de Blasio if there was anything he could do about the children held in New York City. The mayor said he wanted to do everything he could to stop the government from seperating children from their parents but did offer any specific plans. "If that's legal action, if that's using the power of localities to say we're not going to participate, whatever those tools are," he said. "We're in uncharted territory here, and we've got to figure out the best way to stop this inhumane policy."
Asked if he had plans to visit any of the facilities where children were held, de Blasio said his office was still planning a response. "Right now we're trying to figure out the best way to have an impact, and if going and doing that visit will help, I'll certainly do it," he said.
Powered By
NEXT STORY: Peralta campaign video doesn't mention IDC