Cynthia Nixon
Cynthia Nixon's rookie mistakes
Cynthia Nixon's rookie mistakes. The first-time candidate has made a few gaffes.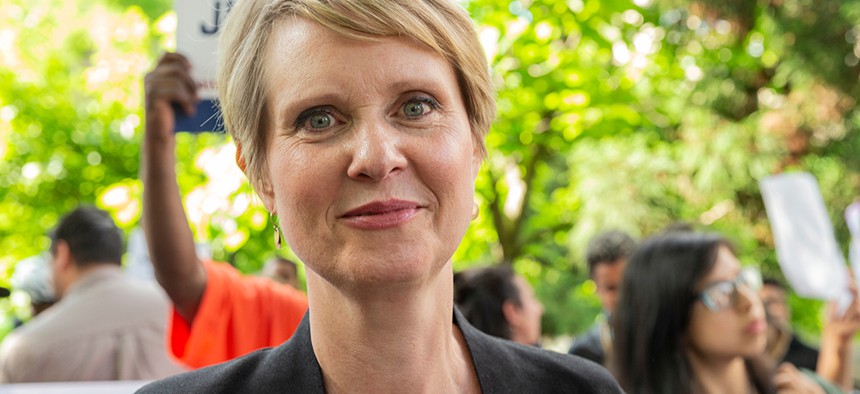 In the five months since announcing her run for governor of New York, actress-turned-candidate Cynthia Nixon has avoided making too many rookie mistakes. She has even been able to weaponize gaffes from the Cuomo camp, most notably when she turned Cuomo-surrogate Christine Quinn's comment about the actress being an "unqualified lesbian" into a rallying cry.
In a Sunday profile of Nixon, The New York Times noted the general ease she has interacting with members of the press. But in the same piece, Nixon told the Times that if former New York City Mayor Michael Bloomberg were governor instead of Andrew Cuomo, she would not be running. It seemed like an odd statement from the self-described democratic socialist. Bloomberg began his business career at Goldman Sachs and his political career as a Republican. He supported President George W. Bush for reelection in 2004 and he is to Cuomo's – as well as Nixon's – right on many issues. In fact, Nixon actively protested against Bloomberg's education policies in the city during his tenure. (The Nixon campaign defended her statement, saying it was in the context of corruption convictions of people close to the governor.)
While this may not quite rise to the level of declaring "I am the government," as Cuomo once infamously said, it served as a reminder that even the stage and television star has demonstrated her inexperience a few times in the campaign so far.
Here are some of the other most embarrassing examples:
 
"I'm not running for governor."
Only a week into her campaign, Nixon made her first, and perhaps her biggest, gaffe. For a moment, she seemed to forget what office she was running for.
During her first trip to Albany, a reporter asked about corruption in New York City under Mayor Bill de Blasio, an ally of hers. Nixon responded by saying, "I'm not running for governor. I'm running for mayor." She quickly realized her mistake and corrected herself with a laugh. "Scratch that. Flip it."
Nixon has been running campaign that has very heavily focused on downstate issues like the Metropolitan Transportation Authority and fixing the New York City subways. Her apparent lack of attention to the rest of the state has garnered her some criticism, and may explain her next misstep.
"No stranger to upstate"
In one of the earlier pieces exploring Nixon's ability to compete in upstate New York, the New York Post reported that voters outside of New York City were skeptical of the candidate – if they even knew who she was at all.
Nixon herself didn't respond directly, but a campaign strategist replied that "Cynthia is no stranger to upstate." As evidence, the strategist said that Nixon had stayed at a Skaneateles bed and breakfast the previous month.
The remark was received skeptically online and on social media. "Cynthia Nixon seems to be a good person and I don't doubt she genuinely cares about NY but to say she is no stranger to Upstate NY because she spent a month in a Skaneateles BnB seems a little naive," the North Tonawanda Democrats wrote, adding that Cuomo "has visited their homes" and "their places of employement."
Upstate starts at Ithaca
The debate over where upstate begins in New York has probably existed for as long as New York as been a state. The question always provokes varied answers and there is no on right way to answer it – but Nixon's answer was unambiguously wrong.
When asked by The New York Times Magazine where she thinks upstate starts, Nixon answered, "Once you get to Ithaca, by around there, you're starting to get upstate." Polls show that New Yorkers generally believe upstate starts in Westchester, just north of it, or somewhere around where the commuter rail line ends at Poughkeepsie. All of these places are far short of Ithaca. Her comment was met with derision on social media. Nixon's campaign claimed that the answer was a joke.
"Cynthia is coming to Ithica!"
Even though it is the city Nixon (jokingly?) said upstate begins at, her campaign evidently still could not spell its name correctly. "Cynthia is coming to Ithica," an email subject-line read inviting supporters to an "Ithica Round-Table."
Of course, this is not directly Nixon's fault. The email was sent in error by a campaign staffer and the campaign followed up with a photo of an aide writing "Ithaca" over and over again on a whiteboard. The mayor of Ithaca brushed off the mistake as a simple typo. But when a rich, Manhattan-based actress is trying to appeal to the rest of the state, misspelling a well-known upstate city is not a good look.
"Everybody's got to make sacrifices"
Nixon also opened herself up to attack from a powerful constituency when she questioned the labor costs involved in fixing New York City's subways, a major campaign issue.
"With the deals that they have now, you can't hope to make improvements to the trains in a fiscally responsible way," she said. "Everybody's got to pull together, and everybody's got to make sacrifices."
The New York State AFL-CIO said Nixon's remarks amounted to "alarming disregard for working men and women," while Gary LaBarbera, the president of the Building and Construction Trade Council of Greater New York and a Cuomo ally, said: "What does Cynthia Nixon know about the construction industry?"
"It's a form of reparations."
Nixon has made the legalization of recreational marijuana on social justice grounds a key part of her campaign. She released a video expressing her support in order to end the disproportionate arrests of people of color for marijuana offenses.
Nixon took it a step further in an an interview with Forbes. She said the growing marijuana industry could be "a form of reparations" for those who had been arrested. The comment was met poorly by some black activists, for whom the word reparations invokes long-overdue reparations for slavery. Rev. Al Sharpton tweeted that "putting pot shops in our communities is not reparations," and Black Lives Matters of Greater New York called Nixon's comment "a disservice to our community" and demanded that she apologize.