Do gubernatorial candidates' teams reflect New York's diversity?
Despite a list of candidates not necessarily representative of New York's population, gubernatorial hopefuls are trying to ensure diversity in their campaign staff.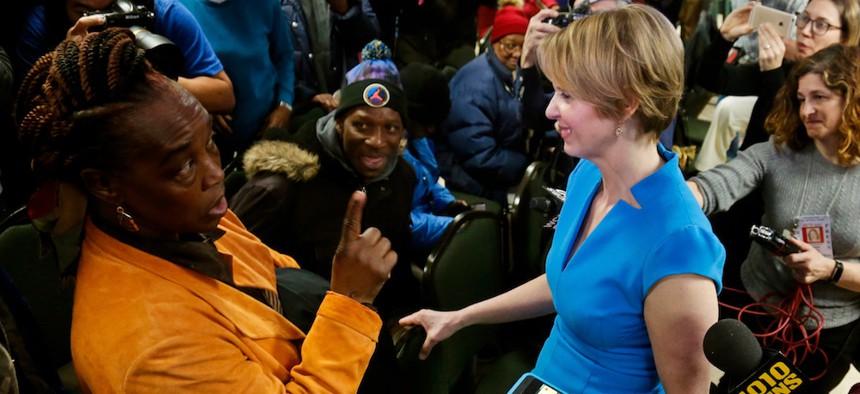 New York is a diverse state, with a near 50-50 ratio of whites and people of color and a slim majority of women, in a population of almost 20 million. However, five of the six candidates for governor are white, and four of them are men.
Despite a list of candidates not necessarily representative of New York's population, gubernatorial hopefuls are trying to ensure diversity in their campaign staff. Democratic Gov. Andrew Cuomo has a large campaign team, evidence of what a $30 million campaign war chest can buy. Abbey Fashouer, a spokeswoman for the Cuomo campaign, said that the campaign staff – like the staff in the executive office – were led by women.
The Daily News reported on Monday that the Cuomo camp had hired Maggie Moran of BlueStrat, a longtime political consultant who worked on Cuomo's 2010 gubernatorial campaign, as a full-time general consultant, handling day-to-day campaign operations. The staff comes from a variety of different consulting firms, but Fashouer said that the campaign would expand grassroots hires, including appointing a Latino vote director and a women's vote director. The campaign already has Wayne Williams as African American vote director.
Along with Moran, the campaign has six women in major roles on staff, including Karen Finney of AL Media, who worked on Stacey Abrams' successful primary campaign in Georgia, Lupe Todd Medina of Effective Media Strategies, and Tyquana Henderson of Connective Strategies. Finney who also worked on Hillary Clinton's 2016 campaign, is one of many alumni of the Obama and Clinton campaigns on Cuomo's staff.
Other high-profile staff members are Adam Steinberger of BlueStrat, Ann Liston and Eric Adelstein of AL Media, James Aldrete of Message Audience & Presentation, Leah Casterlin and Carrie Xu of Media Fortitude Partners, and Jefrey Pollock of Global Strategy Group.
Cynthia Nixon, Cuomo's primary challenger, is running a smaller campaign, run mostly by women. The campaign manager is Hayley Prim, while veteran political consultants Rebecca Katz and L. Joy Williams are senior advisers. Sarah Ford is the communications director. Waleed Shahid, the policy director, is the only man on staff with a senior adviser or director title.
Dutchess County Executive Marc Molinaro, the Republican candidate for governor, has four women on his team. His campaign chairman is former Rep. Chris Gibson, and his staff includes Lynn Krogh of the Casale Group as campaign manager, John McLaughlin of McLaughlin & Associates as campaign pollster, Bill O'Reilly of The November Team as communications director and Eleanor Rollins leading the fundraising team. According to campaign spokesperson Katy Delgado, other staffers include Theodore Stephan as deputy campaign manager, Ian Miller as the campaign political director, Peter Guinta as the campaign manager for Molinaro's running mate Julie Killian, Robert Walker on social media, and Eliza Burdik-Risser to handle day to day scheduling.
Stephanie Miner, who has launched an independent bid for governor on the Serve America Movement line, has an even smaller campaign outfit. Her campaign co-chairmen are John Sullivan, a former Oswego mayor, and Bill Samuels, a Democratic activist and donor. Her campaign manager is Sherman Jewett, and Stephanie Junger-Moat is a consultant. Rachel Barnhardt, a spokesperson for Miner's campaign, noted that the campaign is only a few weeks old. "This is a grassroots campaign with two paid staffers and a number of volunteers," Barnhardt said in a statement. "Our three-week-old campaign is growing by the day. As we build our team, we expect our staff to reflect all New Yorkers."
Lauren McKinnon, a spokesperson for Larry Sharpe, the Libertarian candidate for governor and the only candidate who is not white, said that there are 17 paid staffers on Sharpe's campaign. Of the leadership team, nine staff members are male, eight are female, four are black, seven are white, three are hispanic, three are Middle Eastern or Asian, five are gay, one is transgender, and three are disabled, said McKinnon.
Howie Hawkins is running for governor on the Green Party line. His treasurer, Baritta DeShields, is a woman, whereas his campaign manager, Michael O'Neil, and media and fundraising consultant, Mark Dunlea, are men.
Editor's note: This story was updated to include the makeup of Howie Hawkins' campaign staff.