NY Republicans can't seem to agree on Helsinki summit
Several New York House Republicans pushed back against President Donald Trump's seeming acceptance of Russian President Vladimir Putin's rejection of allegations of election meddling.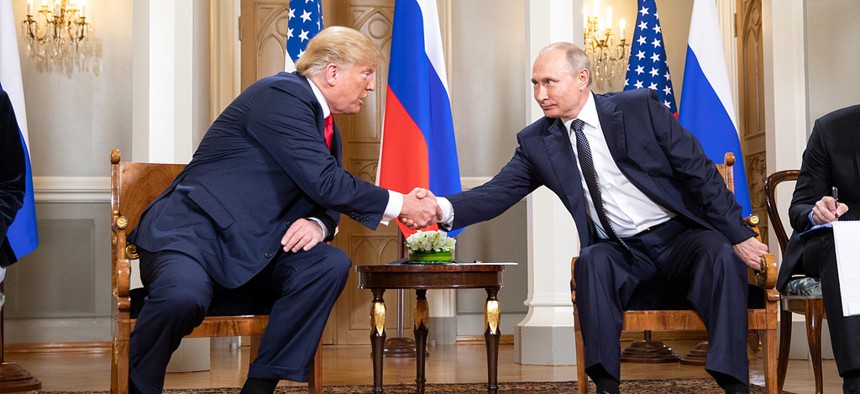 President Donald Trump met with Russian President Vladimir Putin in Helsinki, Finland, on Monday, and his praise of his Russian counterpart after the summit invoked criticism from many in Congress, even Republicans who are often quiet after he exhibits norm-breaking behavior.
Notably, Trump accepted Putin's denial that Russia had meddled in the 2016 presidential election. "I have great confidence in my intelligence people, but I will tell you that President Putin was extremely strong and powerful in his denial today," he said. Earlier in the day, Trump had blamed the United States on Twitter for the worsening relations with Russia. "Our relationship with Russia has NEVER been worse thanks to many years of U.S. foolishness and stupidity and now, the Rigged Witch Hunt!" the president tweeted, referring to the investigation into Russian meddling by Special Counsel Robert Mueller.
Several Republicans pushed back against Trump's seeming acceptance of Putin's explanation, including in New York, but others were less critical of the president.
Rep. Peter King
The former chairman of the Homeland Security Committee has been a staunch supporter of the president. However, he told The New York Times that it was "totally wrong" for Trump to say there was "moral equivalency between the United States and Russia." He also tweeted his criticism of Trump's behavior, calling Putin a "liar."
Wrong for President Trump to deny Russian interference in election. No moral equivalency between US and Russia. Putin is a liar and Russia is an aggressor. No purpose in denying that.

— Rep. Pete King (@RepPeteKing) July 16, 2018
Rep. John Katko
The Syracuse-area congressman told the Syracuse Post-Standard in a statement that there was "no excuse" for Trump's failure to support the findings of the intelligence community that Russia had meddled in the 2016 election.
Katko's statement read: "I want to be completely clear: I trust the unanimous conclusion of our nation's intelligence agencies that Russia conducted an aggressive hacking and disinformation campaign in the United States. The president should clearly and firmly stand behind our intelligence agencies, and he should have used this summit as an opportunity to confront President Putin over Russia's aggressive actions in the U.S. and around the world. There is no excuse for his failure to do so."
Rep. Elise Stefanik
Stefanik, who represents the North Country, posted two tweets opposing Trump's words from her campaign account, not her official government account.
As I have said many times before, but worth repeating today. I believe Russia is an adversary and we must continue to work with our allies to counter Russia's influence around the world. I disagree with the President's statement today.

— Elise Stefanik (@EliseStefanik) July 16, 2018
Russia has a track record of meddling in elections - not only ours in 2016, but around the world. I support the Mueller investigation in getting to the apolitical truth.

— Elise Stefanik (@EliseStefanik) July 16, 2018
Rep. John Faso
Rep. John Faso is facing a tough re-election fight from Democrat Antonio Delgado, but the congressman's denunciation of Trump's "approach" the Helsinki meeting was relatively mild.
My thoughts on today's press conference in Helsinki: pic.twitter.com/TmzjombHwA

— John Faso (@RepJohnFaso) July 16, 2018
Rep. Tom Reed
Rep. Tom Reed's comments were even more forgiving than Faso's, and did not mention the president by name.
My statement on Russian election meddling. pic.twitter.com/ENwnjc97x5

— Tom Reed (@RepTomReed) July 16, 2018
Rep. Dan Donovan
Donovan, who was endorsed by Trump in his primary race against Michael Grimm, released a statement similar to Reed's.
Statement from @RepDanDonovan on Trump's remarks in #Helsinki:

"I have consistently said that I agree with the intelligence community's and House Intelligence Committee's assessment that Russia tried to meddle in the 2016 election, and they should be held accountable."(1/2)

— Laura Nahmias (@nahmias) July 16, 2018
(2/2) "However, in an almost two-year investigation, there has been zero evidence of collusion. It's time for the probe to reach a conclusion so detractors can stop using it as a political football to undermine the President."

— Laura Nahmias (@nahmias) July 16, 2018
Rep. Lee Zeldin
Zeldin, a prominent Trump supporter, criticized Russia's involvement in American politics without directly naming Trump.
Russia must stay 1000s of miles away from US elections. No exceptions. Russia is an adversary that should have NO leeway to meddle. I don't believe Putin's denial. With that being said, dialogue-progress re cyber, Syria, N Korea, nuclear proliferation, etc is imperative.

— Lee Zeldin (@RepLeeZeldin) July 17, 2018
Rep. Claudia Tenney
Tenney has embraced Trump as she faces a challenge from Democratic Assemblyman Anthony Brindisi this fall. However, she was critical of the meeting, saying that "strength is the one thing that a man like Putin understands and I support the U.S. leading our NATO allies to stand strong against Russian aggression."
Rep. Chris Collins
Collins was the first congressman to endorse Trump for president, and his statement on the Helsinki meeting was strongly supportive of the president and condemned the Democrats.
Collins said: "I share President Trump's continued frustration as the left continues to try to nullify the 2016 Presidential election with claims of Russian interference.  The fact is, any Russian meddling did not make a difference in the election and there was no campaign collusion. It's time the Mueller investigation comes to a conclusion.  I also urge the President to work with Congress to ensure any future Russian attempts to influence our elections are stopped at our border. Unfortunately, this is something the Obama administration failed to do."
Editor's note: This story was updated with responses from Zeldin, Tenney and Collins.