New York City
NYCHA's latest scandal: widespread juvenile lead poisoning
NYCHA now admits to having far more children with elevated lead poisoning blood levels.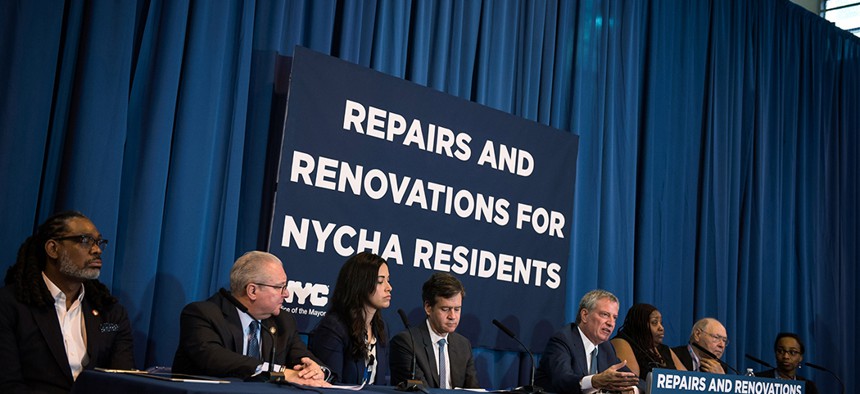 Despite New York City's original claims that only 19 children in city public housing had elevated blood lead levels, it recently confirmed that number was short 801 children, according to the New York Daily News.
Between 2012 and 2016, 820 children, 5 years-old and younger, were found to have blood levels between 5 and 9 micrograms per deciliter. The Center of Disease Control and Prevention (CDC) recommends health intervention for children with blood levels of 5 micrograms per deciliter, noting that no safe lead level in children has been identified. The city originally only estimated 19 children had elevated blood lead levels between 2010 and 2016.
The Department of Health notifies families when children register these levels but doesn't notify NYCHA. New York State mandates all children are tested for lead poisoning at age one and two and the Department of Health has access to the results of these tests.
Until January, the Department of Health used 10 micrograms per deciliter as a marker instead of the CDC's recommended five, a timeline that coincides with much of the public outrage regarding NYCHA's failure to address lead paint.
The criticism of the city's management of lead paint has been compounding since November of last year, when the city's Department of Investigation revealed that NYCHA failed to conduct mandatory lead paint inspections for four years and falsified documents saying it had. This scandal, along with others, were investigated by the federal government which determined a consistent trend of the agency neglecting its housing and deceiving federal officials. The city then signed a consent decree that would place NYCHA under a federal monitor and force the city to invest $1 billion in the agency for four years and then $200 million annually until its problems are solved.