New York City
NYCHA's miscalculation, Nixon's attack and ire over immigration
NYCHA's miscalculation, Cynthia Nixon's attack and ire over immigration in this week's headlines.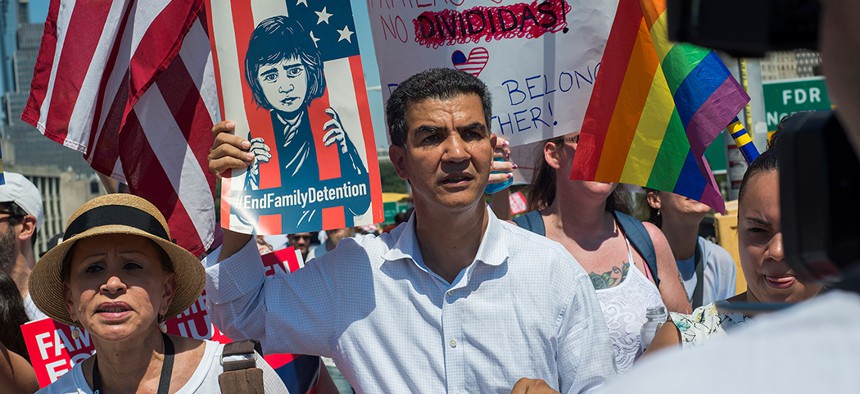 The Fourth of July is a day for fireworks, barbecue and celebration for America, but this year it also featured a Staten Island woman who scaled the Statue of Liberty to protest President Donald Trump's zero-tolerance immigration policy. After several hours, police managed to get 44-year-old Patricia Okoumou down and the activist now faces misdemeanor charges. While Trump was quick to head to Twitter to call her a "clown," she is not alone in her opposition as New York politicians have been actively criticized Trump on immigration. However, some politicians and candidates have been divided on the call to abolish ICE – the federal Immigration and Customs Enforcement agency – which Okoumou also wants. More on that and the rest of this week's headlines below.
 
NYCHA problems, again
The New York City Housing Authority and Mayor Bill de Blasio faced another round of criticism after the administration confirmed 820 children living in public housing had elevated blood-lead levels over the past several years, not 19 as the city previously reported. The Department of Health, which collects the results of these mandatory tests for lead, notifies families when children register these levels but doesn't notify NYCHA, which has been criticized for failing to inspect lead paint in its housing. And to make matters even more dire for the agency, a city study recently indicated that NYCHA buildings need $31.8 billion over five years to be sufficiently repaired. That amount is roughly one-third of the city's total budget of $89.15 billion.
 
Nixon ties Cuomo to Trump
Fresh off two more endorsements from New York City Councilman Antonio Reynoso and former City Council Speaker Melissa Mark-Viverito, Cynthia Nixon was on the attack this week. Nixon called on Gov. Andrew Cuomo on Thursday to return the $64,000 he has received from President Donald Trump in past campaigns. Cuomo retorted that he would continue to be critical of him and keep the contributions, which he received between 2001 and 2009. Nixon also offered to meet head of New York City Transit Andy Byford, who said in a New Yorker profile he had a hard time meeting with the governor and the city's mayor. Cuomo has insisted that the claim was false and that he had met Byford "a number of times."
To abolish ICE or not to abolish ICE
Abolish ICE has become a rallying cry for progressives lately – and leaving some New York politicians torn about what position they want to take. U.S. Senate Minority Leader Charles Schumer has come out against the abolish ICE movement, stating that it provides needed services, and it should instead be reformed. But U.S. Sen. Kirsten Gillibrand, who's facing reelection this year, has joined other New Yorkers like New York City Mayor Bill de Blasio, gubernatorial candidate Cynthia Nixon, and congressional candidate Alexandria Ocasio-Cortez in calls to abolish the agency. The debate recently hit the race in Congressional District 19 between Republican Rep. John Faso and Democratic nominee Antonio Delgado. Faso, whose seat has been rated vulnerable by the Cook Political Report, made a post on Facebook calling on Antonio Delgado to say whether he stands with those on the "loony left" who are for abolishing ICE. Delgado quickly fired back on Twitter that, spoiler alert, he's not for it.
 
Trial and errors
Federal prosecutors in the bid-rigging trial against former SUNY official Alain Kaloyeros had a scare Monday when they realized they failed to include vital evidence to substantiate that case should be tried in a Manhattan court. U.S. District Judge Valerie Caproni allowed them to reopen the case to include the critical evidence, although she said she found the case "weak." This debacle follows Kaloyeros rejecting a plea deal last weekend. The trial was on hold for the latter part of the week for the holidays and will restart Monday.