Sheldon Silver
Seven years for Silver, Daily News staff slashed, speed cameras stall
In this week's headlines, former Assembly Speaker Sheldon Silver was sentenced, for a second time, to seven years in prison, Tronc slashed the editorial workforce at the Daily News, and New York City's speed camera program was suspended due to inaction in Albany.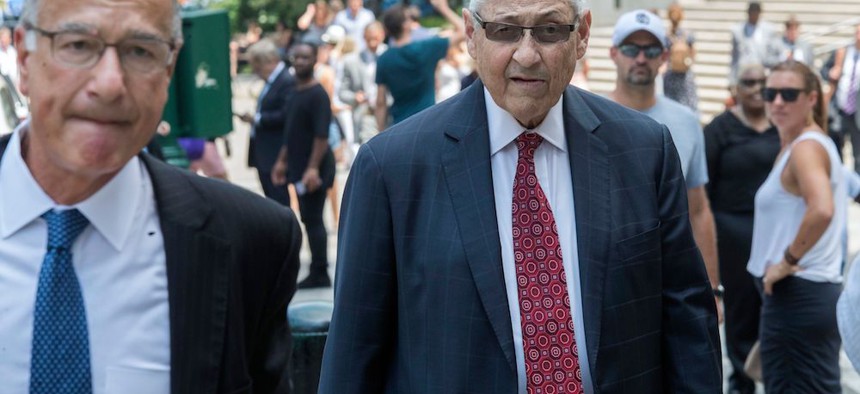 Alexandria Ocasio-Cortez has not yet been elected to Congress, but she is already acting like she has. Only about a month after winning her primary against Rep. Joseph Crowley, the democratic socialist has taken her left-wing activism out of state. She took the stage with U.S. Sen. Bernie Sanders for a rally in Kansas. She went to St. Louis to stump for congressional candidate Cori Bush. And she visited Washington, D.C., where she met with progressive leaders and didn't take questions from the reporters. It seems like she's settling right in. More below in this week's headlines.
Seven years of bad luck for Silver
Former Assembly Speaker Sheldon Silver was sentenced to seven years in prison Friday for a corruption scheme in which he received some $4 million in return for legislative favors. It was the second time Silver has been sentenced on the same federal charges – he was first found guilty in 2015, but his conviction was overturned because of a U.S. Supreme Court case that altered precedents on political corruption. The seven-year sentence was a show of leniency from federal judge Valerie Caproni, who had sentenced Silver to 12 years in prison and a $7 million fine in his first trial. The 74-year-old Democrat ruled the Assembly for more than two decades from his Lower Manhattan district. Silver's was just one of a litany of corruption trials involving New York political figures this year, including former state Senate Majority Leader Dean Skelos, former aide to Gov. Andrew Cuomo Joe Percoco and former SUNY Polytechnic President Alain Kaloyeros, all of whom were found guilty.
Gutting New York's paper
In a blow to the New York City tabloid, Tronc laid off about half of the Daily News' editorial staff. In all, 45 journalists and 48 noneditorial staff lost their jobs. Now, the newsroom has a staff of about 40 people, down from as high as nearly 500 in the 1980s. Lawmakers, readers and staffers alike lamented the gutting of local news. The Daily News has been struggling financially for years and the cuts, which had been reported days earlier by Study Hall, did not come as a surprise. But the knowledge did not make the layoffs any less painful for the paper's journalists – or its readers.
Speed cameras hit the brakes
Despite last minute pleas by both New York City Mayor Bill de Blasio and Gov. Andrew Cuomo to renew the city's school zone speed camera program, which is credited with making the streets safer, the cameras went dark on Wednesday. While they will remain operational to collect data, they can no longer be used to issue tickets and summonses. Cuomo blamed state Senate Republicans for failing to pass the legislation needed to renew the program, an accusation Republicans reject.
Cuomo is Puerto Rico
Cuomo once again returned to Puerto Rico to aid in recovery efforts on the island as it continues to suffer in the aftermath of Hurricane Maria, his fifth trip since the storm. He wrapped up that visit by calling on President Donald Trump to return to the island, which he hasn't done since October. Upon his return to New York, Cuomo also announced $11 million in aid for families in the state who were displaced by the storm.
Delivering justice for pizza deliveryman? 
Pablo Villavicencio, the pizza delivery man who was detained while making a delivery to a Brooklyn army base, was released from immigration detention on Tuesday and will now be allowed to apply for citizenship. He had been arrested in the beginning of June, sparking outrage, rallies and calls for his release. Cuomo himself even wrote an open letter to the Immigration and Customs Enforcement agency asking that Villavicencio be released.