Andrew Cuomo
The Women's Equality Party is more of a casual get-together
If there were ever a moment suited to a political party serving women, it would be now. But New York's Women's Equality Party was founded in July 2014 by Gov. Andrew Cuomo allies to rally – or, critics contend, to confuse – female voters in his Democratic primary race against Fordham Law School professor Zephyr Teachout.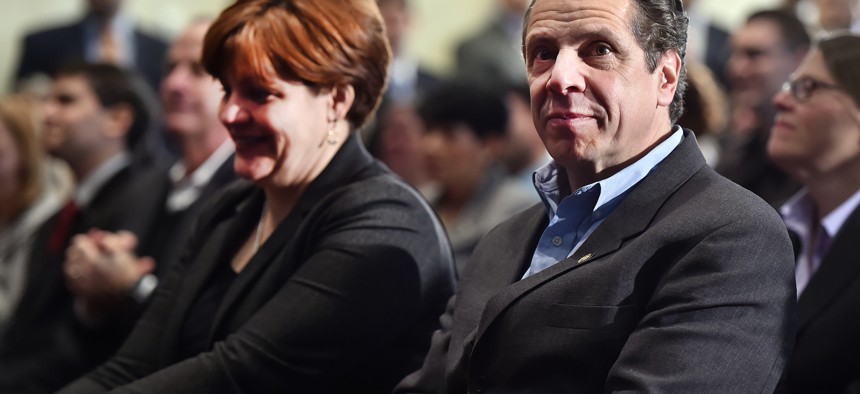 If there were ever a moment suited to a political party serving women, it would be now. And for only the second time in history, this year New York voters will be able to cast a ballot for the gubernatorial nominee of the Women's Equality Party, among the six minor parties on the ballot this November.
But the group wasn't birthed by the #MeToo movement, nor did it materialize during the women's marches of the past two Januarys. The party isn't even endorsing women in many races, like backing losing candidate DuWayne Gregory over Liuba Grechen Shirley in last month's Democratic congressional primary on Long Island. It also spurned Cynthia Nixon for Gov. Andrew Cuomo, which is the second time in a row that the party favored Cuomo over a female challenger.
That's because the WEP was founded in July 2014 by Cuomo allies to rally – or, critics contend, to confuse – female voters in his Democratic primary race against Fordham Law School professor Zephyr Teachout.
Establishing an entire political party to marginally advance one's own re-election prospects seems like an extreme, complicated, risky and time-consuming maneuver. Running it to serve one's own interests in future cycles is even more so.
But the mechanics of how to do it are clearly laid out in state law. Here's how it worked with the Women's Equality Party.
Cuomo allies, including Lt. Gov. Kathy Hochul, then-New York City Council Speaker Christine Quinn and the leaders of state women's organizations submitted more than 90,000 signatures to petition their way onto the ballot that year – six times the 15,000 state law required.
In the general election, Cuomo received 53,802 votes on the WEP line, beating the 50,000-vote threshold to become a party for the next four years under state law.
When it was formed, Cuomo allies who spoke for the party said they would take on the mantle of women's rights and access to health care, while boosting its membership beyond a small cadre of the governor's female political friends.
That didn't really happen. Cuomo and his fellow Democrats were not able to advance his women's equality agenda in 2013 or 2014 through the Republican-controlled state Senate. Much of it passed a year later with the notable exception of a measure codifying abortion rights into state law as a backstop if the U.S. Supreme Court ever overturned Roe v. Wade.
"After founding that party, (Cuomo) asked people to fight for women, pass the Reproductive Health Act," New York Working Families Party co-Chairwoman Karen Scharff said. "Four years later, it still hasn't passed and there's been no action on it. And the Women's Equality Party hasn't done anything to change that."
It is easier to start a party than to keep it going. Once an election is over, a small cohort of officers typically write bylaws that spell out how the party would raise money, nominate and endorse candidates and hold primaries. The officers – a chairperson, secretary and treasurer to start – also begin selecting state committee members who serve as the party delegates who pick candidates.
The Women's Equality Party filed interim bylaws with the state Board of Elections in July 2015. Only three officers were named, including Chairwoman Barbara Fiala, whom Cuomo appointed state commissioner of the Department of Motor Vehicles, former Syracuse Common Council Majority Leader Kathleen Joy, who became its secretary, and executive committee member Rachel Gold, a state Department of Labor counsel who worked with Cuomo when he was state attorney general.
Cuomo signed the bylaws but political activists, including former state Sen. Cecilia Tkaczyk, a Women's Equality Party member, attempted to wrest control of the party by filing her own rules making her the party's chairwoman.
That effort failed because, under state election law, such disputes over who should be a party's officers are settled by a majority vote of statewide candidates on the WEP line – the governor, lieutenant governor, attorney general and state comptroller. Cuomo and Lt. Gov. Hochul were the only ones to sign off on those choices.
The party bylaws allow the officers to nominate and vote on 13 to 15 individuals to join its interim state committee, forming the core of the party. The bylaws don't include the ability to hold an organizational meeting of enrolled members to choose the party's own leaders, nor is there an open convention to pick preferred candidates. Instead, state committee members discuss candidates and make endorsements in private meetings.
Other than that, the WEP appears to have done little since its founding.
The party has not actively recruited voters to register with the party or donate to it. They only have 4,675 members registered with the state as of April 2018, according to state Board of Elections, and there's only $55,000 in the party's state campaign account as of January 2018, much of it gathered from two loans from the Cuomo campaign and two donations totaling $35,000 from a niece of former Republican Gov. Nelson Rockefeller.
The WEP website remains out of date. The site notes it is "Paid for by Cuomo Hochul 2014 Inc." A list of supporters includes Quinn, whose representative told City & State she "has not been involved (with the WEP) for quite some time," and Rep. Louise Slaughter, who died in March.
So whether the WEP is a party at all depends who you ask.
"Absolutely not," said Mike Zumbluskas, a 2014 and 2016 Independence Party candidate for state Senate in Manhattan. "In the age of women's empowerment, the Women's Equality Party should be running with enthusiasm and endorsing and enhancing women's candidates' ability to get elected. Instead they're barely organized and they only give the line to the Democratic elite."
According to Teachout, a political party should be a way in which people with shared values and goals engage in debate, organize and go door to door to elect candidates, but the WEP isn't doing any of that. "The WEP is profoundly cynical," said Teachout, who is now running for state attorney general. "When you have sham parties, it undermines people's faith in politics. When people use something like a party structure to push something that isn't real, that just helps undermine trust in our democratic processes."
But the party is legally legitimate, election attorneys say. "If they got 50,000 votes, they're a real party," New York election lawyer Jerry Goldfeder said. "They endorse candidates. They get involved in local races. That's pretty real."
WEP Chairwoman Susan Zimet, a former New Paltz town supervisor, said she has been getting the party up to speed this year by sending questionnaires to candidates, making endorsements in federal and state races and mailing flyers to members. Zimet has been a longtime Hudson Valley Democratic fixture and executive director of the Hunger Action Network of New York State.
"We have been holding meetings twice a week for a couple months now. People are working like crazy!" Zimet said. "As soon as we get done with endorsements, then our focus will be completely on fundraising, building the party, building the state committee and supporting our message and candidates, ensuring people vote on the party line. That's our goal."
Tkaczyk said she has never received any communication from the party about its activities. "There's no outreach to members. There's no effort to organize regionally and no effort to build outreach from the grass-roots level. This is all done top-down from a state committee appointed by who knows, I assume the governor," she said.
Thanks to the ballot quirks, even an inactive party can have candidates with paltry support on the ballot in November. North Country Democrat Dylan Ratigan, who despises Hillary Clinton and did not vote for her for president against Donald Trump, was trounced in the Democratic congressional primary but somehow won a spot on the WEP line by securing two write-in votes from the four WEP members who hauled themselves to the polls last month. His two opponents – including Tedra Cobb, who won the Democratic primary – split the other two votes.
A Cuomo campaign spokeswoman referred inquiries to Zimet. Zimet said she couldn't say why the governor created the WEP, but she called it a "brilliant idea."
"There was a need for a line, people voted on that line, and I believe the governor created it because he knew it was an important thing to do," she said.
In what may shape up to be the year of the woman in New York politics, the so-called Women's Equality Party is largely on the sidelines. "Telling women to go join a minor party is absurd," Tkaczyk said. "It's not going to help women get issues voted through the state Legislature. You're just throwing your vote away."