New York State Assembly
Voters question petition signatures for Assemblyman Brian Miller
More than a dozen of people whose names submitted on ballot petitions for Assemblyman Brian Miller for the Conservative Party line deny they ever signed it, despite their addresses and supposed signatures appearing on the petitions, with some calling it a "forgery."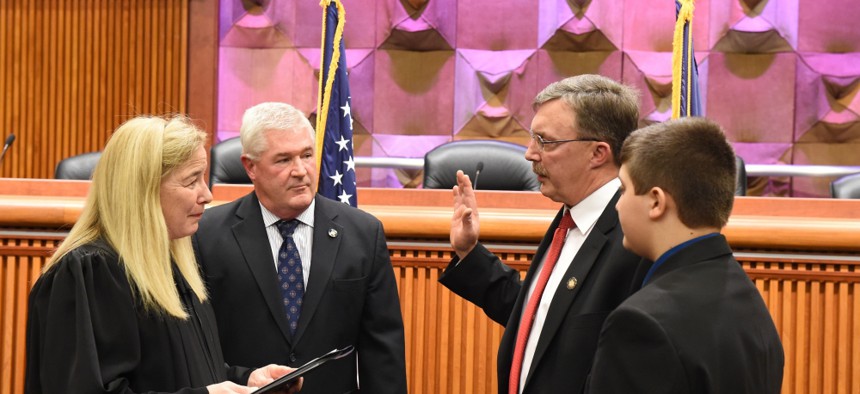 Larry Engel, a resident of Hamden, New York, has no use for politics.
"When I get political stuff in the mail, I throw it right in the trash," Engel said. "Republican, Democrat, you name it. I want nothing to do with any of them."
And yet, Engel's name was scrawled on the signature line of a Conservative Party ballot petition for Assemblyman Brian Miller dated June 21. "That's impossible," Engel said, as his truck idled in the driveway of his home on Honest Brook Road. The disgruntled resident denied he had signed anything in support of Miller.
George Sydlar, a registered Conservative in Davenport, New York, is also listed as having signed Miller's petition on June 21, but told City & State, "I did not sign that." Sydlar said he did not even know who the candidates in the race were. Sydlar later said he contacted the state Board of Elections enforcement counsel's office with his complaint.
"I'd like to know who's using my name," Sydlar said.
Even Delaware County Conservative Party Chairman James Small, who along with his wife, Margaret, showed up on Miller's petitions, denied that they had signed their names.
"I don't know what's going on," he said.
These residents are among 171 people whose names were submitted by the reelection campaign for Miller, a Republican, to run on the Conservative Party ballot line. The problem is that more than a dozen of those named voters deny they ever signed it, despite their addresses and supposed signatures appearing on Miller's petitions, with some calling it a "forgery."
Miller represents the 101st Assembly District, which snakes through seven counties, meandering 100 miles from the outskirts of Utica to the west of Poughkeepsie.
Out of a total of 171 petition signatures submitted by the Miller campaign, 73 were collected by Kajus Normantas, who has been a paid intern for Miller's government office. Of those 73, City & State called 24 voters listed on the ballot petition who had working phone numbers on file. The 14 people who answered or called back said they had not signed the petitions. Not one voter City & State spoke to said they signed the petition.
According to the state Board of Elections, "73 signatures are required for a valid Conservative petition in the 101st AD."
Forging signatures on a petition violates several laws, including election and criminal law, and could be prosecuted as a felony. The Miller campaign denied any wrongdoing. Voters, however, were adamant that their names and signatures were signed by someone else, without their consent.
When City & State first raised the issue of the ballot petition signatures not matching voter signatures on file, Miller told City & State, "This is news to me," and said his staff reviewed the ballot petition for accuracy before submitting the signatures.
Mike Waterman, a Miller campaign staffer, initially stood behind the signatures. "Signatures were collected properly," he wrote in an email. But when told several listed voters denied ever signing the ballot petition, Waterman distanced himself from the document. "Those that carried petitions for our campaign maintain that they obtained signatures properly," he wrote in another email.
Normantas, who gathered the signatures in question, did not respond to calls, emails or social media messages.
Many of the signatures submitted by Normantas bear little resemblance to the voter signatures that the state Board of Elections keeps on file, and the handwriting for signatures of different voters appears remarkably similar to one another. Looking more closely, several names were misspelled in the signatures. One name, Sandra Mattice, was signed last name first, as "Mattice Sandra."
State Board of Elections spokesman John Conklin said forging petition signatures is a violation of state election law and criminal law, and can be a felony "depending on the severity of the degree of the offense and the attitude of the prosecutor."
The state Board of Elections' enforcement division can look into instances of potential petition fraud and refer criminal cases to law enforcement. "Whether someone sat at a kitchen table and filled out an entire page of a petition without actually obtaining the original signatures of the voters or failed to administer the required oath of a notary public is something only a trier of fact can determine. It is beyond the scope of our agency to determine," Conklin wrote in an email, noting that a lawsuit or prosecution by a district attorney could accomplish this.
After hearing that several voters denied signing the petition document, election lawyer Leo Glickman said, "It calls into question all the signatures."
Considering that it was a paid staff member of Miller who swore to the validity of the apparently false signatures on an affidavit, Glickman said, "It does open door to a lawsuit to invalidate the whole petition. Finally, (Normantas) has to be concerned that the matter doesn't get referred to the DA's office. That's a crime. I think that's a great source of concern."
A campaign staffer for Chad McEvoy, who is running against Miller as a Democrat, noticed the suspicious signatures and contacted election officials. It is common practice for rival candidates to review each others' signatures to try to get them thrown off the ballot.
Because the state Board of Elections does not actually arbitrate claims of ballot petition fraud or typically investigate them - although its enforcement division can look into suspicious behavior and refer it to prosecutors - the McEvoy campaign contacted City & State with the tip. The McEvoy campaign "does not have the resources" to file a lawsuit against Miller, campaign director Leslie Berliant said, but was considering filing a complaint with the relevant district attorneys.
John Hubbard, the district attorney for Delaware County – where Sydlar, Engel and the Smalls live – said forging ballot petition signatures would fall under his jurisdiction, but that no complaints have been made recently.
The 101st Assembly District has been a safe Republican district for years. Miller was elected to the sprawling Central New York district by 20 points in 2016.
"I am very concerned," McEvoy said in a statement. "We worked hard to follow the rules and gather more than 1500 signatures. If, in fact, these signatures were not properly acquired and vetted, I would be very worried about a campaign – or any of its staff or volunteers – that cuts corners in such a blatant and fraudulent manner."
"I am left wondering where else he may have broken the rules," McEvoy said. "I hope that Mr. Miller will join me in demanding a full investigation and recourse for anyone found to be a victim of fraud."
View the petitions below. The pages in question are sheets 8-12.
With reporting by Grace Segers and Rebecca C. Lewis
101st Assembly District Miller Conservative Party petition signatures by City & State NY on Scribd