Andrew Cuomo
Why upstate Democrats like lefty candidates
In recent Democratic primaries, rural parts of New York state have been the most likely to embrace left-leaning insurgent candidates such as 2014 gubernatorial candidate Zephyr Teachout, U.S. Sen. Bernie Sanders' 2016 presidential bid - and Cynthia Nixon's 2018 candidacy for governor.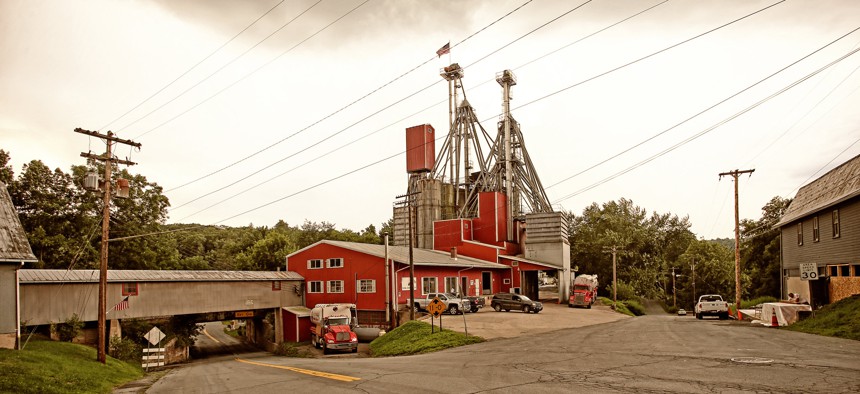 The notion of New York progressive politics conjures certain images: activists gathered outside a Manhattan birthday bash fundraiser for Gov. Andrew Cuomo. A massive crowd outside John F. Kennedy International Airport decrying the implementation President Donald Trump's travel ban executive order. McDonald's employees, union members and social justice advocates packing Buffalo's Common Council chambers to demand a living wage for fast food workers.
Images that don't usually come to the front of the mind: cornfields and tractors.
But in recent Democratic primaries, rural parts of New York state – including Cortland, Putnam, St. Lawrence and Saratoga counties – have been the most likely to embrace left-leaning insurgent candidates such as Zephyr Teachout in the 2014 gubernatorial race and U.S. Sen. Bernie Sanders of Vermont in his unsuccessful bid to win the Democratic nomination in the 2016 presidential race.
And that pattern may be replicated in this year's gubernatorial primary, benefiting liberal challenger Cynthia Nixon. Given the downstate-centric distribution of Democratic voters, such a candidate still needs to improve dramatically upon Teachout's performance in New York City to win – as Nixon apparently realizes, given her heavy focus on the city and issues of importance to its voters.
With Republican politicians often dominating local politics in rural areas, and the widespread assumption that small town residents are mostly socially conservative, one might assume that rural New York Democrats would be more likely to embrace more moderate candidates such as Cuomo, who often touts his fiscal restraint alongside his more progressive social policies.
The electoral maps and polls tell a different story. While Teachout, who is now running for state attorney general, only got about a third of the vote in her 2014 primary challenge to Cuomo, she carried a significant number of upstate counties and trounced the powerful and well-heeled incumbent in many rural counties. In Schoharie County, west of Albany, she beat him by 46 points. In Columbia County, which borders Massachusetts, she bested him by 57 points.
Similarly, Hillary Clinton failed miserably with rural New York Democrats in her 2016 presidential primary against Sanders – despite her being a former senator from New York. While she beat Sanders by 16 points in New York, she won just eight counties outside the five boroughs of New York City, all either in the city's suburbs or denser upstate population centers such as Buffalo, Rochester and Syracuse. In Essex County, situated across Lake Champlain from Burlington, Vermont, where Sanders was once mayor, he beat Clinton by 46 points. In Ulster County, he took nearly two-thirds of the vote.
Jefrey Pollock, the president of Global Strategy Group, a polling firm contracted by the Cuomo campaign, stressed that while the percentage of the vote that Teachout won in some of the more rural counties seems large, it is magnified by the fact that there are so few Democrats in those counties. And those counties have consistently leaned far to the left in primaries, he added. "That's been the case for years," he said.
Upstate New York Democrats, it seems, share the progressive populist streak of their Vermont neighbors. This pattern could be seen on a national scale as well, with Sanders winning rural states like Kansas and Idaho. Pollock pointed to this national pattern as another reason that Cuomo lost rural counties in 2014. "When we talk about Democratic primaries in New York City, the Democratic primary electorate is a more progressive electorate than in a regular election," Pollock said. "There's no reason that pattern shouldn't be exacerbated in a smaller county."
Similar signs can be seen in this year's gubernatorial primary race. In polls, lifelong Manhattanite Cynthia Nixon has performed better upstate than she has in her hometown. While she has the support of just one-third of New York City Democrats, she only trails by eight points upstate, according to a recent Siena College poll.
Counterintuitively, some of these progressive candidates build their platforms largely on urban issues. Nixon has been most vocal about fixing the New York City transit system and racial disparities in the criminal justice system.
So why is it that these candidates are so popular among rural Democrats? Patrick Nelson, a Sanders supporter who recently lost a five-way race for the Democratic nod in New York's sprawling 21st Congressional District, which runs from the Thousand Islands, through the Adirondack Mountains and straight to the border with Vermont, says that Democratic activists and voters in rural New York are motivated by their passion for certain policies, rather than the more transactional reasons that one might get involved in Democratic politics in a city where the party dominates local government. "If you are a Democrat in Saratoga, Washington, Jefferson, Putnam counties, you are a Democrat as a matter of principle, because there is nothing convenient about that party affiliation," Nelson said.
In addition, the increasing polarization of the political discourse has encouraged more people, especially those without a great deal of political experience, to run for office. That trend has coincided with both Democrats and Republicans moving away from the center, helping outsider candidates. Upstate Republicans were once mostly moderates – the party of former governors George Pataki and Nelson Rockefeller. But, in 2014, they nominated Carl Paladino, a real estate developer in Western New York with staunchly conservative views and a knack for generating controversy. In 2016, upstate Republicans enthusiastically backed Donald Trump in the primaries and general election.
Danielle Thomsen, a political science professor at Syracuse University, said that all of these developments are being influenced by the "increasing nationalization of elections."
"Across the country we've seen a lot of liberal Democratic candidates running regardless of the district – regardless of the makeup of the district, regardless of the leadership in those districts and regardless of whether or not the seat is being rated as competitive," Thomsen said.
Political polarization is galvanizing people further out on the political spectrum, compelling them to become more involved, either through activism or through small donations, boosting more ideologically uncompromising outsider candidates. Sanders raised about 44 percent of his contributions from individuals giving $200 or less in his effort to beat Clinton.
While Cuomo won his primary handily in 2014, it seemed to annoy him that Teachout did as well as she did, despite the governor spending 40 times as much per vote. It must have been particularly irksome that she was able to take so many upstate counties. The governor has consistently trumpeted his love for the parts of the state outside of the boroughs, claiming over and over to be the most upstate-focused governor in decades, maybe in history.
"I can't tell you how proud I am to stand before you and say my administration has invested more in upstate New York than any administration in the history of the state of New York," Cuomo told a crowd in Schenectady last year during a tour promoting his economic development programs.
And indeed, he took all eight counties of Western New York, the region that has benefited most from his economic development programs outside of New York City. But even those programs may have contributed to Teachout's impressive wins in more rural counties, as comparatively little help went to those regions, despite their parallel, or worse, loss of industry.
Pollock, the Cuomo pollster, said there will be no real shift in strategy to try to improve the governor's showing in the counties he lost to Teachout. However, the campaign will be focused on touting his record of progressive policies – rising minimum wage, paid family leave – and investment in upstate. "This is a guy who's spent a ton of time paying attention to the needs of Buffalo, Rochester Syracuse and Albany," Pollock said. "But he has also paid a lot of attention to making sure that firehouses got what they needed, from the North Country down to Montauk."
Nelson, the Saratoga County Sanders supporter, said that one reason so many rural Democrats tend to go for the insurgent over the party-backed candidate is that they feel left out of the process. Under the last two Democratic presidents, with whom Hillary Clinton was closely associated, the Democratic Party has seen its rural infrastructure and popular support dwindle, as the party became more reliant upon urban and suburban voters, including upscale, fiscal moderates who used to support Republicans. Supporting outsider candidates who argue that the Democratic mainstream ignores the needs of economically and socially marginalized voters – such as the rural poor – may be partly a response to that shift.
"You have a discontentment with establishment Democrats in more rural areas because we've largely been ignored by (the Democratic National Committee) for a lot of years," Nelson said. "So you don't see a lot of resources coming into local parties from the big parties. There's less of an influence from them."
And where some of the more urban upstate areas see major state and federal dollars – the Buffalo Billion, Rochester's photonics hub – rural areas have not seen the same kind of economic commitment. "We're in an area with unemployment that's as much as two times the national average and our median income is under $30,000," Nelson said. "So people are stretched. They're seeing the decay of the community."
Young people are leaving for more economically vigorous regions, the opioid epidemic has hit many rural communities hard and those who stay struggle to find good work, Nelson said. "We feel like we're losing our next generation," he said. "There's a high degree of desire for a broader change because these are communities that absolutely need a broader change."
There is also the simple question of race: Incumbents with longstanding connections to communities of color, such as Cuomo and Clinton, tend to perform better among those voters than neophyte white challengers. But rural New York, like Bernie Sanders' movement nationwide, is predominantly white. Otsego County, which went big for both Teachout and Sanders, is 94 percent white.
While the results in these counties don't have the weight to tip elections, many on the left may hope that a similar result for Nixon upstate this year would herald a wave of enthusiastic canvassing and turnout from the Democratic activist base in November. Democrats continue to hold a slim lead in the race to control Congress this fall, polling shows. The surprise win of Alexandria Ocasio-Cortez over powerful incumbent Rep. Joseph Crowley in last month's congressional primary – in New York City, no less, where insurgent candidates almost never win – suggests opposition to Trump's divisiveness and hard-right policies may have the country swinging back to the left.
Cliff Hay, the chairman of the Schoharie County Democratic Committee for the last 45 years, said that he has seen many swings in voting patterns through the decades. While his committee has supported centrist politicians who lost in his county in some contests, Cuomo and Clinton among them, he sees the vigorous debate going on within the party as a positive, and a trend that is indicative of a statewide and national mood. "I think we're on the upswing as the Democratic Party in all of upstate," he said.
Correction: An earlier version of this story misstated Sanders' margin of victory in Essex County and made a pair of geographical errors.