Andrew Cuomo
A closer look at 'son of a bitch' Andrew Cuomo
In a new profile from New York magazine, Gov. Andrew Cuomo's dual personalities were on display.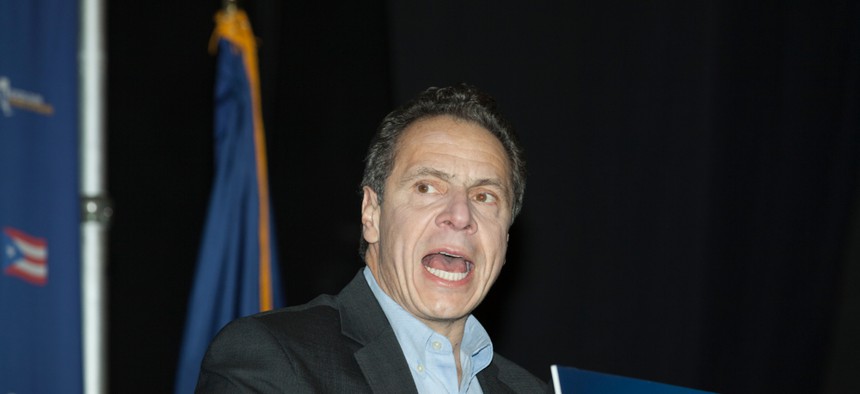 A pair of high-profile reports this morning shed new light on what makes Gov. Andrew Cuomo and his inner circle tick.
In a new profile from New York magazine, Cuomo's dual personalities were on display. On one hand, writes author Chris Smith, the governor has been effective: passing same-sex marriage, strict gun laws and a $15 minimum wage, all progressive wins. He "has a genuinely compassionate, blue-collar side" that has benefited thousands in the state, Smith writes. But at the same time, he is obsessed with the political game and is furiously vindictive, with one source saying Cuomo "gets joy" out of punishing people. "People let the fact that he's a son of a bitch interfere with the fact that he's also been a very good governor," one colleague tells the magazine.
Cuomo practices the kind of deal-making, centrist, "carrot-and-sick" politics that has fallen out of favor since the '90s, Smith writes, which explains his quiet acceptance of the Independent Democratic Conference and a Republican majority in the state Senate – exactly the kind of politicking that Cynthia Nixon is challenging him on.
The story devotes a large chunk to Cuomo and New York City Mayor Bill de Blasio blaming each other for the state of the MTA. "Life is too short" for grudges and feuds, Cuomo says, until he's asked about de Blasio: "He started with me first!" he explodes.
Notably, Cuomo argues that, despite the multiple high-profile corruption cases closely tied to his administration, he's been vindicated by the fact that prosecutors never found a speck of dirt on him. He calls the actions of his former top aide and enforcer Joseph Percoco, who was convicted of corruption, "hurtful and disgusting and stupid," but says Percoco was just one bad apple within the administration. "And that they couldn't find any connection whatsoever, in many ways it's the most credible exoneration in history," Cuomo says.
Not long after that profile was published, The New York Times published its own story on the influence of lobbyist, former Cuomo aide and convicted felon Todd Howe in Cuomo's inner circle. Howe was the prosecution's star witness in Percoco's trial and a key player in the Buffalo Billion trial, the other massive corruption scandal linked to the governor. Although Cuomo has tried to downplay his relationship with Howe, newly released emails reveal just how easily the lobbyist could access and exert influence over the top levels of the administration.
Cuomo is often referred to in the emails – Howe uses his ties to the governor as leverage, going so far as to invent stories to exaggerate his proximity to Cuomo – but, as the governor himself pointed out in New York magazine, Cuomo has never been implicated in any of the cases, and the emails revealed by the Times are no different. Although they show Howe interacting with top officials like then-Lt. Gov. Robert Duffy, Howe never directly speaks with Cuomo, and there is no indication that the governor was aware of any unethical or illegal dealings.
As to how such a micromanaging deal-maker didn't know what was going on right under his nose, neither publication offers any speculation.