New York City
Cuomo and Nixon debate, speed cameras turned on and questions on Cy Vance
Andrew Cuomo and Cynthia Nixon debate, speed cameras turned on and questions surround Cy Vance in this week's top political news.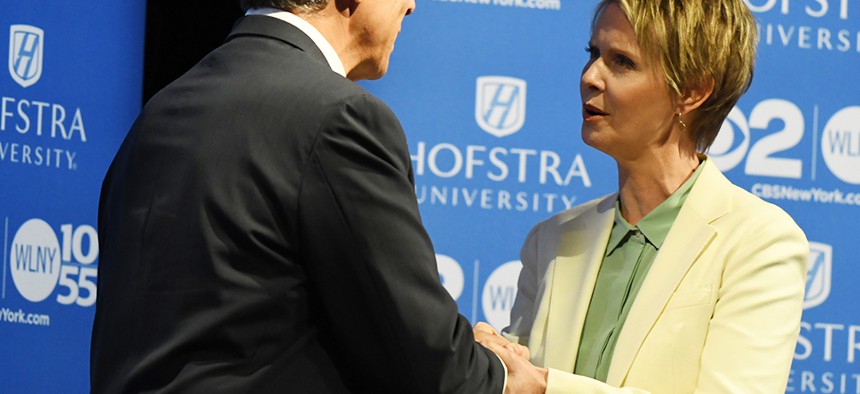 It was debate week in New York, with the candidates in each statewide Democratic primary facing their opponents. It kicked off with an attorney general debate and the four hopefuls took the stage, but ended up focusing on Zephyr Teachout, giving her the appearance of the front-runner. Next came the lieutenant governor debate between Lt. Gov. Kathy Hochul and New York City Councilman Jumaane Williams, in which Williams took aim at Hochul's apparent obeisance to the governor. Gov. Andrew Cuomo and Cynthia Nixon rounded out the week in their first – and only – debate. The room may have been cold, but the exchanges were heated. More on that in this week's headlines.
 
Frosty room, hot takes
Gov. Andrew Cuomo and Cynthia Nixon finally took the stage for their long-awaited debate at Hofstra University. Nixon's campaign had reportedly asked that the temperature of the debate hall be set at 76 degrees. Before it began, however, the room was reportedly Cuomo's preferred temperature: frigid. But it quickly heated up with fiery exchanges between the two candidates. Nixon went on the offensive and attacked Cuomo on his record, legislative failures, shifting progressive policies and the corruption in his administration. Cuomo bemoaned New York City for not doing more to the fund the Metropolitan Transportation Authority and accused Nixon of being a corporation. Though contentious, the debate offered voters few details on specific issues and was light on policy.
Need for speed (cameras)
Cuomo finally resolved the issue of speed cameras near New York City schools – at least for now. He signed an executive order that would allow the cameras to be turned back on and utilized in time for the new school year, but only temporarily. The program still needs to be renewed in a more permanent fashion by the state Legislature. The New York City Council introduced and passed legislation to bypass state legislative approval for the time being in order to officially turn those cameras back on.
 
The curious case of Harvey Weinstein
According to a report from BuzzFeed News, Cuomo suspended the state attorney general's investigation into Manhattan District Attorney Cyrus Vance Jr.'s initial decision against prosecuting Harvey Weinstein. The governor said he did not want the investigation to interfere with and possibly compromise the ongoing criminal case against Weinstein. A day later, a report from Sludge revealed that Cuomo had accepted a $25,000 campaign contribution from the law firm of Weinstein's now former lawyer, raising questions about whether the money and the decision were related.
Powered By
NEXT STORY: Family members question Julia Salazar's claims