Andrew Cuomo
Guilty Trump allies, the Times' Teachout nod and Cuomo at the fair
In this week's headlines, former Trump campaign manager Paul Manafort was found guilty, former Trump attorney Michael Cohen reached a plea deal, and The New York Times endorsed Zephyr Teachout for attorney general.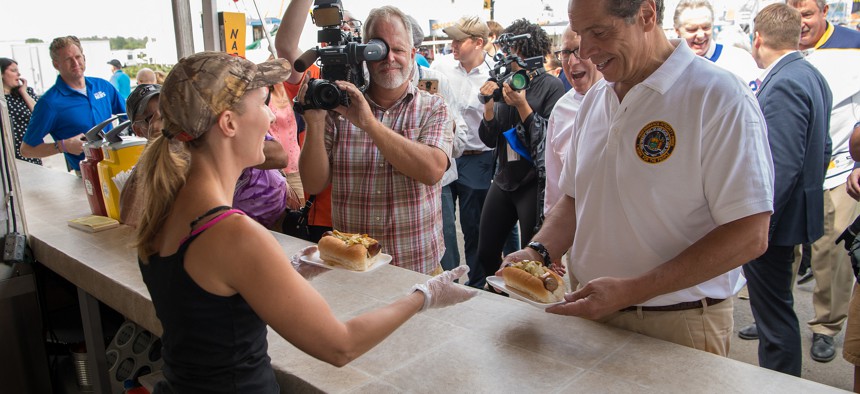 The New York State Fair kicked off this week, which of course, meant the return of a certain "sausage aficionado." Gov. Andrew Cuomo stopped by the famed Gianelli Sausage stand, a required stop at the fair for candidates seeking office in New York. U.S. Senate candidate Chele Chiavacci Farley also stopped by the stand not long after Cuomo for a taste of the fair's favorite fare. Lieutenant governor candidate Jumaane Williams skipped the tradition, given that he is a pescetarian, but still got a dose of heartstopping goodness with his first fried Oreos. Sadly, the rest of this week's headlines did not involve deliciously unhealthy fair food.
Guilty and guiltier
In a blockbuster Tuesday afternoon, two former close aides to President Donald Trump had their contentious legal battles over alleged federal crimes resolved almost within minutes of each other. Trump's former attorney Michael Cohen cut a deal and pleaded guilty to multiple charges – including tax evasion and bank fraud – and confessed that he paid porn star Stormy Daniels and Playboy Playmate Karen McDougal at the behest of Trump to keep both women quiet about alleged affairs with the then-candidate for president. Paul Manafort, the president's former campaign chairman, was found guilty on eight counts of fraud. Gov. Andrew Cuomo said that if Trump pardons Cohen, it should be grounds for impeachment.
More legal problems for Cohen
Michael Cohen's plea deal with federal prosecutors isn't the end of his story. He may yet cooperate with special counsel Robert Mueller, which could reduce his sentence. And in New York, the state Department of Taxation and Finance is looking into potential state tax law violations as well as his role with The Donald J. Trump Foundation, and the Manhattan district attorney may bring charges as well. And since he is now a felon, the New York City Taxi and Limousine Commission ordered Cohen to divest from the 10 taxi medallions he owns.
Times endorses Teachout
In what is likely to be a significant boost in a close race, The New York Times endorsed Fordham Law professor Zephyr Teachout in the Democratic primary for state attorney general. The newspaper's editorial board pointed to her background in combating corruption and her ability to be independent from Cuomo, which it considers to be of the utmost importance in this race. A Quinnipiac University poll in July had Teachout in third behind New York City Public Advocate Letitia James and Rep. Sean Patrick Maloney, but also said 42 percent of voters were still undecided.