Andrew Cuomo
Republicans for Cuomo are still quietly for Cuomo
Gov. Andrew Cuomo has moved to the left, but supporters of his who were members of a Republicans for Cuomo group don't seem to mind.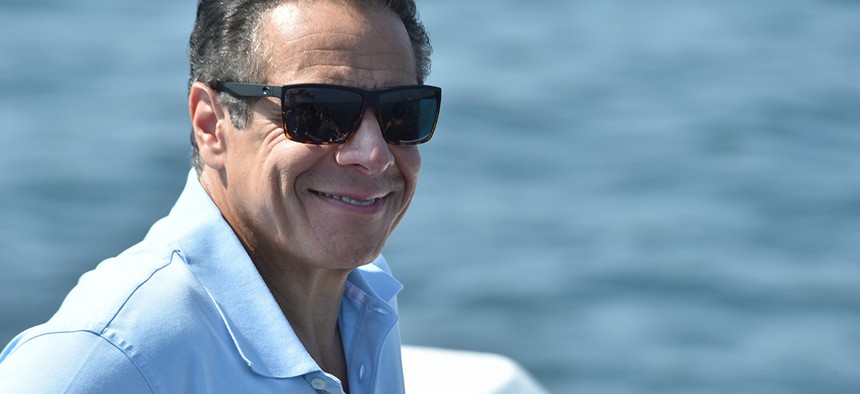 In his past two campaigns, Gov. Andrew Cuomo proudly touted his Republican support. He posted endorsement ads from Republicans, including former U.S. Senate candidate Larry Rockefeller, then-Nassau County Executive Ed Mangano and Onondaga County Executive Joanie Mahoney. He boasted about lowering taxes and working across party lines. And he had real Republican backing to brag about: "Republicans for Cuomo" fundraised and publicly supported Cuomo in 2010 and 2014. The group even included Anthony Scaramucci, who served as President Donald Trump's communications directors for 10 days last year. Scaramucci was the "Republicans for Cuomo" finance chairman in 2010.
These trends are notably absent this election cycle. There is no "Republicans for Cuomo" group and there are no Republican endorsement ads – at least not yet, as the Democratic primary contest is still ongoing. Cuomo's primary opponent Cynthia Nixon has planted herself firmly to the left with an endorsement from the New York City chapter of Democratic Socialists of America, and with her calls to abolish U.S. Immigration and Customs Enforcement, fully legalize marijuana and establish a single-payer health care system.
Some have noted that since her campaign began, Cuomo has been moving to the left. In April, he organized the reunification of the Independent Democratic Conference with mainline Democrats, although he declined to do so last year, and he began considering legalizing recreational marijuana even though just a year ago he had opposed legalization and called marijuana a "gateway drug."
While "Republicans for Cuomo" has faded away, its former members have continued to favor the governor despite his seemingly leftward shift. "I probably support him more now than I did before," said Michael Balboni, a lobbyist and former Republican state senator who did outreach and fundraising for the group in 2010 and 2014.
Several members of the group and Republicans who have been affiliated with the group have continued to donate to Cuomo's campaign this election cycle. Ken Langone, a co-founder of Home Depot who was one of the most prominent and outspoken members of the group, donated $25,000 to Cuomo's campaign in 2016 and 2017, the same amount in campaign contributions he gave to the governor in the previous election cycle. Michael McKeon, a lobbyist who is listed on Mercury's website as executive director of "Republicans for Cuomo," gave a total of $7,500 in 2015 and 2016.
David Flaum, a Rochester developer and former member of the group, has donated a total of $32,500 to Cuomo's campaign since 2016. Rockefeller, who attended the group's fundraisers and endorsed Cuomo in a 2014 ad, has donated $67,600 to his campaign since 2015. Scaramucci has not donated to a Cuomo campaign since 2005, leading up to Cuomo's run for state attorney general.
Abbey Fashouer, a Cuomo campaign spokeswoman, said in a statement, "The Governor's unmatched progressive record of accomplishment – $15 minimum wage, paid family leave, strongest gun safety laws in the country, tuition-free college for the middle class, and marriage equality – speaks for itself." The campaign did not respond to questions about the nature of the "Republicans for Cuomo" group's relationship with previous Cuomo campaigns.
Some Republicans may have rallied around Cuomo in 2010 due to concerns about his opponent, Carl Paladino, who knocked out the more moderate Rick Lazio in the Republican primary that year. For example, Scaramucci served as Lazio's finance chairman and joined the Republicans for Cuomo effort only after Lazio lost.
Of course, many of Cuomo's Republican donors give to candidates across party lines. Over the past few years, Ken Langone has also donated to Democrats like former New York congressional candidate Adem Bunkeddeko, U.S. Sen. Robert Menendez of New Jersey and Nassau County Executive Laura Curran, although he has donated far more to Republicans – including polarizing conservatives such as Florida Gov. Rick Scott. McKeon has also donated to Democrats, such as Assemblywoman Inez Dickens, but most are former IDC members, which helped the GOP control the state Senate, including state Sens. Jeff Klein, Marisol Alcantara and Diane Savino.
Rockefeller has donated to Democrats like state Comptroller Thomas DiNapoli and Assemblywoman Aileen Gunther, and the Rockefeller family has historically been composed of moderate Republicans and some Democrats. Scaramucci, despite his affiliation with Trump, has donated to two New York Democrats in the past three years: a total of $65,000 to then-Attorney General Eric Schneiderman between 2015 and 2016 and $1,000 to Nassau County District Attorney Madeline Singas in 2015.
None of Flaum's political contributions in the past two years went to Democrats, aside from Cuomo.
"The lines are not that sharply drawn," said Hank Sheinkopf, a New York Democratic political consultant. "A lot of what happens in fundraising is relationships, and the Cuomo name has been a staple in New York and national politics for 40 years. So why wouldn't those same relationships continue?"
City & State reached out to Langone, McKeon and Flaum. Langone and Flaum declined to comment. The press contact for Scaramucci's investment firm did not respond to requests for comment. McKeon declined to comment and referred any questions to the Cuomo campaign.
However, two other Republicans who were public supporters of Cuomo in the past reaffirmed their approval. Both cited personal connections to the governor and his father as part of the basis of their support.
Patrick Barrett, a former state GOP chairman who previously co-chaired Cuomo's campaign doing GOP outreach, said Cuomo's move leftward would not dissuade him. "The guy's a friend of mine. I intend to support him," Barrett said. "We may or may not agree on certain things, but he's running for governor. I'm not running for governor." Cuomo appointed Barrett chairman of the state Olympic Regional Development Authority in 2011 and to the governor's Moreland Commission to Investigate Public Corruption in 2013.
Balboni, a Cuomo appointee at the New York Power Authority who also bucked his party to work for former Gov. Eliot Spitzer, noted his support for the governor's initiatives, such as infrastructure projects. "He was going to be tough on crime," Balboni said. "He was going to not raise taxes. He was going to get the budget done on time, and he's done all those things. But I'm also Republican and I also believe in a Republican (state) Senate. I think that kind of balance is good."
If some Republicans continue to support Cuomo, why are the public fundraisers and ads absent?
"If Trump were not in the White House, they would likely be more vocal," Sheinkopf said, pointing out that Cuomo could jeopardize his standing in the primaries if he appeared to close to the Republicans.
Cuomo's connections to Republican donors have been covered often this election cycle. The Nixon campaign criticized Cuomo for receiving donations from Trump in the past and the Daily News also pointed out in May that other Cuomo donors who have ties to the Trump administration.
The Nixon campaign criticized the ongoing support from Republicans for Cuomo. Lauren Hitt, a spokeswoman for Nixon's campaign, said in a statement: "It should come as no surprise that Donald Trump and some of America's most conservative, corporate donors are outspoken in their support for re-electing Andrew Cuomo."