Sean Patrick Maloney unleashes his inner bro
Rep. Sean Patrick Maloney, the lone man in the field of women, is charting his own path to win over voters, emphasizing strength, toughness, athleticism.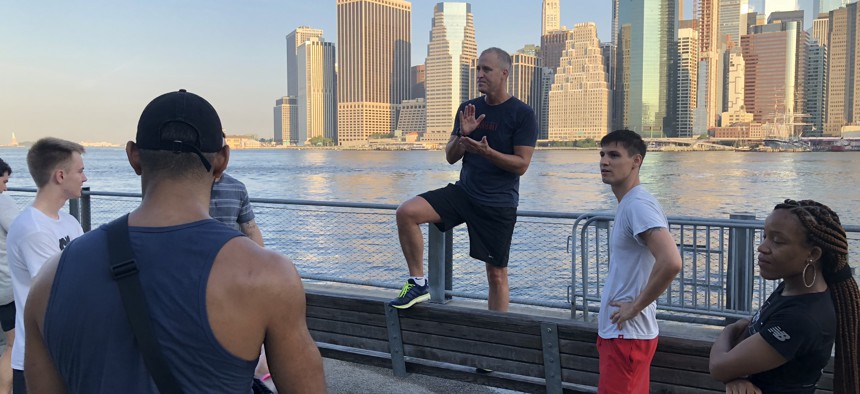 After a month of relative quiet from his campaign for attorney general, Sean Patrick Maloney is finally sprinting out of the gate.
The congressman and more than a dozen supporters showed up bright and early Wednesday morning decked out in running gear for the second of the candidate's running town halls. It was the third of a planned 30 town halls in 30 days, leading up to the Sept. 13 election. We met at 6:30 a.m. outside Brooklyn Borough Hall, where Maloney gave a brief pep talk: "Because I like to run in the morning, and I didn't want to have to choose between running and running for office, we're going to do both." Then he took off, leading the pack down Joralemon Street as we headed toward the waterfront.
Recent polls showed that nearly half of Democratic primary voters were undecided on who they'd vote for attorney general. Among those that knew, Maloney was in second – trailing New York City Public Advocate Letitia James, and just ahead of Fordham Law professor Zephyr Teachout. Leecia Eve, who used to serve in Gov. Andrew Cuomo's cabinet and now lobbies for Verizon, is a distant fourth. In the battle for the undecideds, James is the juggernaut, gobbling up endorsements at every level, from local Democratic clubs to Cuomo. Teachout has a built-in network of support from the party's growing left wing, dating back to her 2014 primary challenge of Cuomo.
So Maloney, the lone man in the field of women, is charting his own path to win over voters, emphasizing strength, toughness, athleticism. Let's just say it: Sean Patrick MaBROney.
The runners carried on through the tony Brownstones of Brooklyn Heights, where Maloney talked to me about his own home, a 1922 farmhouse on a sprawling lot in Putnam County. There among his menagerie of ducks, sheep and horses, Maloney and his husband Randy Florke walk their two daughters to the school bus every day the congressman is in town. Then, the couple of nearly three decades go for a morning run together.
It's that idyllic homestead that Maloney vowed to protect in his first TV ad, released on Tuesday. "I feel like there's a group of men led by Donald Trump who have shown up in the front yard and they're getting ready to tear this house apart," he says in the ad, seated in his kitchen. "And I'm going to stand in the hallway with a baseball bat. Because I don't have any choice. My kids are upstairs, asleep."
I asked Maloney to explain the ad as we ran through Brooklyn Bridge Park. "The baseball bat is about defending your home and your family when someone's coming through the front door and you have nowhere to run," he said. "That's not violence, that's self-defense. That's making a decision that you're going to make a stand or go down swinging."
Maloney isn't backing down from the home invader metaphor. But he is running, ultimately, for a statewide position. And even if he doesn't win the Democratic primary, Maloney plans to defend his congressional seat, in a district that voted for Trump in 2016. Does he expect any Trump supporters to criticize his rhetoric?
"I don't give a fuck what the Trump fans say. That's not what this is about," Maloney said. "This is about speaking from the heart. About a family I've built for 25 years that's in the crosshairs of these assholes. And doing something about it."
Maloney is among a growing number of national Democrats – most notably California Rep. Maxine Waters – who have called for an end to civility, and the need to respond to Trump on his own rhetorically nasty terms. But even as U.S. Sen. Kirsten Gillibrand is making headlines for strategically timed expletives, Maloney's own cursing stands out.
"It feels like the people who are fueled by hate, demagoguery and anger have their shit together, and those of us who want to talk about love and hope and inclusion have been hiding in the shadows," he said. "And it's time to get out of the shadows and at least defend our ground. But I'd rather even get on offense."
And that's why Maloney said he chose to run for attorney general, instead of coasting toward what was likely to be an easy re-election in New York's 18th Congressional District. After the group ran about a mile, Maloney took a break to talk to the roughly one dozen joggers who had made it this far. He stood on a park bench, the skyscrapers of lower Manhattan gleaming across the East River behind him. The office of attorney general has so much more authority than a single congressman, he explained. He told the story of a former constituent, Martin Martinez, who died of a stroke in February after getting deported out of the country. "He was alone in Mexico, with no health insurance, no good health care because they threw him out of the country," Maloney said, clapping to emphasize his words.
"Right now families are getting torn apart," and he couldn't stop it in Congress. The plan, as attorney general, "is to do more."
The group soon took off running again, past the Brooklyn Bridge and back up toward Borough Hall. The jogging town hall may have been good for Maloney's mood, but it didn't seem to be great voter outreach. A video recap of his first jog in Central Park had less than 100 views on Twitter, 24 hours after it was posted. And nearly all of the runners who joined him Wednesday were affiliated with his campaign. There were congressional aides, campaign volunteers, and friends and family of those aides. One runner, Alex, was a friend of Maloney's husband. Another, Felton, planned to volunteer once Primary Day neared. Evan Farley, a political junkie who hadn't decided who'd he be supporting in the race, said he came to run with an open mind. But at just 15 years old, Farley's support wouldn't be coming with a vote. Still, Farley liked what he heard. "I'll definitely do more research, but this was great, and I really think Sean was great," he said.
The group made it back to Borough Hall, all sweat and smiles after the 2.7-mile loop. A couple photos were taken, then Maloney was off running again, garment bag in hand, looking for a place to change. The jog was over, but the sprint continued.