Jumaane Williams
Williams conviction won't start a revolution
Immigrant rights experts say the movement has already begun.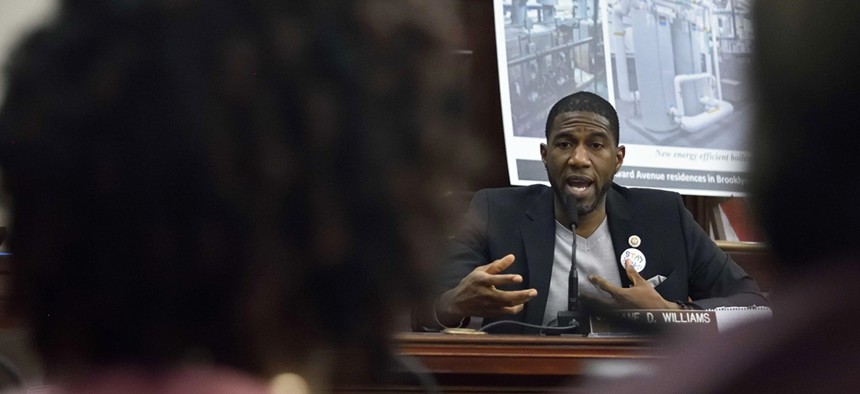 Jumaane Williams emerged from Manhattan Criminal Court on Monday a happy convict. The Brooklyn City Councilman and Democratic candidate for lieutenant governor had been convicted on one count of obstructing an emergency vehicle, but the jury had let him off on the other two counts. And the judge, publicly proclaiming that Williams' "heart was in the right place," sentenced him to time served – or no punishment at all. The councilman with a progressive activist streak was let off free, except for a $50 surcharge and a DNA sample.
Though Williams succeeded in getting the court to recognize the moral legitimacy of his protest, it appears unlikely to serve his other purpose – inspiring a wave of similar actions.
Williams' conviction was for civil disobedience – protesting the impending deportation of Ravi Ragbir, an immigration activist who had gone for a routine check-in with immigration authorities only to find out they intended to send him out of the country. Ragbir was transported out of the building on Jan. 11, 2018 in an ambulance. Williams was arrested for blocking it, along with more than a dozen other activists, including his fellow City Councilman Ydanis Rodriguez.
The others took plea deals, customary in arrests for civil disobedience, but not Williams. He went to trial, hoping to bring publicity to the issue of deportations – and also, presumably to bring publicity to his run for lieutenant governor. He had success in the latter – an Associated Press story ran all across the country last week and Williams' face was in every local news outlet – but the former may be more difficult.
After the ruling was announced, Williams and his lawyers held a press conference across the street from court, to highlight the lack of punishment with the goal of emboldening more protests against deportations. "This verdict sends a message that as long as the deportee is not in an ambulance, then you can resist," said Williams' lawyer Ron Kuby. "Sit down, stand up, push back, as long as you do so in a very disciplined, non-violent way."
Williams too, in brief comments, said that he wanted to give people the courage to act. "New York City should be a sanctuary city. We have some work to do there," he said.
But immigration experts told City & State that Williams' conviction is unlikely inspire more action. "Civil disobedience is something that's been in the toolkit of the fight for immigrant rights and the fight for black lives and many of the racial, economic and immigrant justice campaigns that folks have been fighting around the country," said Daniel Altschuler, director of civic engagement and research for immigrant rights group Make the Road New York.
Altschuler praised Williams for putting his body on the line, continuing to be a part of of the growing discontent with U.S. Immigration Customs and Enforcement. And he does think that civil disobedience will ramp up, but he ascribes that to immigrant deportations already getting attention from liberal activists. "I do think around the country, you're going to continue to see more people taking direct action to protect members of our communities," Altschuler said.
Lenni Benson, a professor of immigration law at New York Law School likewise agreed that Williams' case wouldn't change the environment around protesting ICE. Many people, like Williams, are willing to risk misdemeanor charges to do what they think is right. "I wouldn't counsel a law student or a professor or a lawyer to break the law," Benson said. "But I do think that it's great that people are trying to make visible the abuses of a legal system."
It's worth bearing in mind, as any shrewd activist would, that legal outcomes can vary by dramatically depending on the judge or jury. Not everyone who commits an act of civil disobedience has the advantages of an elected official represented by a renowned lawyer.
Alina Das, an NYU Law professor and an attorney for Ragbir, didn't think Williams' case would make protestors feel any safer. But Das still thinks it may have a galvanizing effect on some New Yorkers. "When Councilmember Williams was able to tell his story to a jury of his peers, they understood what he was doing was not an attempt to obstruct the government unreasonably, but an attempt to stand up for justice," she said. "And that was something that they recognized there, by acquitting him of the most serious charges."