Zephyr Teachout
Unanswered questions from the state attorney general debate
The four Democratic candidates for state attorney general met Tuesday night for their highest profile debate yet.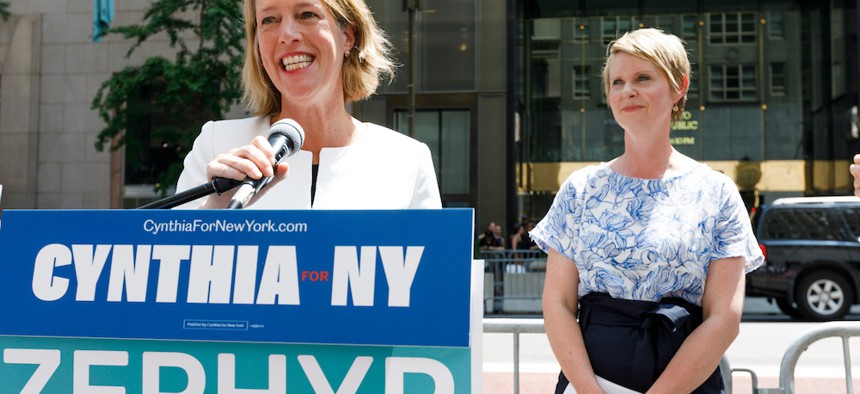 The political debate is an imperfect medium, where candidates compete with one another to show off their platform, their credentials, their poise and their wit all in a compressed time period. Tuesday's state attorney general debate, hosted by NY1 and Spectrum News, was more generous than most, giving the four Democrats 90 straight minutes to debate – but even in that format, some questions were left unanswered. Here are a few:
Is Zephyr Teachout the frontrunner?
When the candidates were given an opportunity to pose a question to one another, New York City Public Advocate Letitia James, Rep. Sean Patrick Maloney and Verizon lobbyist Leecia Eve all targeted Zephyr Teachout, the Fordham Law professor who has ran for governor in 2014 and for Congress in 2016.
James has the lead in endorsements, had the most cash on hand as of the last filing period and had roughly a 10-point advantage in the most recent polls. But a public poll of the race hasn't been released since July 30, and in the month since, Teachout has seemed to be gaining ground. She has picked up a few endorsements from elected officials, earned the nod from both the New York Times and the Daily News, and has been raising more money as a result. More than 40 percent of voters polled in July said they were still undecided, and based on the attention the three other candidates paid Teachout in the debate, it seems that they're worried the professor is getting high marks.
Do voters care about candidates accepting corporate money?
Teachout has pledged not to accept money from limited liability companies or corporations in her attorney general bid and challenged the other three candidates to do the same. None have heeded her call, and all have accepted thousands of dollars from groups ranging from the Real Estate Board of New York to a political action committee representing dentists.
In the most personal attack of the night, Maloney accused Teachout of acting "holier than thou" and not giving her opponents the benefit of the doubt that their actions wouldn't be swayed by donors – especially since Teachout herself accepted some $20,000 from LLCs in her 2014 run for governor. Teachout has been a leading voice of a national trend among Democrats shunning corporate campaign donations, and said Tuesday that accepting those donations "puts a question mark next to the entire job."
Though James, Eve and Maloney have been accepting such donations, it's clear they all feel the shifting winds – all four candidates said that campaigns should be publicly funded, and that corporations should be barred from giving.
Have the candidates been reading the news?
In the lightning round, "Capital Tonight" host Liz Benjamin asked the candidates if New Yorkers should face penalties for picking up eagle feathers. Newshounds would know it was a reference to Gov. Andrew Cuomo bragging about taking home an eagle feather from a trip to the Adirondacks – something that would appear to be illegal. It was a cheeky question, but one that deals with their independence from the governor, as well as laws taken very seriously by New York's American Indian population. And yet the candidates were baffled by the question, with none of them seeming to understand the newsworthiness. All punted on the answer.
However, the four candidates all seemed to be briefed on news that broke just hours before the debate. Benjamin and her co-moderator, "Inside City Hall" anchor Errol Louis, asked if the candidates would agree to suspend the investigation by the state attorney general's office into Manhattan District Attorney Cyrus Vance's handling of sexual assault allegations against movie producer Harvey Weinstein, as the current attorney general Barbara Underwood did earlier Tuesday. James, Eve and Teachout all quickly said they would not have suspended the investigation, while Maloney said that he trusted Underwood's judgement.