New York City
AG candidates raise prospect of criminal charges after voter purge
Maloney, Eve call for tougher action after NYC Board of Elections' 2016 fiasco.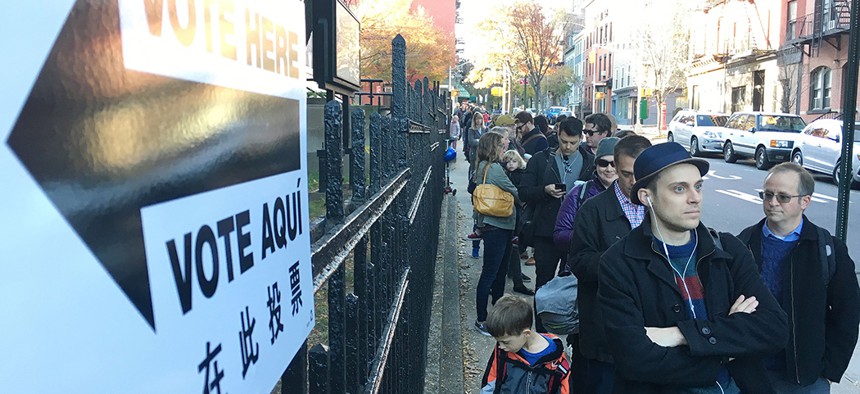 With New York voters facing some of the most restrictive registration laws in the country and hundreds of thousands still reeling from the New York City Board of Elections' 2016 massive voter purge, one question stood out at last Thursday's New York attorney general debate at Cooper Union: How will the state's next top prosecutor protect voters?
"If you were the next attorney general, how would you use the current powers of the office to protect New Yorkers' right to vote?" Common Cause Executive Director Susan Lerner asked the candidates during the debate. None of them responded with a clear plan.
"I'm afraid not all the candidates answered the question that was asked," Lerner said after they had responded.
One of the candidates, Verizon executive Leecia Eve, did promise to "leave no stone unturned to use the bully pulpit and use all the tools available to get the Legislature and do what is right for New Yorkers, to get the best, not the worst voting laws in the nation."
Rep. Sean Patrick Maloney hinted at another problem he might address as attorney general. "What would also help in this state is if the Democratic Party didn't try to select candidates, it let the voters elect candidates," he said, alluding to the establishment support for another primary rival, New York City Public Advocate Letitia James.
James said her hopes for protecting voters relied on the state Senate turning blue and then passing a package of bills easing voting registration restrictions. When pressed by Lerner, James added she would embed staff "in the Board of Elections, right before elections and on Election Day to monitor the activities."
Zephyr Teachout, a Fordham Law professor who has presented herself as a voting rights expert, offered a plan of action that was merely a promise to monitor voter complaint data while praising her predecessor's work.
"There are very practical things as attorney general that I can and will do," Teachout said. "The last attorney general was critical in suing after the voter purges in Brooklyn. We need to be on the front lines protecting the right to vote in the general election and the primary."
The responses left some scratching their heads as to what exactly the candidates would do to protect voters' rights. With nearly a third of likely votersstill undecided in the race, City & State reached out to the contenders for another crack at Lerner's question.
The candidates were provided questions relating to the lawsuit, Common Cause New York vs. Board of Elections in the City of New York, which was joined by then-Attorney General Eric Schneiderman.
The suit was settled on Oct. 24, 2017, with the city Board of Elections admitting it had broken federal and state election laws by knowingly and illegally purging more than 200,000 voters from the rolls before New York's April 19, 2016, presidential primary.
Prior to the 2016 primary, Schneiderman wrote, "Senior officials at the NYCBOE were aware that voters had been illegally removed from the registration rolls due to their failure to vote." He also wrote that these same officials "had ample opportunity to identify and reverse cancellations, but failed to take appropriate action prior to the April 2016 presidential primary."
According to state election law, "A public officer or employee who knowingly and wilfully omits, refuses or neglects to perform any act required of him … or who knowingly and wilfully refuses to permit the doing of any act … or who knowingly and wilfully hinders or delays or attempts to hinder or delay the performance of such an act is, if not otherwise provided by law, guilty of a felony."
No criminal charges were recommended by Schneiderman following the settlement, but the Board of Elections agreed to a remedial plan set out in a consent decree that expires in 2020.
City & State asked the four attorney general contenders to explain how they would have protected voters had the massive voter purge occurred on their watch. Only Maloney and Eve responded, with both offering bold responses, especially in light of Schneiderman's decision not to recommend charges against the Board of Elections.
Given Schneiderman's descriptions of the Board of Elections' actions, the candidates were asked if they would consider picking up where Schneiderman left off.
"First, I would ensure NYCBOE follows the consent decree to the letter," Maloney said in a written response. "But I would also review AG Schneiderman's 2016 findings to ensure any necessary recommendations to the District Attorney for criminal charges are made."
Eve addressed her answer more specifically to the election law. "If the statute of limitations has not expired, yes, as Attorney General, I would follow up on that investigation to see if any charges can be brought," Eve said. "Though, I want to be on the record, I haven't read the complaint, but based upon my reading of some of the relevant provisions of New York State Election Law, and comparing that with some of the very detailed findings made by the former Attorney General Eric Schneiderman, I believe, in answer to your question: the 17-128 [felony] statute is applicable, without question."
Asked if any of the candidates would have halted the certification of the 2016 New York state Democratic primary results, and hold the primary again with all the voters restored, Eve said she "would have stopped certification, absolutely. If there has been a violation of New York State Election law, as Attorney General, I can go in and get an injunction and stop the certification."
Maloney added, "I would certainly have challenged the certification of election results, and requested an appropriate remedy that allowed all eligible voters the opportunity to participate."
Both Eve and Maloney stated they would have saved disenfranchised voters from having to procure court orders in order to voter. While Schneiderman's office did not intervene on April 19, 2016, on behalf of the purged voters, Maloney said he would have sought a temporary restraining order on the Board of Elections. Eve said she would have waived the restriction that voters needed court orders to vote and made counting affidavit ballots completely transparent, especially since the Board of Elections allegedly threw out 90,000 affidavit ballots behind closed doors.
Regarding ongoing oversight of the Board of Elections, Maloney said he would propose a "program bill" in the state Legislature to extend the remedial measures mandated by the consent decree past its 2020 expiration, and promised to hold the board accountable for violations of state and federal law.
Eve proposed that city election officials "make regular appearances in front of the court that handled the case, minimally on a quarterly basis, if not a monthly basis."
Lastly, Eve and Maloney promised to make easing of the state's restrictive voter registration a priority.
Repeatedrequests were made to the Teachout and James campaigns, but the two candidates did not respond.