Andrew Cuomo
Another Mario Cuomo bridge, endorsements, spending and back to school
Another Mario Cuomo bridge opens, endorsements, spending and back to school in This Week's Headlines.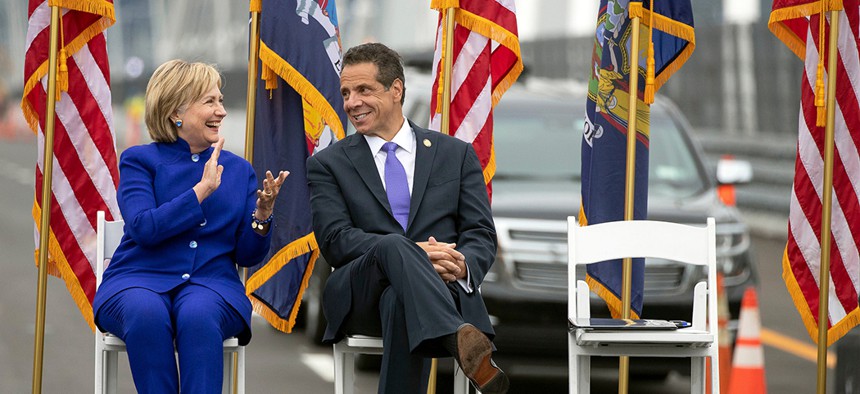 The ongoing saga unfolding about state Senate candidate Julia Salazar's past and the misleading statements she has made about it took a wholly unexpected turn this week, one that involved Mets legend Keith Hernandez. Tablet and the Daily Mail revealed that Salazar was arrested and accused of trying to impersonate Hernandez's then-wife Kai in an attempt to gain access to her bank account. She wasn't charged, and two years later, Salazar sued Kai for defamation, saying Kai impersonated Salazar to her bank in order to get Salazar arrested. The case was later settled in Salazar's favor. In addition to the other reports calling into question Salazar's presented self, there sure appears to be a lot to unpack before Sept. 13.
 
Racking up endorsements
With primary day coming up, a slew of endorsements rolled in for statewide offices. Gov. Andrew Cuomo received many of them, starting with the backing of U.S. Sen. Charles Schumer, who pointed to Cuomo's track record of progressive legislation. Additionally, The New York Times, The Buffalo News and the Times Union all published editorials offering their support of the incumbent. State attorney general candidate Zephyr Teachout also received more endorsements. Though New York City Mayor Bill de Blasio hasn't weighed in on statewide races, his wife Chirlane McCray has, deciding that Teachout is the best bet for attorney general. Teachout also got the support of New York City Councilman Jimmy Van Bramer, who rescinded his previous endorsement of Letitia James. And like Cuomo, Teachout also got a favorable editorial in The Buffalo News.
 
A new New York Bridge
Just in time for primary week, Gov. Andrew Cuomo announced the opening of the second span of the Governor Mario M. Cuomo Bridge. Underscoring the importance of the project to Cuomo as a sign of his ability to get things done, he brought former Secretary of State Hillary Clinton along to mark the opening of the eastbound span. While the nearly $4 billion project was completed later than originally planned, and may yet go over budget, replacing the aging Tappan Zee Bridge was widely seen as a critical project – and one that previous governors had failed to follow through on. But the bigger story for many is the governor's controversial decision to name the new bridge after his father.
 
Big spenders
During the month before the primary, several candidates continued to spend big in their races. Cuomo spent a whopping $8.5 million in the course of about three weeks, which is more money than his opponent Cynthia Nixon has even raised since she launched her bid. Rep. Sean Patrick Maloney transferred $1.4 million from his congressional campaign account into his attorney general account and has spent a total of $1.9 million. Lt. Gov. Kathy Hochul also spared no expense, doling out over $1.5 million. In each instance, the candidates far outspent any of their opponents.
 
First day of school
The more than 1 million public school students across New York City headed back to class after summer vacation. This school year marks the first for new schools Chancellor Richard Carranza, who has already pledged to take on systematic inequality and segregation at schools across the city. However, he said that he is opposed to busing students to other districts in order to diversify. De Blasio also said he remains confident his plan to integrate the city's elite public high schools by eliminating the entrance exam will pass in the state Legislature.
 
Getting on the ballot
De Blasio's New York City Charter Revision Commission has adopted three ballot proposals that New Yorkers will be able to vote on in November. Each one proposes fairly small changes to the charter, with the commission rejecting ideas like instant runoff voting. The first would limit campaign contribution limits, while also increasing matching funds for candidates. The second would create an agency meant to increase civic engagement. The third would set term limits for community board members.
Powered By
NEXT STORY: Immigrant advocacy groups split in AG race