Andrew Cuomo
Cuomo's winning ticket, ex-IDC losses and the Salazar saga continues
Gov. Andrew Cuomo's winning ticket, ex-IDC members primary losses and the Julia Salazar saga continues.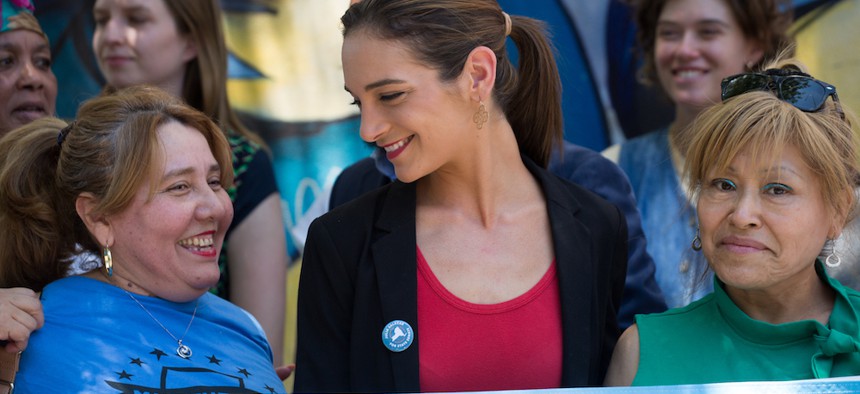 The week was filled with pre-election and election night drama, but in the waning hours of the campaign, Cynthia Nixon made headlines not for anything in her campaign. No, she once against confused New Yorkers with her unusual food choice. When she's not eating uncooked oatmeal for breakfast, she munches on a cinnamon raisin bagel with lox, capers and cream cheese. The revelation was met by many on Twitter with revulsion. Journalists at Gothamist tried the sandwich and came to the same conclusion. The outlet also concluded through a Twitter poll the combo is worse than eating pizza with a fork, a culinary faux pas that his haunted New York City Mayor Bill de Blasio for years. But to all her haters, Nixon had this to say: "Don't yuck my yum."
Coasting to victory 
There were no upsets in the statewide Democratic primaries – Gov. Andrew Cuomo bested challenger Cynthia Nixon and New York City Public Advocate Letitia James won the state attorney general contest easily. The race for lieutenant governor was much closer, with Lt. Gov. Kathy Hochul beating New York City Councilman Jumaane Williams by 5 points. Turnout for the election was more than double what it was in 2014 – over 1.4 million Democrats turned out to vote in the gubernatorial primary compared to just 574,350 in 2014. In fact, Nixon lost with a greater number of votes than Cuomo won with in 2014. But despite impressive performances from progressives across the state, Cuomo's entire ticket still took home the win on election night.
IDC challengers
The biggest primary upset was Alessandra Biaggi's victory over state Sen. Jeff Klein, a longtime power broker in Albany who founded and led the controversial Independent Democratic Conference for years. The breakaway IDC's alliance with state Senate Republicans brought more money and power to its members – and more say in passing legislation – but it was dissolved earlier this year in the face of growing discontent from progressive Democrats. It wasn't enough, as six of the eight former IDC members – Klein, Marisol Alcantara, Tony Avella, Jesse Hamilton, Jose Peralta and David Valesky – were vanquished.
In other results
Another lawmaker who has kept state Senate Republicans in power – state Sen. Simcha Felder, a Democrat who caucuses with the GOP – coasted in his Brooklyn district despite a spirited challenge from Blake Morris. In a race that garnered national and even international headlines, tabloid sensation Julia Salazar won her Democratic primary race against Brooklyn state Sen. Martin Malavé Dilan. And three Assembly members – Democrats Earlene Hooper and Ari Espinal and Republican Joe Errigo – were knocked out despite the advantages of incumbency.
Smear campaign
Right before Rosh Hashanah, the state Democratic Party sent out a mailer to 7,000 Jewish voters, containing false claims about Nixon being anti-semitic. Cuomo initially denied any knowing about or approving the flyer, saying that he disagreed with the language. Soon after, he admitted an unnamed constituency representative wrote the flyer. In the latest revelations about, reporting by The New York Times and the New York Post found that former Cuomo aide David Lobl drafted the flyer, while another former aide Larry Schwartz approved it. Cuomo's campaign confirmed the reporting.
New York bridgegate
Just days before the state primaries, Cuomo officially opened the new span of the Gov. Mario M. Cuomo Bridge with a heartfelt dedication to his father. But the bridge didn't actually open – it remained closed for several more days due concerns that the old bridge might have collapsed on the new one. Cuomo insisted that the rush to open the final span of the bridge had nothing to do with his upcoming election, instead blaming the contractors for not finishing on time in the first place. But documents reveal that his administration offered sweeteners for contractors to finish before the primaries.