New York City
How the hell did Monserrate win?
Previously guilty of corruption and domestic abuse, he still has local support. But he's far from a power broker.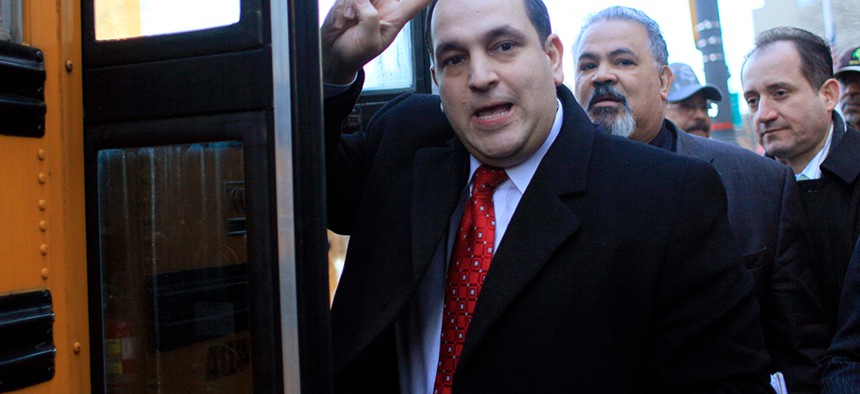 Hiram Monserrate is once again an elected official. Democrats in East Elmhurst, Queens elected him to be a district leader on Thursday. This the same man who was kicked out of the state Senate by his fellow Democrats after physically assaulting his girlfriend and who was sentenced to two years in prison for misusing city funds.
"But it's just a party position, not a public office," you say? Well, this is the same Hiram Monserrate who, despite being a Democrat, flipped the state Senate into chaos in 2009 by briefly partnering with Republicans to give them a majority. On the same day that Democrats knocked off six former members of the Independent Democratic Conference for doing the same thing Monserrate did – minus his unrelated crimes – they resurrected Monserrate's career. In fact, Monserrate's East Elmhurst district is part of the state Senate district that ousted former IDC member Jose Peralta.
How on Earth did this happen?
Maybe New York City politics exist outside of our planet and the laws of physics, because even Queens Democratic power brokers are stumped. "I honestly don't know," said Rep. Joe Crowley, the Queens County Democratic Chairman and a longtime political adversary of Monserrate, when asked by City & State. "It defies what we deem as normal political logic."
But Monserrate's win isn't as completely confounding as Crowley might believe. It comes down to demographics, and showing up.
District leader is a low-level Democratic Party position. There are 72 district leaders in Queens, two males and two females for each Assembly district. The population of Monserrate's area, East Elmhurst, was nearly two-thirds Hispanic in the 2010 census, and has likely gotten even more Latino since then. Monserrate, who is Latino, had a baked-in advantage over his opponent George Dixon, who is African-American.
But the bigger reason for Monserrate's win was probably that he showed up. Monserrate has been very visible in the district over the past year. He ran for New York City Council in 2017. Although he lost to Francisco Moya, his already-healthy name recognition only grew. And he has been active since that loss. Monserrate did not respond to a request for comment for this article, but he told City & State in August that he'd been advocating in the community against the proposed train LaGuardia Airport and against proposed homeless shelters in the community. He's been active with the East Elmhurst Corona Democratic Club, canvassing and honoring politically engaged women in the community. The club is prominent enough that congressional candidate Alexandria Ocasio-Cortez and state Sen. Jose Peralta attended meetings this year, even if they had to later distance themselves from Monserrate personally.
"I have made my mistakes," Monserrate said at the time. "I've paid for them. And I have moved on. They're in my rearview mirror. I continue to do good work in this community."
Monserrate beat Dixon for the district leader seat by about 300 votes, after losing to him in 2016 by just 57 votes. Monserrate also helped get three allies elected as district leaders in his district and neighboring ones, Liliana Melo, Sonya Harvey and Luis Gomez. A fourth, Melvin Morgan, appeared to have lost by six votes, according to preliminary results from the New York City Board of Elections.
Bronx City Councilman Ruben Diaz Sr., who has been an ally of Monserrate's since their days together in the state Senate, sent out an email Monday morning calling Monserrate "the strongest Latino Political Leader in Queens County."
Moya, who handily beat Monserrate just a year ago, might disagree. As could Jessica Ramos or Catalina Cruz, two Latinas who won tough legislative primaries in Queens and are all but guaranteed to take office in January.
Diaz's prediction, that Monserrate would have the power to decide who would be the next chairman of the Queens Democratic committee, was proved wrong just hours after he sent his email. The newly elected district leaders of Queens County met Monday morning at the Georgia Diner in Elmhurst to choose a chairman for the next two years. According to Crowley and others in attendance, one of Monserrate's allies nominated Rep. Greg Meeks to lead the party. Meeks wasn't in attendance and told City & State he wasn't aware that he would be nominated. Another leader then nominated Crowley, who was reelected in a landslide vote. Monserrate and allies cast a few votes in opposition but his attempt to dislodge Crowley failed spectacularly.
Crowley told City & State Tuesday that he had a lot of bad blood with Monserrate. "There's no association at all. Nor am I ever looking for one," he said. "No desire. Not now, not ever."
But Crowley isn't Monserrate's only political enemy in Queens, and he reportedly got in a verbal scuffle with Assemblyman Michael DenDekker at the same meeting.
Sources say at Queens mtg. Monday, @mgdendekker confronted @HiramMonserrate calling him "a criminal." At issue is Monserrate's political club which is not registered with State BOE, despite printing literature to promote Monserrate and his slate of candidates that won DL races.

— Zack Fink (@ZackFinkNews) September 18, 2018
Crowley said Monserrate shouldn't have been elected at all.
"I just think once someone was convicted of an act of stealing from the city coffers… it's also something that should be disqualifying for anyone running for office again," he said.
He's not the first to think so – New York City Council members introduced a bill earlier this year that would bar people with certain corruption convictions from running for office again. But with that bill stuck in committee, it seems Crowley, and Queens, are stuck with Monserrate.