Technology
How the outcome of the AG primary could affect tech in NY
Technology hasn't been a main talking point for any of the state attorney general candidate but their pasts speak volumes of their takes.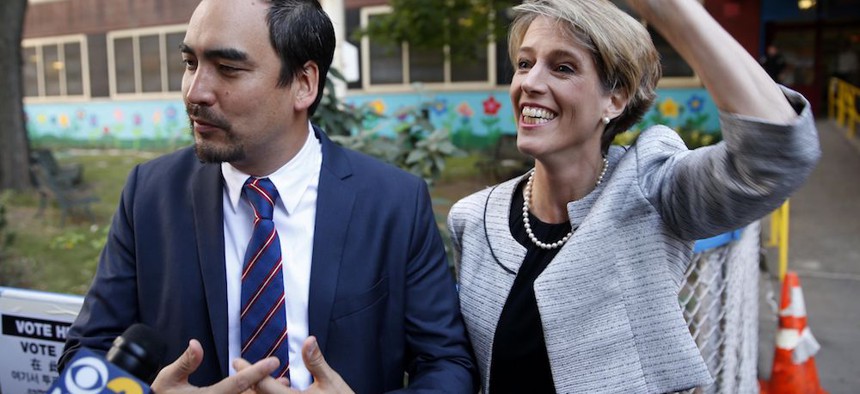 This week, New York Democrats will line up to vote for one of four candidates vying to replace state Attorney General Barbara Underwood. In doing so, they'll also decide who will take on the responsibility of regulating the state's technology industry – a sector that has become an integral part of New York's economy and increasingly dependent on state policy makers.
Underwood, who was appointed as former Attorney General Eric Schneiderman's replacement after he stepped down in May, has been an advocate for net neutrality on a national level, but has stayed relatively quiet on tech companies' relationship with New York officials. Schneiderman, on the other hand, had a more complicated relationship with the tech community, taking on sports betting disruptors FanDuel and DraftKings and home-sharing service Airbnb during his tenure.
Now more than ever, the local tech community likely wants an attorney general who will have a proper understanding of the sector and the issues that affect it. Perhaps more importantly, the industry would want the next attorney general to be unaffected by the preferences of groups with roots in the city, and those groups' relationships with city officials (see: the recent cap on the number of cars licensed by ride-hailing companies like Uber that have disrupted the well-connected New York City Taxi and Limousine Commission).
So how does each Democratic attorney general candidate fare in both categories? Considering the limited conversation around tech during the campaign, it's hard to say definitively. But their past lives and their responses to a room full of NYC techies during a panel hosted by Axios, Tech:NYC and WeWork back in August provide some details.
Two of the four candidates have actually worked for a technology company. One of them, Leecia Eve, is a lobbyist for Verizon and on leave from her post as its vice president of government affairs for the tri-state region. She said during the panel that she understands "the role of technology better by far than (her) opponents," alluding to her executive role at a telecommunications company, but her background also puts her in a complicated position. She, like all three of her opponents, presents herself as a strong proponent of net neutrality. "My company, Verizon, has never engaged and never will engage in paid prioritization," she said at the WeWork panel in August. "No blocking. No throttling." But Verizon has been called out for that exact offense – and against California firefighters who thought they had unlimited data, no less. Democratic senators in Washington have since asked the FCC to investigate, and while Eve isn't directly responsible, it does speak to the complicated nature of her loyalties.
Rep. Sean Patrick Maloney, meanwhile, was the chief operating officer of a New York-based software startup called Kiodex, Inc. from 2000 to 2003. He's able to speak fluently about the importance of H1B visas to tech companies and of innovation to New York City, spoke most vehemently against the Uber cap during the panel, and told eager attendees more than once that the attorney general should be their partner. He displayed a strong understanding of the issues associated with trying to marry emerging tech with an established (sometimes antiquated) governing system.
"I've spent 10 years practicing law in this city ... but it doesn't mean you can't stand on your own two feet and answer a simple question like whether you support the cap or not," Maloney said. "Because what's really going on with that question is whether you support the old school political bosses and political interests in this city or whether you support innovation and you are willing to deal with the disruptions and manage them as you go, because if you put an artificial cap on it, you are going to retard the creative atmosphere that all of you are working so hard to create it. And I'm opposed to it."
On the other hand, it would be risky to assume that the congressman would prioritize these issues should he win, completely unaffected by the needs or wants of outside groups. "Maloney my guess is probably personally the most pro-tech of that group, so that's good," political strategist and venture capitalist Bradley Tusk told City & State. "But you know, he's also very political."
With the exception of net neutrality, New York City Public Advocate Letitia James has been perhaps the least committal of the candidates on tech issues. She said she thinks Uber raises a lot of social justice issues but "disagree(s) with the approach of the vote (and) think(s) there should have been more analysis."
On data privacy, she said she believes in government access to open data to address social justice issues in New York, says it's important that business disclose what data they gather, and that personal data not be abused and "is clearly protected."
If Maloney appeared to be the most informed candidate, James came away looking as the least. And aside from presiding over the New York City Council during votes like the one on the Uber cap, her background has little to no connection to the tech industry.
Zephyr Teachout was the only one of the four candidates has explicitly come out in support of the Uber cap bill. "I support the Uber cap bill," she said on Twitter. "We need to reduce congestion, break up concentrated power, and support drivers. Too many drivers have been squeezed out by big tech companies that steal all the money - and the dignity - from drivers."
She avoided weighing in on the Uber cap during the WeWork panel, although she was asked many times to take a side. Instead, she repeated the need for an AG to prioritize, outlining her own priorities as being voting, corruption, campaign finance reform and mass incarceration – basically, nothing tech-related. She spoke out forcefully against monopolies too, and expressed her concern about the concentration of tech in New York City.
But when it comes to enforcing the law, Teachout – an associate law professor at Fordham Law School who has never been in elected office or had any company affiliation – gives the tech community reason to think she would regulate fairly. An added advantage? Tim Wu, the man who coined the term "net neutrality," was her running mate during her 2014 gubernatorial campaign, and her allegiance to net neutrality doesn't stop there. She told the panel attendees that she "did a crowd-sourced brief defending the open internet" – bonus points for tech lingo.
Powered By
NEXT STORY: Out with the old?