New York State
In New York, federal judicial nominations strike bipartisan balance
Unlike Supreme Court showdown, Chuck Schumer and Donald Trump collaborated on New York's federal judicial nominations.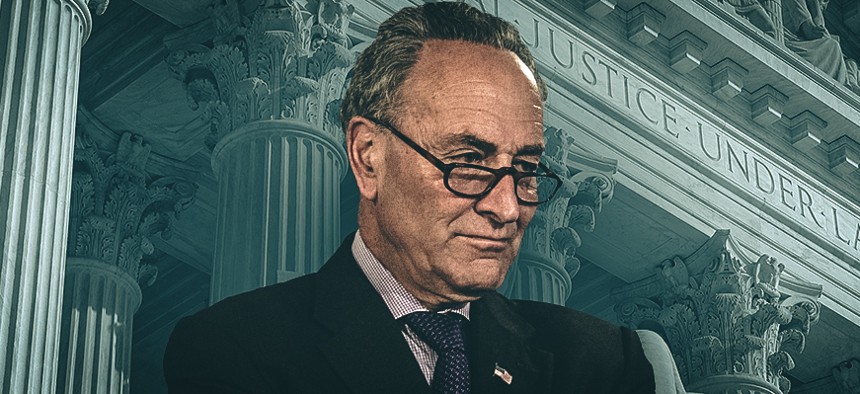 U.S. Sen. Charles Schumer has received sharp criticism in the past week for agreeing to expedite a group of President Donald Trump's nominations to federal judgeships, especially as Democrats scramble to derail the nomination of Brett Kavanaugh to the U.S. Supreme Court. Kavanaugh is the latest Trump judicial nominee whom people on the left fear will help overturn Roe v. Wade, empower the executive branch and strike down laws nationwide ranging from gun control to LGBT rights and the environment.
But less well known is how another group of Trump's judicial nominees might affect New York, a state where the U.S. Senate has yet to confirm any Trump appointees to the federal judiciary. While the nomination of Kavanaugh and the confirmation of U.S. Supreme Court Justice Neil Gorsuch and dozens of federal judges have been a cause of concern for Democrats since Trump's inauguration, nominations for federal judgeships in New York have at times reflected a more moderate – even bipartisan – approach to the courts that might give liberals hope that Trump will not have as decisive an effect on the federal judiciary in New York.
At least three of Trump nominations to district courts in New York were Obama-era holdovers who Trump renominated. And at least one represented an unlikely consensus among Schumer and Republicans, including Rep. Chris Collins, a vehement supporter of Trump. While a few are reportedly members of the Federalist Society – the libertarian think tank whose list of prospective judges has served as a blueprint for the Trump Administration – it should be noted that Trump's nominees in New York have not displayed the lack of proper vetting and unfamiliarity with the law that have doomed other nominations.
Six of the nominees for district court seats in New York and one nomination for the Second Court of Appeals appeared before the Senate Judiciary Committee on Aug. 1. City & State could not confirm by press time when they might be voted on by the committee, and one nominee is still waiting for a hearing. Nonetheless, they all appear on track to eventually receive confirmation by the Senate.
Here's the latest on where they all stand and how they might affect the courts in the future, if they are eventually confirmed.
 
Richard Sullivan
Trump nominated Richard Sullivan, a federal district judge in the Southern District of New York, earlier this spring for an open seat on the Second Circuit Court of Appeals, which hears cases in New York, Vermont and Connecticut. President George W. Bush nominated Sullivan to the district court in 2007 and he was confirmed by the Senate later that year by a 99-0 vote. Since then he has become popular among prosecutors in New York, Bloomberg Law reported, for having "a reputation for showing little mercy even to cooperating Wall Street criminal defendants." Overall, his decision have been upheld on appeal at a higher rate than the district overall, 88.9 percent to 76.8 percent, according to Bloomberg Law.
His answers to a questionnaire submitted to the Senate Judiciary Committee after his Aug. 1 confirmation hearing were largely uncontroversial. They included affirmations that issues such as abortion and same-sex marriage were "settled law."
Eric Komitee
As a former prosecutor in the U.S. Attorney's Office in Brooklyn, Eric Komitee led the business and securities fraud section after prosecuting violent crime and gun cases. But following that eight-year period he turned to the private sector and earned more than $10 million as the general counsel to the hedge fund Viking Global Investors LP, Corporate Counsel reported in July. In a U.S. Senate questionnaire, he said that he had spoken with a member of Schumer's staff on Nov. 28, 2017, about a potential judicial nomination. Trump nominated him to a vacancy in the Eastern District of New York on May 15. In contrast to statements from Trump, Komitee said that in a written questionnaire submitted after his Aug. 1 confirmation hearing that "racial bias, implicit and explicit, continues to exist in our country despite decades of well-meaning efforts to eradicate it, and that the judiciary is not immune."
 
Rachel Kovner
Rachel Kovner currently serves as an assistant to the solicitor general within the Department of Justice and was nominated by Trump this past spring for a federal trial judgeship in the U.S. District Court for the Eastern District of New York. She clerked for former Supreme Court Justice Antonin Scalia in 2007 and 2008 and told the Federalist Society of her fond memories of her late boss in February 2017, The National Law Journal reported. She interviewed with Schumer in April 2018 and continued communications with his office in the weeks prior to her May 15 nomination by Trump, according to a questionnaire she submitted to the Senate. She declined to answer a question from U.S. Sen. Cory Booker of New Jersey about suggestions from Trump, made via Twitter, that immigrants should be denied due process at the border, saying in a written response that it was improper to comment on potential cases.
 
Lewis Liman
Lewis Liman, a partner at Cleary Gottlieb Steen & Hamilton, first tested the waters of a federal judgeship in 2015 when he met with Schumer's staff and the senator himself, according to a Senate questionnaire. The Office of White House Counsel interviewed him early in the Trump administration for an open position in the U.S. District Court for the Southern District of New York, a nomination he received in May, which Schumer's office called "the result of a sound, collaborative and bipartisan process," New York Law Journal reports. The Judiciary Committee had a hearing on his nomination on Aug. 1. Here's what Liman said in written responses to questions from senators following the hearing.
 
John Sinatra
Rep. Chris Collins is credited as the biggest proponent of the nomination of John Sinatra to the U.S. District Court for the Western District of New York, but Schumer signaled his support even before Trump nominated him on May 15, The Buffalo News reported. President Barack Obama previously nominated Buffalo lawyer Kathleen Seet in 2016 for the seat vacated by Judge William Skretny, but the nomination never came to a vote. Currently a partner at Hodgson Russ, Sinatra previously clerked at the New York Court of Appeals and served in the General Counsel Office of the federal Department of Commerce during the George W. Bush administration. The judiciary committee considered Sinatra's appointment on Aug. 1. Here's what he said to senators in his written responses.
 
Mary Kay Vyskocil
First nominated by Obama to a judgeship in the Southern District of New York, Mary Kay Vyskocil was renominated to that same position by Trump in May. She currently serves as a bankruptcy judge in the same district, a position she has held since 2016. Before that she worked for about three decades as a litigator at Simpson Thacher & Bartlett. In announcing her nomination in May, the White House noted that she was ranked as among the "Top Ten Women Litigators in the United States" by Benchmark Litigation and, in 2016, she received a "Top Women in Law Award" from the New York Law Journal. The Judiciary Committee considered her nomination on Aug. 1. Here's what she had to say to senators.
 
Diane Gujarati
Diane Gujarati is another nominee from the Obama administration who did not receive a vote from the Republican-controlled Senate but will likely receive confirmation to the U.S. District Court for the Eastern District of New York under Trump. She is currently the deputy chief of the criminal division of the U.S. Attorney's Office in the same distract where she has served as an assistant U.S. attorney for two decades, according to the White House. Here's her written responses to senators following her Aug. 1 confirmation hearing.
 
Gary Richard Brown
Gary Richard Brown is the only current Trump nominee awaiting a hearing for a nomination to a district judgeship in the Eastern District of New York. The nomination of the current U.S. magistrate judge in that same district was announced on the same day as others affecting New York. Brown was first nominated by Obama to fill a seat on the district court in 2015. The Judiciary Committee unanimously approved that nomination but U.S. Senate Majority Leader Mitch McConnell blocked a final confirmation vote, according to The Vetting Room. It's unclear when the committee will hold a hearing on his new nomination for that same position.