Jeff Klein
Jeff Klein, architect of the IDC, deposed at 58
Jeffrey Klein, a state senator in the Democratic Party for nearly 15 years who created the Republican-aligned Independent Democratic Conference, or IDC, was defeated on Thursday in the 34th state Senate District primary in the Bronx. He was 58 years old.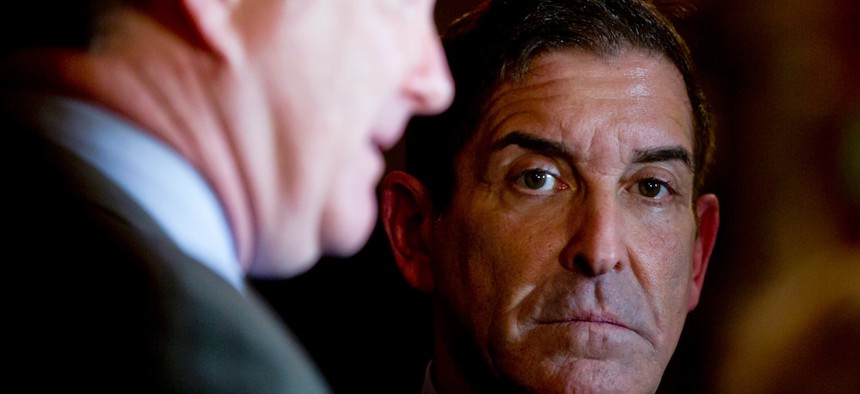 Jeffrey Klein, a state senator in the Democratic Party for nearly 15 years who created the Republican-aligned Independent Democratic Conference, or IDC, was defeated on Thursday in the 34th state Senate District primary in the Bronx. He was 58 years old.
Klein, who some called a political "chess master," found his political fortunes reversed by progressive primary challenger Alessandra Biaggi, a 31-year-old lawyer.
"We have now cut the head off the I.D.C. snake!" Biaggi said, glorying in Klein's defeat amid a cheering crowd at her election night party. It's unclear if Biaggi was aware of Klein's real affection for reptiles. He kept lizards and turtles as pets in recent years and caught snakes in the woods as a boy.
Klein became an early symbol of resentment for liberal Democrats in his district, who began organizing and energizing like-minded voters in the wake of Donald Trump's victory in the 2016 presidential election. Groups like NO IDC NY, True Blue NY, Indivisible and others served to magnify and direct progressive anger, settling firmly on Klein's Democratic cohort who were allied with the Republicans.
Klein became an increasingly polarizing figure in the last year not just for partisan reasons. A series of scandals also may have hurt the state senator's re-election bid. A sexual harassment allegation by a former Klein staffer broke early this year and remains under investigation, while the New York state Board of Elections found the IDC had engaged in improper campaign financing.
In what was widely considered a reaction to pressure from liberal Democrats challenging veteran incumbents, including Cynthia Nixon's gubernatorial bid, Gov. Andrew Cuomo presided over the dissolution of Klein's IDC and the eight members' reunification with the mainline Democrats, with Klein becoming deputy to state Senate Minority Leader Andrea Stewart-Cousins. The maneuver did not save Klein's seat, nor did it protect most of his followers.
When asked about the emerging threat of primary challengers last October, Klein derided the effort as "a circular firing squad." Klein prided himself on being a practical lawmaker who "got things done" and whose power-sharing agreement allowed him to enrich his district.
"I like bringing funding to my district," Klein said at the time, ticking off a list of projects that ranged from after-school programs to dredging local waterways. "That's what public service is all about, delivering for your constituency."
For a time, Klein accomplished a political feat few thought possible, standing astride a partisan chasm, brokering deals for progressive legislation with conservative lawmakers and bringing stature, influence and money to the IDC – and himself – in the process.
Klein started his political career early, as fifth grade class president. After going on to be the first college graduate in his family, adding a master's degree from Columbia's School of International and Public Affairs, his volunteer political work had caught the eye of Democratic political operative John Sabini, who would become a New York City councilman and state senator.
Coordinating a re-election project for then-Mayor Ed Koch in 1984, Sabini noticed Klein as a diligent young volunteer from the Bronx, who readily worked late nights and weekends. When Sabini began working for Rep. James Scheuer, he got the hardworking kid from the Bronx hired.
In three years, Klein rose to become Scheuer's chief of staff and started climbing the ladder of local politics. Klein displaced a long-serving Democratic committeeman in 1988 and became district leader in 1990.
Klein went on to CUNY Law School and gained admittance to the bar in 1994. Klein would work for Trolman, Glaser & Lichtman from 1994 to 1995 and later operate his own firm from 1996 until 2015. At Trolman, Glaser & Lichtman, Klein said the partners asked him not to leap into politics. But Klein was determined to take a shot at a legislative seat.
He successfully challenged the local Democratic machine to get it, skipping ahead of the heir apparent.
"He visited all these little old county committee people and went to their living rooms and told them he wanted to be their assemblyman," Sabini told City & State last year. "And the other candidate just took it for granted."
When the committee voted on the nominee, Klein won. His challenger didn't know what hit him.
"He just outworked the other guy. That was it!" Sabini said. "Ambition is a funny thing in politics. If you have too much ambition, a certain amount of people don't like you. But you can't fault him for ambition."
But many did, particularly after the formation of the IDC, which brought him t-triple-p: titles, power, pork and patronage.
"Everyone thought this was a Machiavellian move on my part," Klein said. "But no."
When asked last October what he considers to be his biggest mistake, Klein appeared stymied by the concept.
"Mistake?" Klein said.
"I don't know," he continued. "You know, I ran for the Assembly and I won. I ran for the Senate. I won. I continued to get re-elected. Uh. You know, I flirted with higher office … I'm very happy with how we've conducted ourselves." 
This time, the majority of Democratic voters disagreed.