Donald Trump
Kavanaugh and Ford speak, Crystal Run scandal, WFP decisions
Brett Kavanaugh and Christine Blasey Ford speak, Crystal Run scandal, and WFP decisions in This Week's Headlines.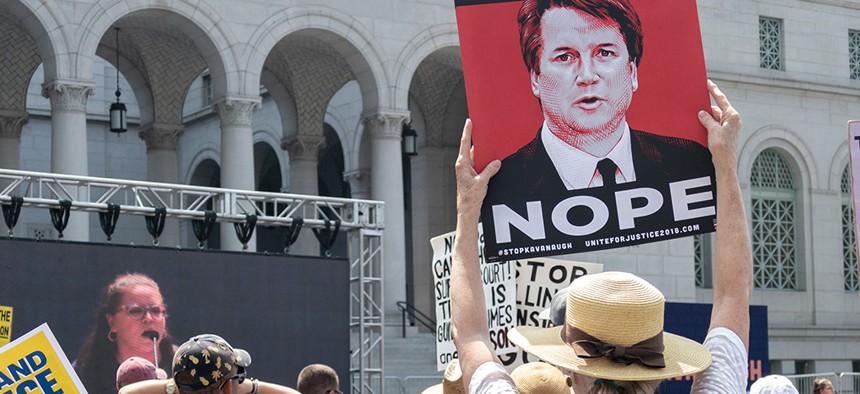 Pets, beauticians and barbers seemed to have a great week. Gov. Andrew Cuomo signed a law that made it illegal to lease cats and dogs, so our furry friends are no longer in danger of getting repossessed after they think they found their forever home. The governor signed another law making it illegal for customers to skip out on payment at beauty salons and barber shops, closing a loophole in state law.
Unfortunately, the good week did not appear to extend to Republican Reps. Pete King and Chris Collins, who both had the competitiveness of their races upgraded by political forecasters. The Cook Political Report moved King from "solid Republican" to "likely Republican," while RealClearPolitics now considers Collins' seat to be a toss-up instead of "leans Republican." Plus, his ad attacking challenger Nate McMurray, which critics considered racist, earned him some bad publicity.
 
She said, he said
U.S. Supreme Court nominee Brett Kavanaugh and Christine Blasey Ford, the first woman to accuse the judge of sexual assault, testified before the U.S. Senate Judiciary Committee in a highly publicized hearing Thursday. Ford emotionally detailed what she remembered about the alleged attack from over 30 years ago, confirming that she has no doubt that Kavanaugh was the man who attacked her. Later, Kavanaugh testified, forcefully denying the allegations while defending his character. He called the opposition he has faced a hit job coordinated by the Democrats to destroy his reputation. U.S. Sen. Kirsten Gillibrand, who is not on the Judiciary Committee, called Ford a "hero" in a tweet near the end of her testimony. The committee voted Friday to send Kavanaugh to the Senate floor, but Republicans agreed to a one-week delay to allow for an FBI investigation.
Cuomo's Crystal Run problem
Gov. Andrew Cuomo once again found himself in the midst of a burgeoning scandal. Health insurance company Crystal Run Healthcare is under investigation for $400,000 in potentially illegal contributions to Cuomo's campaigns. The company has been accused of using straw donors. Cuomo denied that Crystal Run had reached out to him about potentially improper donations. Now his campaign spokeswoman is saying that Crystal Run's lawyer reached out to the campaign's lawyer, but claimed that neither she nor Cuomo knew about it at the time of his denial. In 2016, Crystal Run received over $25 million from the state to help build two facilities it was already building without taxpayer dollars.
 
Nixon's next move
The Working Families Party said that it will make a final decision next week after extensive debate, but the party has already taken the first step to remove gubernatorial candidate Cynthia Nixon from its ballot line. One of the few ways to remove candidates from the ballot is to nominate them for another position. In this case, the WFP has opened up the line for the Assembly district where Nixon lives by nominating the current placeholder candidate for a judgeship. Meanwhile, Cuomo, who has had a contentious relationship with the WFP, has given no indication whether he might accept its line.
 
Testifying on NYCHA
Residents of the New York City Housing Authority testified about their poor living conditions during a federal court hearing to determine whether an independent monitor should be appointed to oversee the agency. Over the course of three and a half hours, dozens of people begged the judge to take action to fix NYCHA. Meanwhile, it was revealed that when it comes to private housing, the city has not once taken a landlord to court for failing to perform the lead paint inspections that are required by law.