New York State
Maloney spends his way to defeat in the AG race
Sean Patrick Maloney was a fundraising juggernaut in the race, pulling in more than $755,000 in just the last two weeks of the race.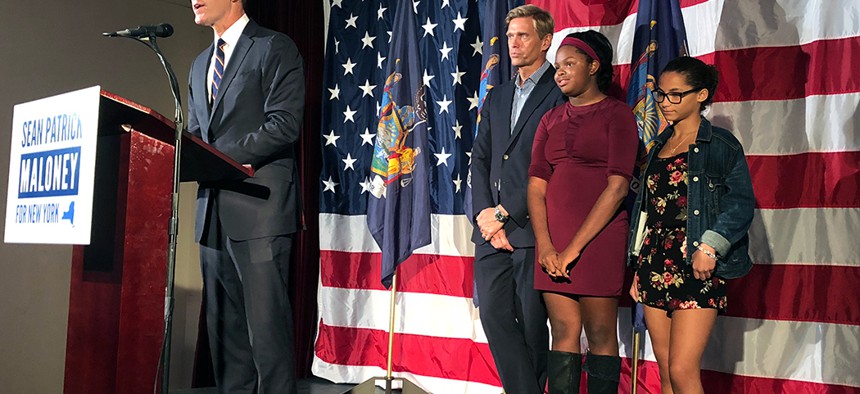 Rep. Sean Patrick Maloney couldn't spend his way to victory in the state attorney general race, despite spending more than double what Democratic primary winner Letitia James did – and more than James and the other two candidates combined.
Maloney was a fundraising juggernaut, pulling in more than $755,000 in just the last two weeks of the race. He drew heavily from big players in real estate, such as Manhattan real estate developers and landlords like the Durst Organization and RXR Realty.
But Maloney's biggest donor was himself – he transferred $1.4 million from his congressional campaign account to his attorney general account in August. One opponent in the race, Fordham University Law professor Zephyr Teachout, sued over the transfer, saying it violated contribution limits. The suit has yet to be decided, with a court date set for Oct. 4, but Maloney was able to spend, spend, spend in the meantime, putting $2.98 million into the race between his campaign announcement in June and the end of August. That's the most recent period for which campaign finance disclosures are available, and that number will likely balloon once he reports his final numbers – especially since he had more than $1.2 million in his account in the final weeks of the campaign.
By contrast, James, the New York City public advocate, spent $1.16 million from the beginning of her campaign in May through the end of August. That number will also rise when the final numbers come in, since she had nearly $1 million in the bank in September. A political action committee, One Voice New York, spent at least another $80,100 on her behalf in the final days of the campaign. James also enjoyed support from the real estate sector, and was the clear favorite of New York's health care sector as well. The attorney general has enforcement powers over both industries, and interest groups and corporations often use political donations as a way to curry favor with candidates, or to help elect the candidate who they expect to be the most favorable to their business interests.
With lower spending and more votes, James' campaign was far more efficient than Maloney's. She spent $2.00 per vote, based on state Board of Election figures through the end of August. That number is certain to rise once all the spending is reported. Maloney spent $8.33 per vote in his third place finish. Last place finisher, Verizon lobbyist Leecia Eve, was also the least efficient, spending $9.05 per vote. The runner-up in the race, Fordham University Law professor Zephyr Teachout, trailed James, spending $2.14 per vote. (By comparison, Gov. Andrew Cuomo spent a whopping $21.88 per vote.)
Teachout set apart her candidacy by pledging not to accept any campaign contributions from corporate donors or limited liability companies, which are often used by businesses to bypass contribution limits. The tactic rankled her opponents, with Maloney accusing Teachout of being "holier than thou" in a televised debate.
Maloney used his money largely on television ads, spending more than $1.7 million in the month of August alone to blanket the state with his 30-second vows to take on President Donald Trump with a baseball bat. It seemed to help him win votes upstate, with Maloney winning a plurality of the votes in most counties in Western and Central New York, from Buffalo to Syracuse. Maloney also won the most votes in the Hudson Valley counties he represents in Congress, Orange and Putnam.
After his loss in the attorney general primary, Maloney planned to resume running for reelection for his congressional seat.
While Maloney hit the airwaves hard, he largely avoided public events outside of his sparsely attended morning jogs. James and Teachout, by contrast, seemed to have significant teams of volunteers eager to pass out fliers and knock on doors. Teachout's campaign was energized by a progressive wave of voters supporting her running mate, Cynthia Nixon, for governor. James' coalition included some of those same progressive volunteers, elected officials across the state and – most notably – labor unions.
When asked in August what she made of the New York Times' endorsement of Teachout, James told City & State cited her labor union support. "They know how to get out the vote," she said, "and that's going to be critically important in a primary on an off day."
Powered By
NEXT STORY: Voters to Albany: We're watching you