Rory Lancman launches bid for Queens district attorney
New York City Councilman Rory Lancman has officially launched his run for Queens district attorney, promising to bring progressive reforms to an office that has been run by the same prosecutor for more than a quarter century.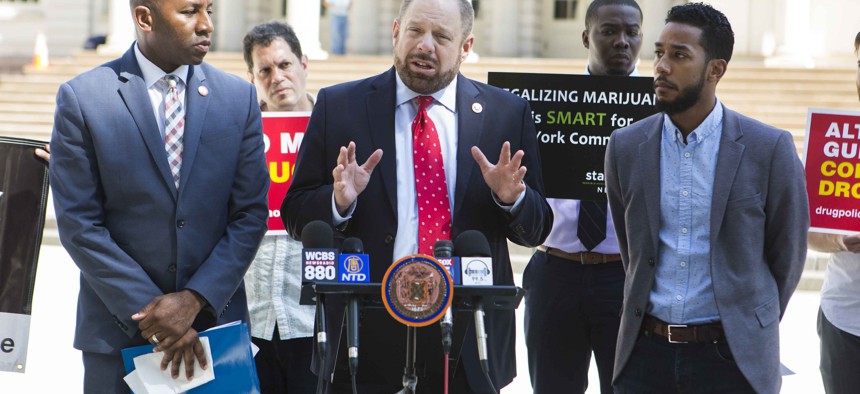 New York City Councilman Rory Lancman is officially launching his run for Queens district attorney, promising to bring progressive reforms to an office that has been run by the same prosecutor for more than a quarter century.
The next election for the seat is scheduled for November 2019, with the Democratic primary, which is likely to determine the winner in the heavily blue county, in September that year. But there have been rumors for months that Queens District Attorney Richard Brown, who is 85 years old and in ailing health, could step down before the election. At the very least, there is pressure for him not to run for reelection, which would open up the seat for the first time since Brown was appointed in June of 1991.
Brown hasn't even faced a challenger, winning a full term later in 1991 getting reelected every four years since then, but the office has come under more scrutiny recently from progressive Democrats in Queens who see criminal justice reforms happening in other boroughs, but not at home.
One of the main critics has been Lancman, a 49-year-old city councilman from Central Queens. Lancman hasn't been shy in sharing his interest in the position, talking to a number of local news outlets over the last couple months and even engaging in a public debate with an assistant district attorney in the office over the fate of Rikers Island.
Lancman is announcing his candidacy with a one-minute, 42-second campaign video, provided in advance to City & State. "All across the country, progressive district attorneys are making real justice happen in their communities – the kind of justice we deserve here in Queens," Lancman says in a voiceover of the video.
While Brooklyn District Attorney Eric Gonzalez and Manhattan District Attorney Cyrus Vance Jr. have seemed to be locked in a competition of who can be the most progressive, instituting conviction review units and declining to prosecute on minor crimes like marijuana possession, the Queens office under Brown hasn't made similar changes sought by criminal justice reformers. Beyond the five boroughs, Lancman has cited newly-elected Philadelphia District Attorney Larry Krasner as the inspiration for the progressive reforms he would institute.
Lancman is also launching his campaign with the endorsement of Gwenn Carr, the mother of Eric Garner, who was killed on Staten Island in 2014 after being put in a chokehold during an police stop. Carr appears in the video, making a plea to voters: "I would tell the Queens community to please vote for Rory, because he stands for issues that we are most concerned about."
Carr is black, and Lancman, who is white and Jewish, isn't shy about targeting voters of color. He's also touting the early endorsement of Valerie Bell, whose son Sean Bell was killed by the NYPD in 2006, and the backing of four black pastors: Rev. Dr. Phil Craig, Rev. Calvin Rice, Rev. Mark S. Kellar and Bishop Erskine Williams. Almost every person who appears in Lancman's video is a person of color as well.
"I am unapologetic about decrying the racism that permeates the criminal justice system," Lancman told City & State in an interview. "And the people who bear the brunt of the broken criminal justice system that I want to fix are people of color."
Lancman's early announcement may be an attempt to scare off potential challengers. Queens Borough President Melinda Katz could be interested in the position, as could Queens Supreme Court Justice Gregory Lasak. Lancman seems well positioned, however – he told City & State he had around $1 million in campaign funds.