New York State
Vulnerable New York Republicans resort to racial campaign ads
Several Republican members of Congress from New York have been accused of racism in their campaign commercials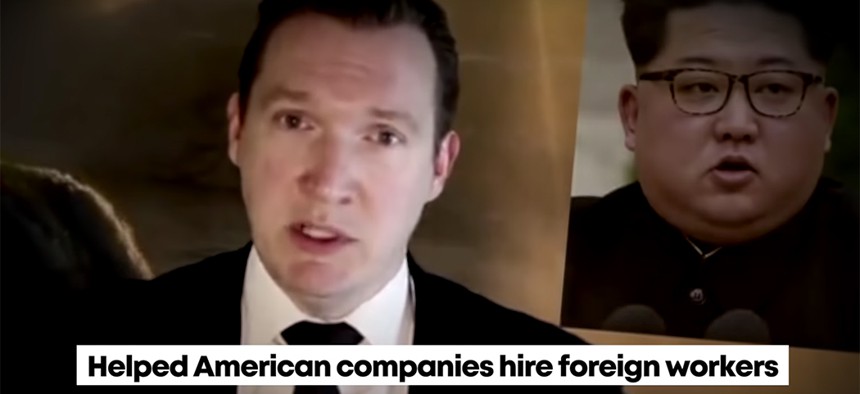 Facing competitive races for reelection, several Republican members of Congress from New York have deployed racial – critics say racist – messages in their campaign ads.
Rep. Chris Collins, a Republican incumbent in New York's 27th district, who was indicted on insider trading in early August, jumped back into his reelection bid this week with a television ad. Before his indictment, Collins was seen as a safe bet for reelection in his conservative district in the suburbs of Buffalo. Now, with a closer race and the albatross of criminal charges around his neck, Collins has gone negative. His racially-tinged campaign ad featured clips of his challenger Nate McMurray, speaking Korean.
The clips of McMurray, whose wife is a naturalized citizen from South Korea, are drawn from a video McMurray released before a June summit between the United States and North Korea. McMurray hoped to show off his language skills and express hope for peace negotiations between South Korea and North Korea.
Collins' negative ad features captions such as "worked to send jobs to China and Korea," while McMurray speaks Korean. However, The New York Times had the video translated and confirmed that McMurray did not mention jobs. The video also showed text accusing McMurray of "creating more jobs for China and Korea," while including spliced-in photos of North Korean dictator Kim Jong Un. The trade agreement that Collins is supposedly bashing McMurray for supporting was between the U.S. and South Korea, not North Korea or China. Collins' implication that all Asian countries are an undifferentiated mass of sinister enemies was met with swift condemnation.
On Monday, McMurray called the television ad "xenophobic." On Tuesday, Rep Ted Lieu of California did not mince words when he tweeted at Collins, telling him to "Take your racist ad and shove it. You are an embarrassment to the House of Representatives." On Wednesday, a campaign spokeswoman for the Collins campaign, Natalie Baldassarre, doubled down on the claims made in the ad. "Another day, another tired and false attack from anti-Trump, liberal Democrats," she said. "Nate McMurray and the Democrats are so embarrassed by his radical policies of lobbying to ship American jobs overseas, that they resort to the only tool in Nancy Pelosi's playbook – label everything you don't like as racist or bigoted."
Collins' controversial commercial comes on the heels of several other upstate Republicans making ads with xenophobic or other racially-coded appeals. In New York's 22nd Congressional District, Republican Rep. Claudia Tenney released a 30-second television advertisement in August featuring footage of large groups of immigrants implied to be crossing the U.S.-Mexican border and menacing images of tattooed Latino men. The ad shows a white mother comforting a young child while the narrator asserts that the Democrats' immigration stance is "putting families at risk."
Love and Rage, a Utica-based activist collective with an alternative news website, argued that the threatening depiction of Latin American immigrants is racist fear-mongering.
This is not Tenney's first foray into racially divisive politicking. In 2015, amid a dispute over a Utica hospital, Tenney drew the Oneida Indian Nation's ire when she called a representative for the tribe, Ray Halbritter, "Spray Tan Ray" in a tweet. She justified the statement and claimed she knew "for a fact he has a spray tan" because she had researched his genealogy. The Oneida Nation said in a statement it was "unacceptable" for Tenney to use her office "to publicly denigrate people on the basis of their skin color." The tribe spent heavily against her campaign in 2016.   
In April, Tenney renewed the feud with the tribe when she issued a statement that called Halbritter a "tax cheat."  
In July, Tenney's campaign consultant Tim Edson sent a memo to her staff and volunteers warning them about safety concerns related to Tenney's Democratic opponent, Assemblyman Anthony Brindisi, who is Italian-American, and his family connections. The memo outlined purported mob ties of Brindisi's father.    
In September, an ad from the National Republican Congressional Committee was condemned online by political observers for using racist tropes about black men to oppose Antonio Delgado, an African-American lawyer running for Congress in New York's 19th Congressional District.
Matt Bennett, the co-founder of centrist Democratic think tank Third Way called it "despicable." The video ad features clips of Delgado campaigning interspersed with clips from a music video Delgado made during an earlier career as a rapper and ends with a photo of Delgado in a hooded sweatshirt. Delgado is running against Republican incumbent Rep. John Faso. In July, Faso told the Times that Delgado's lyrics are "offensive" and "inconsistent with the views of the people of the 19th District and America." Faso said, "It's his responsibility as a candidate to answer for the controversial views he expressed in his lyrics and whether he continues to hold these views today."  
Powered By
NEXT STORY: Rory Lancman launches bid for Queens district attorney