New York State
A blue "wavelet" in New York's state Senate?
New forecast shows Democrats only slightly more likely to take state Senate.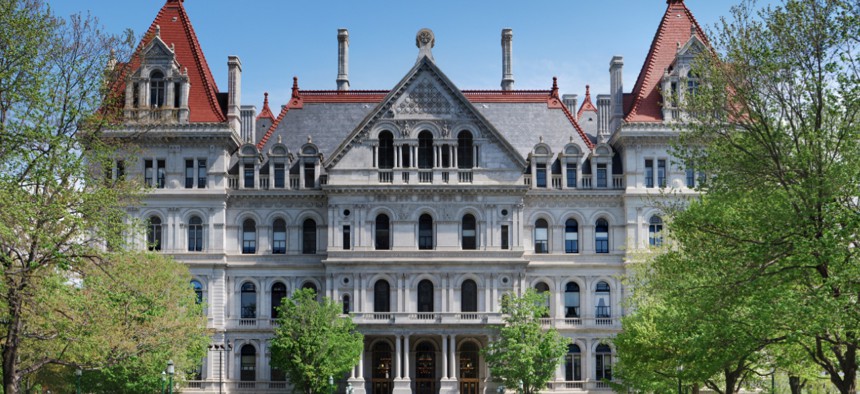 There's a rumored blue wave headed for New York – and the rest of the country – this November, but it might not turn out to be all that big. In a new forecast of state legislative elections by the University of Virginia's Center for Politics Sabato's Crystal Ball, political consultant Carl Klarner predicts that Democrats have a 62.8 percent chance of taking back the New York state Senate this November.
Democrats currently have the narrowest of majorities in the 63-seat state Senate – or 50.8 percent of the seats – though because Democratic state Sen. Simcha Felder caucuses with Republicans, the Senate is controlled by Republicans. Klarner predicts a 1.6 percent seat increase for Democrats in November, which roughly translates to Democrats picking up two seats.
The model looks at state legislative races across the country, and Klarner predicts Democrats will pick up a total of nine state legislative chambers nationwide. "Factors like incumbency, the prior vote in the district, and how many people nationally say they'll vote for a Democrat in U.S. House elections are predictor variables," Klarner wrote in the post.
High voter turnout among Democrats in September's primaries, and the results in some races, signaled to some observers that the party's base will enthusiastically canvass, donate and come out in November. Six former members of the Independent Democratic Conference – which had been aligned with the state Senate Republicans until earlier this year – lost to challengers who promised to be more loyal, liberal Democrats.
After those defeats of IDC incumbents, state Sen. Michael Gianaris, the chairman of the state Democratic Senate campaign committee, told CBS he was confident that the blue wave would not only help Democrats take the U.S. House of Representatives, but also control of the state Senate. "Unlike the U.S. Senate map, our map is tremendously in our favor," Gianaris told CBS. "We only have one seat to defend … and (Republicans) have about a dozen on their side, and we only need to pick up one."
But Klarner's model suggests shows an almost 40 percent chance that Democrats won't flip control of the chamber. In 2010, Klarner's state legislative assessment predicted that control of the New York state Senate would flip from Democrats back to Republicans, which it did. However, his forecast that year was not precisely accurate: Klarner foresaw Republicans holding only 44 percent of the Senate's seats. Ultimately, at a balance of 32 R's and 30 D's, Democrats occupied 48 percent. In 2014, Klarner's model predicted that Republicans would gain an outright majority in the state Senate, which was under their control at that time despite Democrats having a nominal majority, because of a power-sharing agreement between the GOP and the IDC. Klarner gave Republicans a 54 percent probability of winning the majority. He was vindicated when they ended up with 32 seats to the Democrats' 31.
Klarner isn't the first to explore the possibility of the blue wave being downgraded to a "wavelet." An earlier NPR/PBS NewsHour/Marist poll showed more Democrats than Republicans thought the midterm elections were "very important," resulting in a 10-point enthusiasm gap between the parties. After the charged battle over confirming Brett Kavanaugh to the Supreme Court, and Trump's baseless claims of threats posed by about a migrant "caravan," that gap has closed to 2 points, suggesting both parties are enthusiastic about the midterms.
While the Democratic control of the state Senate is anything but guaranteed, there's one thing Klarner is pretty sure of. Democrats have a 100 percent probability of retaining control of the Assembly.